Immunizing health care workers: Recommendations and requirements
We were unable to process your request. Please try again later. If you continue to have this issue please contact customerservice@slackinc.com.
Vaccination is an important measure to prevent communicable diseases for all people, and is particularly important for health care personnel. Providers working closely with patients are at a higher risk for exposure to infections, and vaccination helps to protect these professionals. Reducing illness is important for each employee's personal well-being and ensures his or her ability to perform the critical job functions of caring for patients. Vaccination is also important to prevent the spread of disease from health care personnel to patients, many of whom may be highly susceptible to infections and related complications.
Recommendations, legal requirements and regulation
The Advisory Committee on Immunization Practices (ACIP) of the CDC recommends that all health care personnel (HCP) receive and stay current with vaccinations against preventable diseases (Table). These recommendations have been formally supported by the Infectious Diseases Society of America (IDSA), the Society for Healthcare Epidemiology of America (SHEA), and the Pediatric Infectious Diseases Society (PIDS) in their joint policy statement released in December 2013. In addition to supporting universal immunization, the societies further recommend policies mandating vaccination in settings where voluntary HCP immunization programs yield lower than 90% compliance. The American Academy of Pediatrics has additionally issued its own policy statement supporting mandatory influenza immunization policy for HCP, crediting such initiatives as ethical and justified to protect patients and the public.
Some states have developed legal requirements related to health care worker immunization. Requirements vary between states, vaccine type and health care settings. Some regulations mandate only an assessment of vaccination status, some require a health care facility to offer vaccination, and the most stringent requirements mandate a health care facility to ensure that a health care worker has been vaccinated. For example, in Nebraska, all hospital employees must be vaccinated against pertussis. However, for California long-term care and outpatient medical facilities, state laws require only that pertussis vaccination be offered to health care workers. In Rhode Island, health care workers who are not immunized against influenza are legally required to wear a surgical mask while performing direct patient care during periods of widespread influenza.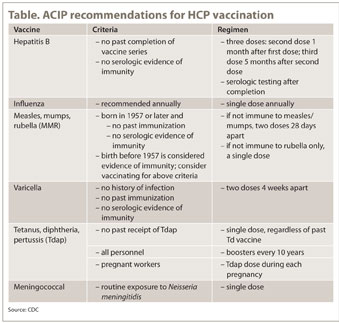 Although HCP immunization is not required for reimbursement from CMS, acute care hospitals are now required to report the employee influenza vaccination rate to CMS. These percentages, compared with both state and national averages, are publicly available on the Hospital Compare page of the U.S. Medicare website. HCP immunization against influenza is also reviewed by The Joint Commission (JC) as outlined in Standard IC.02.04.01, recommending that "the organization offers vaccination against influenza to licensed independent practitioners and staff." Applicable organizations include critical access hospitals, hospitals and long-term care facilities. The standard does not mandate influenza vaccination for JC accreditation, although the related Elements of Performance include the establishment of an annual influenza vaccination program. Under the standard, health care facilities must also establish a clear methodology of determining HCP vaccination rates and set incremental goals to improve them. Along with providing education about immunization, organizations must evaluate what reasons are provided by HCP who refuse vaccinations.
PAGE BREAK
Barriers to compliance
There are several potential barriers to HCP vaccination, and suggested countermeasures are available through the CDC. Barriers related to vaccine accessibility and employer reimbursement, while difficult, may be overcome through logistical measures like offering onsite seasonal influenza vaccination and incorporating strong HCP adherence to vaccination recommendations into patient safety and hospital performance measures. Potentially more challenging barriers are those related to individual beliefs surrounding vaccines, which may include misinformation about related risks or effectiveness, or the severity of influenza and other vaccine-preventable infections. Strategies proposed by both the CDC and JC to address such misconceptions involve understanding the rationale behind vaccine refusal and providing education.
In their joint policy statement, IDSA, SHEA and PIDS suggest that HCP who do not get vaccinated — due to medical contraindication or the unavailability of vaccine — may wear masks or assume nondirect patient care functions during influenza season. Different states and health care organizations vary in their mandates, compliance and alternative approaches to protecting HCP and patients.
Pandemic preparedness
The U.S. Departments of Homeland Security and HHS have established strategies to prioritize immunizations in the event of an influenza pandemic. High-risk populations like pregnant women and young children are given top priority in Tier 1. Otherwise, Tier 1 classification is designated based on occupation. Professions designated to Tier 1 include: emergency medical service; law enforcement and fire personnel; public health, inpatient, outpatient, and long-term care facility health care providers; and deployed and mission critical personnel.
Owing to both their risk of exposure and the necessity of their job functions to care for others, HCPs are given high priority to receive immunizations in the setting of an influenza pandemic and as such comprise an important target population for adherence to routine influenza and other regularly scheduled immunizations.
References:
CDC. Recommended Vaccines for Healthcare Workers. https://www.cdc.gov/vaccines/adults/rec-vac/hcw.html. Accessed April 7, 2017.
Department of Health and Human Services and Department of Homeland Security. Guidance on Allocating and Targeting Pandemic Influenza Vaccine. https://www.cdc.gov/flu/pandemic-resources/pdf/allocatingtargetingpandemicvaccine.pdf. Accessed April 7, 2017.
Infectious Diseases Society of America. IDSA, SHEA, and PIDS Joint Policy Statement on Mandatory Immunization of Health Care Personnel According to the ACIP-Recommended Vaccine Schedule. http://www.idsociety.org/uploadedFiles/IDSA/Policy_and_Advocacy/Current_Topics_and_Issues/Immunizations_and_Vaccines/Health_Care_Worker_Immunization/Statements/IDSA_SHEA_PIDS%20Policy%20on%20Mandatory%20Immunization%20of%20HCP.pdf. Accessed April 7, 2017.
The Joint Commission. Standard IC.02.04.01. Influenza Vaccination for Licensed Independent Practitioners and Staff for Hospitals, CAH, HAP, and LTC Accreditation Programs. https://www.jointcommission.org/assets/1/6/InfluenzVacPres_CAHHAPLTC.pdf. Accessed April 7, 2017.
Medicare.gov. Hospital Compare. https://www.medicare.gov/hospitalcompare/search.html. Accessed April 7, 2017.
For more information:
Leah Molloy, PharmD, is a clinical pharmacist, specialist in infectious diseases, at Children's Hospital of Michigan, Detroit. She can be reached at Children's Hospital of Michigan, Department of Pharmacy Services, 3901 Beaubien St., Detroit, MI 48201; email: lmolloy@dmc.org.
Disclosure: Molloy reports no relevant financial disclosures.
Editors' Note: In California, which has its own OSHA-approved state plan (Cal/OSHA), the Cal/OSHA Aerosol-Transmissible Diseases standard requires that certain employers offer at-risk, susceptible employees ACIP­­–recommended adult vaccines for diseases classified by CDC as droplet or airborne transmissible. The standard requires that employers offer the vaccines, but does not require that employees accept them. These vaccines include: measles, mumps, rubella, varicella, pertussis and influenza, as well as other vaccines for specific laboratorians, and vaccines that may be developed for novel pathogens that can be transmitted by aerosols. See: http://www.dir.ca.gov/Title8/5199.html.
In addition, a number of California Local Health Officers have mandated that health care workers in their jurisdictions receive influenza vaccine annually or wear a mask while working during influenza season. See: https://archive.cdph.ca.gov/programs/cclho/Pages/MandatoryofRecommendedInfluenzaVaccinationofHealthcareWorkers.aspx.
The Federal OSHA Bloodborne Pathogens standard requires that employers in all states offer hepatitis B vaccine to all workers who have reasonably anticipated contact with blood or other potentially infectious materials during performance of their jobs. There is no requirement that such workers accept hepatitis B vaccine. https://www.osha.gov/OshDoc/data_BloodborneFacts/bbfact05.pdf.