Source/Disclosures
Published by:
September 24, 2018
2 min read
Pre-visit planning, feedback increase pneumococcal vaccination rate in SLE
Source/Disclosures
Published by:
We were unable to process your request. Please try again later. If you continue to have this issue please contact customerservice@slackinc.com.

Shivani Garg
Researchers at Emory University who initiated an intervention including pre- and day-of-visit planning, weekly reviews and monthly feedback increased combination pneumococcal vaccination rates among patients with systemic lupus erythematosus from 10% to 59%, according to findings published in the Journal of Rheumatology.
"Lupus patients are 13 times at higher risk of developing invasive pneumococcal infections and eight times higher risk for developing pneumonia, leading to increased hospitalization rates," Shivani Garg, MD, of Emory University and the University of Wisconsin-Madison, told Healio Rheumatology. "With the new vaccine guidelines, the combination pneumococcal vaccination is considered to have broader coverage, better immunogenicity and ability to prevent pneumococcal pneumonia in addition to invasive pneumococcal infections. Despite the evidence of good immunogenicity, the rate of vaccination is less than 25%."
To better understand the barriers to vaccination, and to increase the rates of pneumococcal vaccination — specifically the 23-valent pneumococcal polysaccharide vaccine (PPSV23) plus the 13-valent pneumococcal conjugate vaccine (PCV13) — at the adult rheumatology practice at Emory University, Garg and colleagues implemented a 25-week project from April to October 2016. After using the hospital's electronic medical record system to determine baseline vaccination rates, the researchers surveyed physicians and staff to determine vaccination barriers. Researchers also observed daily clinic flow.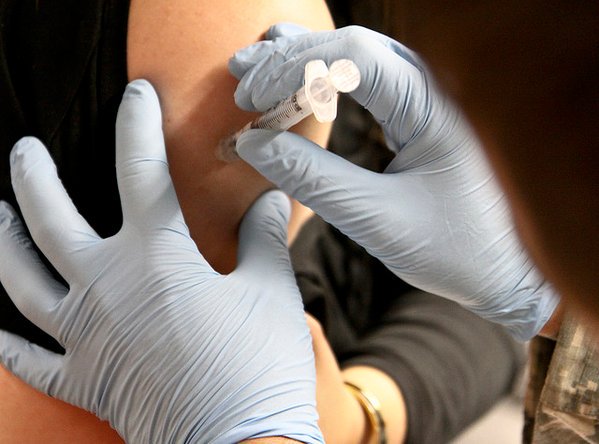 Source: Shutterstock
The researchers used the results of their survey, combined with their observations of how physicians worked with patients with lupus, to establish a multifaceted intervention that included pre-visit planning, day-of-visit planning, a weekly review of data and monthly feedback sessions for staff and physicians. Pre-visit planning included a chart review to confirm SLE diagnosis, eligibility for vaccination and previous pneumococcal vaccination documentation. In their day-of-visit planning, researchers shared a list of eligible patients with the staff, and daily reminders were sent to the physicians regarding eligible patients coming to the clinic that day.
The weekly review included an evaluation of data from the vaccination forms and data received from Emory's data warehouse. Vaccination rates were tracked during these sessions. In monthly feedback meetings, lectures were presented to reinforce the need for vaccinations.
According to the researchers, baseline rates for SLE patients receiving the PCV13, the PPSV23 and combination vaccination were 2%, 8% and 10% respectively. Following the intervention, those figures rose significantly to 39.28%, 56.5% and 59%, respectively. Physician and staff surveys indicated that the most impactful barriers to patients with SLE receiving vaccines were forgetfulness and insufficient time during clinic visits.
"Understanding barriers to vaccinations at clinical practice can help plan better strategies to improve vaccination rates," Garg said. "Simple strategies as used on our study — frequent reminders to physicians, enrolling with state immunization records, overcoming gaps regarding motivation and understanding of vaccination among lupus patients — can help improve vaccination rates in busy clinical practice." – by Jason Laday
Disclosure: Garg reports no relevant financial disclosures. Please see the study for all other authors' relevant financial disclosures.