September 18, 2018
13 min read
The Virtual Doctor is In: Advancing Care Through Tele-Rheumatology
We were unable to process your request. Please try again later. If you continue to have this issue please contact customerservice@slackinc.com.
It is no longer just millennials who are attached to their smartphones. Scan the subway or a shopping mall or even the audience at the American College of Rheumatology or EULAR annual meetings. The telltale blue glow will be emerging from the hands of as many folks with white hair as from those in their 20s and 30s. Even in the medical community, technology has taken hold, with telehealth programs proliferating across a host of specialties and regions. With this in mind, Healio Rheumatology takes a closer look at tele-rheumatology, a phenomenon that is increasing as technology penetrates deeper into everyday life, but still faces a number of challenges.
For Christine Peoples, MD, clinical assistant professor of medicine at the UPMC division of rheumatology and clinical immunology, and director of the UPMC Rheumatology Telemedicine Program, patient and provider satisfaction are driving the increase in tele-rheumatology programs. "The shortage of rheumatologists across the United States means that we are not getting to patients that need us as specialists," she said. "With telehealth, we can deliver that specialized academic care."
Peoples acknowledged that the more flexible work schedule that telemedicine offers may appeal to younger doctors who are less inclined toward the old model of 100-hour work weeks, but she added that the satisfaction is cross-generational. "Most physicians, regardless of their age, feel rewarded when they can see patients who really need their help," she said.
However, there are hurdles to getting a tele-rheumatology program up and running, according to Elizabeth D. Ferucci, MD, MPH, a rheumatologist at the Alaska Native Tribal Health Consortium and affiliate associate professor of medicine at the University of Washington. "It is certainly more complicated than a standard rheumatology practice," she said, emphasizing that staff who will ultimately take care of the non-clinical details are essential to the operation. "There is a need for additional staff support."
On the clinical side, both doctors and patients need to abandon qualms about breaking from the traditional in-person visit, according to Ferucci. "Some rheumatologists are not comfortable with the inability to do a joint exam at every visit," she said. "In our practice, we always conduct the initial consultation visit in-person and only use tele-rheumatology for follow-up visits. There are two benefits to this system, one of which is the ability to use hands-on exams to establish a diagnosis, and the other one is to establish a doctor-patient relationship prior to conducting visits by telehealth."
PAGE BREAK
Lynden Roberts, MD, PhD, senior staff specialist and head of Rheumatology Clinical Trials at Monash Health, and adjunct clinical associate professor of medicine at Monash University, Melbourne, Australia, bluntly stated what it takes to initiate and maintain a functional tele-rheumatology practice. "There are three things: communication, communication, communication," he said. However, he acknowledged that there are positives and negatives about a telehealth approach. "If you think about traditional consultations, we are able to see, hear and touch our patients; in tele-rheumatology consultations, we can only see and hear. A traditional face-to-face consultation remains the ideal; however, if a patient is travelling long distances and/or the consultation is fairly routine, such as a follow-up for rheumatoid arthritis in remission, then the advantages of tele-rheumatology may outweigh its disadvantages."
Beyond the doctor-patient relationship, insurance and billing issues have yet to be worked out. Questions about scheduling and operations need to be addressed. In addition, individual rheumatologists and professional societies alike need to confront tele-rheumatology head-on, as a reality that is likely to play a significant role in the future of the specialty.
Getting Set Up
The initial hurdles to instituting a program have nothing to do with technology, according to Daniel Albert, MD, professor of medicine and pediatrics at the Geisel School of Medicine at Dartmouth College. "The hardware is the easy part," he said. "I use the camera on my laptop and a video conferencing software package called Vidyo; the patient room has a cart with a small camera and a second close-up camera. The hard part is all the administrative infrastructure including scheduling, billing, credentialing and licensure."
For Roberts, capitalizing on this increased utilization of technology is critical. "We are all familiar with social video interactions through Skype or FaceTime," he said. "A tele-rheumatology consultation will feel very similar. What you need is a stable high-speed internet connection and a video conferencing software. This may come as a surprise to clinicians, but in fact, the quality of the patient interaction with tele-rheumatology is generally good; the immediacy and intimacy of the doctor-patient consultation is generally well-maintained. With occasional exceptions, the challenges of tele-rheumatology are not technology-related."
Peoples suggested that location and supportive staff at each satellite office are critical to getting started. However, she acknowledged that a major health center such as UPMC has advantages. "We are able to direct and run different hospitals that are remote and local, and the resources are made available to us," she said, noting that there is one other critical component to the set-up that does not require financial backing. "Our administration is also very enthusiastic about telemedicine, which helps tremendously."
PAGE BREAK
Accordingly, UPMC has physical spaces in various hospitals devoted to telehealth. "The staff who will ultimately be laying hands on patients have been trained in the rheumatology physical exam," she said. "It has taken a great deal of time and input from everyone in our system, from top to bottom."
One problematic issue to navigate is the coordination of appointment times, particularly if a third-party clinician is expected to be present at the patient end, according to Rochelle Rosian, MD, director of regional rheumatology in the department of rheumatic and immunologic diseases at the Cleveland Clinic. "Finding the right time of day or week is one of the details you need to address early in order to get the program up and running," she said. "Then you have to get the word out and have people give it a try."
An important key for Roberts is organization before the program even begins. "The medicolegal aspects such as confidentiality, consent and practice insurance must be clarified by your professional and insurance organizations," he said. "The billing plan also needs to be thought through."
In a study published in the Internal Medicine Journal, Roberts and colleagues conducted a comprehensive review of tele-rheumatology programs in Australia, which showed that a mixed model of face-to-face and virtual consultations yielded the best results. The researchers suggested that this allowed patients to overcome barriers to care caused by distance while minimizing risks associated with virtual, as opposed to physical, examinations.
As evidence emerges and physicians become more experienced with tele-rheumatology, this finding is gaining validation. "Care concerns like these can be overcome by using a trained presenter," Ferucci said, noting that "this only works if the rheumatologist has outreach to one or a few sites where a presenter can be trained"
Like many programs, Ferucci said that her center only uses tele-rheumatology for follow-up if patients agree and are comfortable participating. Even if a patient agrees to tele-rheumatology visits, providers should have some degree of flexibility built into the system in the event of impromptu changes.
"Occasionally, a face-to-face consultation is necessary, even after the initial diagnosis," Roberts said. "In these cases, it is useful to have a pre-specified contingency for this situation."
Rosian offered the opposite scenario. "In an ideal practice, being able to switch a regular appointment to a telemedicine appointment on the spot will be a great way to decrease no-shows or last-minute cancellations," she said.
PAGE BREAK
Troubleshooting After Launch
Even the most adept tele-rheumatology center cannot serve every patient, especially if the complexity of a patient's condition extends beyond the parameters of a telehealth visit, as Kulcsar and colleagues demonstrated in their survey of 244 tele-rheumatology visits among 176 patients in rural areas of Vermont and New Hampshire between October 2011 and December 2014.
Although the researchers acknowledged improvements in care and patient satisfaction, results showed that 19% of patients were inappropriate for the visit type. They cited two reasons for this outcome: one was that the underlying diagnosis was unclear, and the other was that the disease was too complex. "We propose a triage mechanism to ensure that patients are appropriately paired to the proper visit type in the future," they wrote.
"We now have good evidence that the overwhelming majority of patients are equally satisfied with the tele-rheumatology consultation compared with a face-to-face consultation," Roberts said. "However, this is why it is important to have the option to reschedule as a face-to-face consultation, which will occur in around 10% of consults in my experience. Half of these are patient-driven and the other half clinician-driven."
While Roberts held that a hands-on examination remains the most effective means of establishing a proper diagnosis for certain challenging patients, he is uncertain if this will always be true. "The technological advances continue, however, and it will be interesting to see what virtual reality technologies will be able to bring to this area," he said.
Another consideration is that rural tele-rheumatology visits present different challenges than those found in patients in urban areas, according to Roberts. "The benefits for tele-rheumatology become more obvious in regional and rural health care settings," he said. "Some patients need at least 2 days away from their work and family to attend an appointment. For complex and/or initial appointments this is easy to justify, but for short, routine follow-up appointments, the case for tele-rheumatology is compelling."
Roberts suggested that rheumatologists may consider visiting the regional/rural location once or twice yearly to "batch" the necessary face-to-face consultations. Peoples suggested an additional bonus to these in-person visits to patients. "I feel I'm a member of the local community, which goes a long way in maintaining relationships," she said.
As for urban patients, travel times can be long, particularly if patients must cross a city using public transport. For these patients, parking fees, large buildings with poor access, and long waits in waiting rooms may present obstacles, according to Roberts.
PAGE BREAK
Accurate Diagnoses, Impacting Outcomes
Although evidence suggests that telehealth programs fulfill unmet needs, data on efficacy remain sparse. In a study published in Arthritis Care & Research, McDougall and colleagues conducted a systematic review that included 20 studies, primarily of patients with RA, involved in telehealth programs. Researchers determined that 18 studies found the approach effective, one found it effective but also possibly harmful, and one study found tele-rheumatology ineffective. "Studies identified by this systematic review generally found telemedicine to be effective for the diagnosis and management of autoimmune/inflammatory rheumatic disease; however, there is limited evidence to support this conclusion," the researchers concluded.
"There are few studies addressing clinical outcomes in telehealth compared to usual care," Ferucci said. "In rheumatology, more frequent visits to a rheumatologist have been associated with improved outcomes in many diseases, especially RA. Therefore, the assumption is that tele-rheumatology could improve outcomes by allowing more frequent rheumatologist visits, especially for patients in rural communities for whom travel may be a barrier to accessing care."
In their own evaluation of their tele-rheumatology program published in the Southern Medical Journal, Nguyen-Oghalai and colleagues studied 38 patients in the tele-rheumatology program at the Veterans Affairs rheumatology clinic. Participants underwent a combination of telehealth and face-to-face visits with the same rheumatologist. The researchers compared diagnoses made online and in person while also assessing for satisfaction. Correlation between the two types of diagnoses was 79%, according to the results.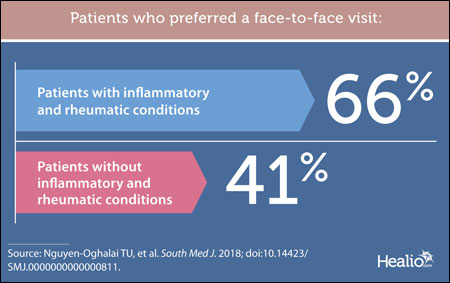 In terms of clinical outcomes, Rosian said that virtual visits can provide an opportunity to clarify patient questions, monitor labs and do a partial exam, all of which translate to improvements in patients. "The face-to-face encounter helps foster medication adherence, as well as the patient-provider relationship," she said. Many patients far removed from major centers might only see their rheumatologist a few times a year without the virtual visits. "Rheumatology is a field where relationship-centered communication takes place over years and decades. Building this kind of trust helps patients stay informed and ready to proceed with the newest and most aggressive treatments available."
Other findings from Nguyen-Oghalai and colleagues showed that 66% of patients with inflammatory, rheumatic conditions reported a preference for face-to-face visits, while 41% of patients without such conditions preferred in-person visits. Satisfaction rates with the telehealth visits was high immediately after the consultation but dipped slightly in a subsequent telephone survey.
Albert stressed that the fundamentals of medical practice still apply, even online. "It isn't unlike an in-person examination," he said. "Good eye contact, a caring attitude, tangible recommendations and clear-cut follow-up to address the results are the hallmarks of building a strong relationship."
PAGE BREAK
Rosian agreed. "One of the most important aspects of a good telemedicine visit, just like any visit, is that it is imperative for us to listen," she said. "It is also important for us to follow up the tele-rheumatology visit with either a paper summary or electronic letter of what was discussed and decided during the appointment. To maintain a strong relationship with a patient, we need to make sure that we are as complete and attuned to details as we would be if the patient was in the office with us."
Cost and Satisfaction
Beyond clinical results, cost is another reason to consider using a telehealth program in rheumatology. Albert and colleagues conducted a study of tele-rheumatology in rural New England, in which they reported high patient satisfaction, with a focus on the cost-effectiveness of the program. Patients saved in travel costs, while savings were seen in the health care system overall because clinicians did not spend time learning new technology and protocols at different hospitals. The researchers also added that a portable unit could be useful to visit homebound patients. "Additionally, it would be possible to extend this to utilize instructional videos, web links to treatment information or multiway conferencing," they wrote.
"Cost savings can be a benefit of telemedicine, even if outcomes are the same, and it may be reasonable to use telemedicine if outcomes are noninferior to usual care and costs are much lower," Ferucci said. "However, there are few studies that fully address cost-effectiveness of telemedicine, but we also plan to address this in the future."
Other findings from the Kulcsar data set showed that 94% of patients were satisfied with the remote site staff and treating providers. Additionally, 73% reported that another tele-rheumatology visit would be acceptable.
"We acknowledge that some patients are skeptical at first," Peoples said. "But part of their satisfaction comes from the fact that they get to spend considerable time with me. Of course, it helps that they have access to everything that UPMC has to offer, but I think they just appreciate the fact that they can see a doctor who will spend time with them and answer their questions."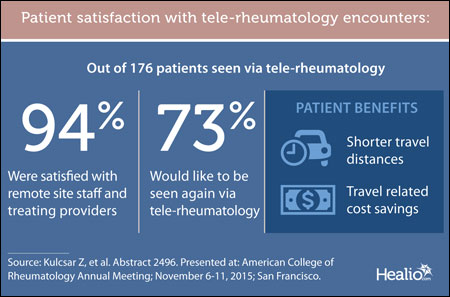 Rosian acknowledged that convincing providers to try tele-rheumatology can be challenging. "We have to show them that — especially for patients in remote areas — both patients and providers are more satisfied with this approach than by answering my chart messages or having important information delivered by snail mail," she said.
PAGE BREAK
Another benefit is that patients in remote areas are often more relaxed in the virtual visit than they are if they are forced to travel significant distances for infrequent visits, according to Rosian. "I find that my patients can stay on point for a 15- or 20-minute appointment," she said. "They don't expect more from me or from the visit as they would if they had just traveled half a day to come to my office. In return, I'm able to be more prompt and respectful of their time. It goes both ways."
Billing, Other Issues
Albert believes that the financial components of tele-rheumatology remain problematic. "Insurance, electronic record keeping and legal issues are other current limitations," he said.
"At the present time, the billing issues fall on the shoulders of the patient," Rosian said. "They are responsible for determining if their health savings account will work, if their insurance will reimburse the payment, or if they will pay the bill. In our practice, they swipe a credit card to get into the virtual waiting room. You can imagine this becoming an issue as this money does not apply to their deductible for their traditional insurance."
At Albert's institution, the patient is billed for a facility fee that goes to the clinic or hospital where they are located followed by a professional fee to the physician's institution. "It is not that dissimilar from an in-person visit," he said. "Medicare and some insurance companies cover it, but some do not. Some Medicaid programs cover it and some do not. Some third-party payers actually encourage it with lower copays."
Peoples holds that while insurance coverage and billing are not primary concerns at the moment, fluctuation in the health care system as a whole can be problematic. "In our system, we are currently billed as a hospital-based clinic, which doesn't present a lot of problems, but insurance plans are constantly changing, so issues do arise," she said.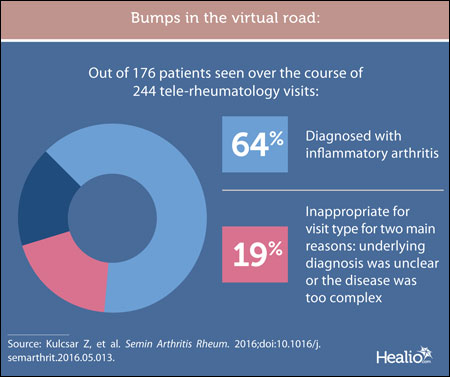 Rosian suggested that insurance and billing issues go hand-in-hand with overall acceptance of tele-rheumatology programs. "Some of the biggest hurdles are getting these visits to be part of the mainstream, and simply to get them operationalized," she said. "It will be difficult to have widespread acceptance unless virtual visits are covered by insurance."
Variability in insurance and billing protocols is associated with the fact that there are no standards of care in tele-rheumatology, according to Peoples. "Patients are getting very different types of care from center to center and region to region," she said. "This creates skepticism among doctors and patients, which leads to variability in outcomes."
PAGE BREAK
Guidelines will help, Rosian noted. "As a professional society, rheumatologists will need to be sure we have some guidelines around the number of virtual visits, or the length of time between in-person visits," she said. "This will improve the quality of care."
Despite the many setbacks, Albert is hopeful for the future of tele-rheumatology. "The mechanics of doing telemedicine are largely worked out," he said. "Eventually, I see it as a resurrection of the house call in the electronic age."
For Peoples, there is one key component to making this happen. "There has to be enthusiasm on all ends of the spectrum, from physicians and administration to patients," she said. "We are not trying to exactly match an in-patient visit, but rather we are trying to optimize this type of care, making telemedicine a unique and much-needed way to deliver specialty health care." – Rob Volansky
References:
Albert D, et al. Abstract 2053. Presented at: American College of Rheumatology Annual Meeting; Nov. 3-8, 2017; San Diego.
Kulcsar Z, et al. Abstract 2496. Presented at: American College of Rheumatology Annual Meeting; Nov. 3-8, 2017; San Diego.
Kulcsar Z, et al. Semin Arthritis Rheum. 2016;doi:10.1016/j.semarthrit.2016.05.013.
McDougall JA, et al. Arthritis Care & Res. 2016;doi:10.1002/acr.23153.
Nguyen-Oghalai TU, et al. South Med J. 2018; doi:10.14423/SMJ.0000000000000811.
Roberts LJ, et al. Intern Med J. 2012;doi:10.1111/j.1445-5994.2012.02931.x.
For more information:
Daniel Albert, MD, can be reached at 1 Medical Center Drive, Lebanon, NH 03756; email: Daniel.A.Albert@hitchcock.org.
Elizabeth D. Ferucci, MD, MPH, can be reached at 3900 Ambassador Drive, Anchorage, AK 99508; email: EDFerucci@anthc.org.
Christine Peoples, MD, can be reached at Falk Medical Building 3601 Fifth Ave Suit 2B Pittsburgh PA 15213; email: peoplesc2@upmc.edu.
Lynden Roberts, MD, PhD, can be reached at the Department of Rheumatology, Monash University Faculty of Medicine, Nursing and Health Sciences, Monash Medical Centre, 246 Clayton Rd, Clayton VIC 3168 Australia; email: lynden.roberts@monash.edu.
Rochelle Rosian, MD, can be reached at 29800 Bainbridge Road, Solon, OH 44139; email: ROSIANR@ccf.org.
Disclosures: Albert, Ferucci, Peoples, Roberts, and Rosian report no relevant financial disclosures.