September 12, 2018
8 min read
Rheumatologists define new role amid opioid epidemic
We were unable to process your request. Please try again later. If you continue to have this issue please contact customerservice@slackinc.com.

Ronald Rapoport
Rheumatologists have long skated the line between physician and pain management specialist. For decades, there were simply no drugs to treat rheumatic and autoimmune disease states effectively, but that did not change the fact that patients were in pain and required intervention. Thus, without the ability to adequately mitigate disease parameters, clinicians did what was necessary to return their patients to some degree of functionality: they prescribed opioids. This, in part, carried the United States to the current opioid epidemic, in which 115 people die every day from an opioid-related overdose.
Ronald Rapoport, MD, chief of the division of rheumatology at Southcoast Health in Falls River, Massachusetts, acknowledged the role of rheumatologists in the opioid crisis. "All of us who have written an opioid prescription in the past in one way or another have added to the problem," he said. "However, it is important to have a bit of history on this. Some of the older rheumatologists in the field may remember that in the 90s, pain was the 'fifth vital sign.' There was a significant push to use opioids because it was believed that we weren't treating pain or controlling diseases well enough."
In 1996, the American Pain Society coined the phrase "pain as the fifth vital," which emphasized that pain was as important for clinicians to evaluate in their patients as temperature, pulse, breathing rate and blood pressure. Driven by growing recognition in the medical community that many patients with chronic pain were being inadequately treated, a public campaign was launched to call attention to the prevalence of pain as a public health crisis.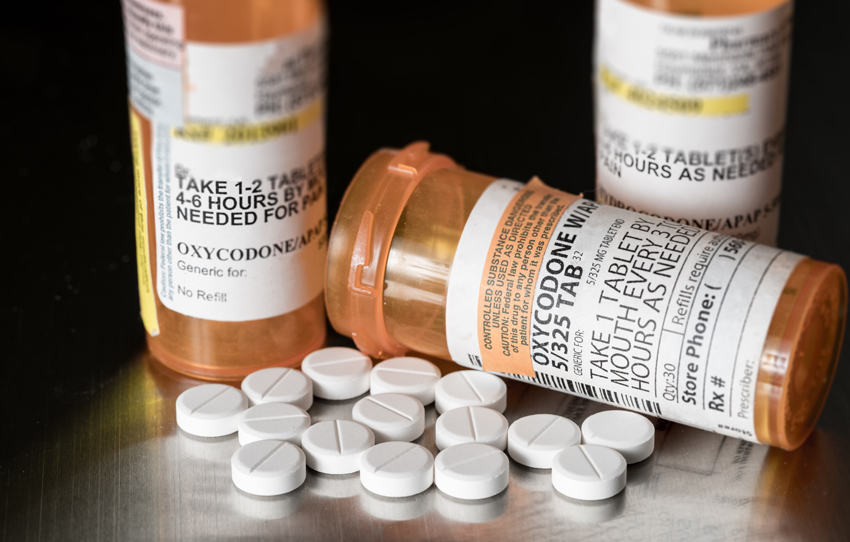 Credit: Shutterstock
Jasvinder A. Singh, MD, MPH, professor of medicine at the University of Alabama at Birmingham, remembers this time. "Doctors could have action taken against them for failing to treat pain adequately," he said. "We didn't get here out of nowhere."
In an effort to reduce the incidence of suffering associated with both acute and chronic pain and reduce costs related to pain through pain control, in October 2000, President Bill Clinton signed a bill which declared 2000 to 2010 as the "Decade of Pain Control and Research." As only the second congressionally-declared, medically-related decade, it was hoped that the Decade of Pain Control and Research would bring a renewed focus on the research, education, and clinical management of pain disorders.
However, unlike the original four vital signs, pain is not objectively measured and imparts a patient's bias and life experience into the assessment — a complication in patient evaluation that would propel the abuse and addiction challenges over the next decade and still test the clinical community today.
Today, the clinical community must wrestle with many key questions pertaining to opioid use, the first of which is whether to use them at all. Early data show ambivalence. In their study in Arthritis & Rheumatology, Curtis and colleagues identified 97,859 patients with rheumatoid arthritis to determine long-term and short-term prescribing patterns from 2006 through 2014. Results showed an increase through 2010, followed by a slight decline, which the researchers attributed to the withdrawal of propoxyphene from the market that year, followed by an increase in hydrocodone and tramadol prescriptions.
Clinicians must evaluate each patient to determine whether opioid therapies may be safely prescribed, or whether a multimodal approach to disease and pain management is optimal. The amount of pain that is acceptable for a patient to deal with must be considered, along with the roles and responsibilities of pharmaceutical companies and organizations like the American College of Rheumatology and EULAR.

Mary-Ann Fitzcharles
There are few data available to adequately address these questions, according to Mary-Ann Fitzcharles, MD, associate professor of medicine and senior physician in the division of rheumatology and Louise and Alan Edwards Pain Management Centre at McGill University Health Centre, in Montreal. "Opioids are effective treatment for acute pain, but with limited evidence for effect in chronic rheumatic pain," she said. "They are not recommended for use for treatment of any rheumatic disease, largely based on the lack of studies and evidence for use."
Despite these challenges, the rheumatology community is not completely without cause for hope. Biologic therapies for the treatment of RA brought about the ability to control underlying disease activity — and pain — without the collateral damage of opioids. "When biologics hit the market, we became doctors again," Rapoport said. "Pharma is working on bringing other such drugs to market to treat other rheumatic and autoimmune diseases."
The other reason for optimism is simply an increased level of awareness of both the damage that opioids can cause and the gaps in patient care.
The current role of opioids
If opioids are to be used, physicians should carefully select the drugs, consider dosage and duration of treatment, and have a plan in place for discontinuation, according to CDC guidelines. The agency has been clear about the associations between higher opioid doses and overdose or mortality. The guidelines also recommend caution, even with doses of 20 to 50 morphine milligram equivalents (MME) per day. If patients do require more — for example, 90 mg of hydrocodone, or 90 MMEs — clinicians should monitor pain and dependence much more frequently.
"Every physician prescribing opioids must be fully familiar with the risk/benefit ratio of these agents, have a knowledge of the patients medical and psychosocial history, and be alert to misuse, abuse and divergence," Fitzcharles said. "Often the most innocent-appearing patient may be the subject of abuse, either personally diverting the agent, or being coerced by other to access the opioid legally to allow for further divergence. Spot urine drug testing in a clinic can at times reveal surprising results, such as the absence of opioids for a person receiving a prescription for daily opioids, or presence of other substances, procured by the sale of prescribed opioids."
Despite these concerns, Rapaport insists that opioids should continue to have a role in the rheumatology arena, albeit with caution. "The simple reason is that we don't yet have an adequate substitute for treating disease or severe, debilitating pain," Rapaport said.
The data support this: Clinicians continue to use opioids. Curtis and colleagues found significant variability among 4,024 U.S. rheumatologists in regularly prescribing opioids for patients with RA. "In the average rheumatologist's practice, 40% of RA patients used prescription opioids regularly," they wrote.
Fitzcharles noted that as many as 30% of patients with rheumatic diseases in North America are treated with opioids. "In a study of 1,000 patients with rheumatic diseases in Montreal, we identified opioid use in 16%, but this number increased to 40% for those who were using concomitant medical cannabis," she said.
"There is a strong push to severely cut down the use of these drugs in medical practice due to the perceived and actual risk realized in the last few years," Singh said. "I'm glad that these options are still available to the patients who need them. While opioids are not generally useful for bursitis, tendonitis, fibromyalgia, or other conditions with mild or transient pain, understanding the extent of joint damage and quality of life of a patient are important factors that should be carefully considered. If a patient will lose their job if they don't find some way to deal with moderate to severe pain, we have to consider opioid use, provided we determine the risk/benefit ratio and make an individualized treatment decision with the patient. To remove opioids from the treatment algorithms takes an important and relevant medication option away from groups of patients that need them."
As clinicians continue to use opioids, Fitzcharles stressed caution. "In the setting in which a rheumatologist is insecure regarding treatment with opioids in a specific patient, referral and advice from a competent colleague should be sought," she said.
Alternative modalities
The CDC offers guidelines for pain management in patients with chronic diseases, including key recommendations such as establishing treatment goals and having active discussion of risks with patients.
In terms of nonopioid modalities, Fitzcharles suggested that acetaminophen may be used, along with NSAIDs, in an on-demand schedule. "The gabapentinoid drugs, such as gabapentin or pregabalin (Lyrica, Pfizer), are increasingly used in small doses off-label, especially as a nighttime dose for modulation of night pain and with the added advantage of sleep promotion," she said.
Selective serotonin reuptake inhibitors have shown efficacy in pain management, according to Singh. "They can be used in osteoarthritis, fibromyalgia and other diseases," he said.
Regarding serotonin norepinephrine reuptake inhibitors such as duloxetine and milnacipran, Fitzcharles suggested that they may have a modest effect for some patients. "However, the initial enthusiasm for effect is waning and there is attrition of use in clinical practice over time," she said.
The burgeoning question of the effect of the cannabinoid molecules must be addressed, according to Fitzcharles. "To date, there has been very limited study of pharmaceutical cannabinoid products in rheumatic diseases, with high rate of side effect, and less convincing evidence for benefit," she said. "There are no published randomized clinical trials of herbal cannabis in rheumatic diseases."
Rheumatologists continuously beat the drum for tried-and-true pain and disease management strategies, such as weight loss, diet, exercise and stress reduction. However, Fitzcharles noted that pain often has a mental component for patients, as well. "Patients are often frightened that pain is an indication of a serious underlying process, or that pain is a signal that damage could be done with activity," she said. "Therefore, education and reassurance play an important role."
For Singh, it is important to be flexible. "We just have to understand that pain can be managed in a variety of ways," he said. "Controlling underlying disease states with everything from methotrexate to biologics can have a positive effect on pain. Some patients can even do well with locally-applied gels and creams, which emphasizes that as the pain experience is different for each patient what is effective for their pain will also be different."
From the patient perspective
Much of the current thinking hinges on the amount of pain patients should be expected to tolerate, but data thus far have shed little light on this topic. Other findings from Curtis and colleagues showed factors associated with opioid use, including younger age, female sex, African-American race, back pain, fibromyalgia, anxiety and depression.
"Now, we are saying that mild-to-moderate pain is acceptable and reasonable for patients to deal with," Singh said. "But even that can vary from patient to patient. It can be a very difficult dilemma. You worry that the patient is dealing with significant osteoarthritis and pain-associated disability, but you also worry about drug dependence, abuse or side effects. Most of us have never had formal training for how to address the use of narcotic pain medications, including dependence and withdrawals, as it was not required for us to learn about it; however, we all need to be aware and trained in addressing these important issues surrounding the use of opioid pain medications."
Rapoport seized on the idea of requiring rheumatologists to be up to speed on this information. "There are articles for review, and, in general, there is much more awareness surrounding all of these aspects of opioid use that can guide us," he said. "But we have to go find it. It's not handed to us on a silver platter."
Fitzcharles also agreed that patients must have realistic expectations of the effect of any medication. "Seldom is pain completely eliminated," she said. But she also touched on a larger concern. "North America has become a pill-focused society, with the expectation that a pill will do the trick."
In the end, dealing with all of this may simply come down to education, according to Fitzcharles. She suggested that organizations like the ACR and EULAR should promote peer-reviewed science about both opioid therapies and other modalities. "They should also educate rheumatologists about the current science of the understanding of pain mechanisms," she said. "They should ensure that rheumatologists provide empathetic and competent patient care, with attention to harm reduction."– by Rob Volansky
For more information:
Mary Ann Fitzcharles, MD, can be reached at Montreal General Hospital, 1650 Cedar avenue, Montreal, Quebec, Canada H3G 1A4; email: Paul.Logothetis@MUHC.MCGILL.CA.
Ronald J. Rapoport, MD, can be reached at 1030 President Ave, Fall River, MA, 02720; email: girammmap@southcoast.org.
Jasvinder Singh, MD, MPH, can be reached at Faculty Office Tower, room 805B, Birmingham, AL 35294-0000; email: jsingh@uabmc.edu.
References:
Curtis JR, et al. Arthritis Rheumatol. 2018;doi:10.1002/art.40152.
CDC guideline sites:
https://www.cdc.gov/drugoverdose/prescribing/guideline.html
https://www.cdc.gov/drugoverdose/pdf/calculating_total_daily_dose-a.pdf
Disclosures: Fitzcharles and Rapoport report no relevant financial disclosures. Singh reports income from Bioiberica, Horizon Pharmaceuticals/DINORA, Takeda Pharmaceuticals, WebMD, UBM LLC, Crealta/DINORA and the American College of Rheumatology.