August 15, 2018
1 min read
Misdiagnosed septic arthritis in gout increases joint damage, fatality risk
We were unable to process your request. Please try again later. If you continue to have this issue please contact customerservice@slackinc.com.

Eileen J. Lydon
FORT WORTH, Texas — Although gout is well known for imitating several other conditions, clinicians should exercise caution to eliminate septic arthritis as a potential diagnosis, as delay in treatment could result in irreversible joint damage and even death, according to a presentation at the Rheumatology Nurses Society Annual Conference.
"The differential for gout is huge — including chronic inflammatory arthritis, cellulitis and pseudogout — but we also have to consider others such as Lyme disease, osteomyelitis and osteoarthritis," Eileen J. Lydon, MA, RN, ANP-BC, from the New York University Hospital for Joint Diseases, said. "In these patients, septic arthritis can look very much identical to gout, so we never want to miss this; if this goes undetected, it can lead to irreversible joint damage and mortality due to sepsis."
Patients with gout who have had total knee or hip arthroplasty should be closely monitored as they are at increased risk for septic arthritis, Lydon warned. Unlike gout, septic arthritis commonly occurs in the knee.
"Sepsis can occur if bacteria enter the bloodstream from another source, such as an infected prosthetic joint," she said. "The rate of fatality for septic arthritis can be up to 11% whereas irreversible joint damage, which happens very quickly, can be up to 50%. It is important for clinicians to note that gout and infection can and do coexist. In fact, patients with gout are at increased risk of having a septic joint."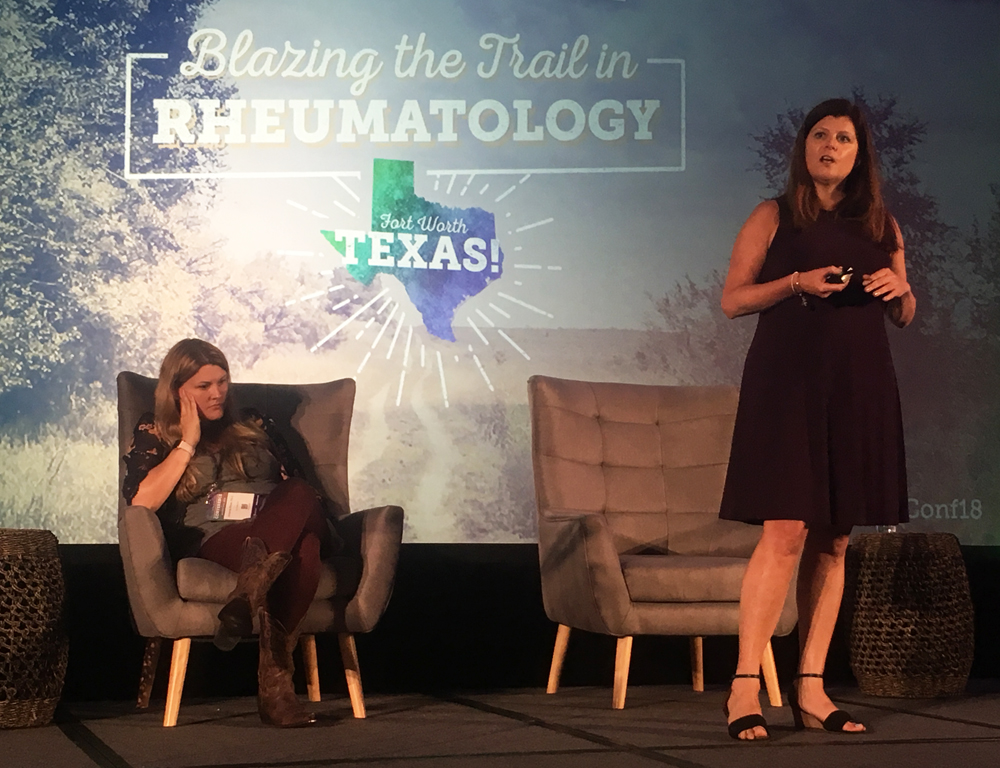 Source: Healio.com
Lydon noted that as the incidence of gout has increased dramatically over the past 20 years, due to unhealthy lifestyles and increased use of aspirin and diuretics, early diagnosis is crucial in differentiating gout and its less severe mimics from potential medical emergencies, such as septic arthritis.
"The only way we can differentiate septic arthritis is through Gram stain and culture of the synovial fluid," Lydon said. "The patients most at increased risk for septic arthritis are our patients — the ones that are immunocompromised, those with prosthetic joints, IV drug users, diabetics." – by Robert Stott
Reference:
Lydon EJ. Exploring inflammatory arthritis including RA, SpA and gout. Presented at: Rheumatology Nurses Society Annual Conference; Aug. 8-11, 2018; Fort Worth, Texas.
Disclosure: Lydon reports no relevant financial disclosures.