July 19, 2018
13 min read
Distinguishing 'Stem Cell Hype' From Hope in Knee Osteoarthritis
We were unable to process your request. Please try again later. If you continue to have this issue please contact customerservice@slackinc.com.
In early May, the FDA filed two federal complaints seeking to permanently ban two stem cell clinics from marketing stem cell products without regulatory approval, accusing these clinics of disregarding "the law, and more importantly, patient safety."
"We support sound, scientific research and regulation of cell-based regenerative medicine, and the FDA has advanced a comprehensive policy framework to promote the approval of regenerative medicine products," FDA commissioner, Scott Gottlieb, MD, said in a statement. "But at the same time, the FDA will continue to take enforcement actions against clinics that abuse the trust of patients and endanger their health with inadequate manufacturing conditions or by purporting to have treatments that are being manufactured and used in ways that make them drugs under the existing law but have not been proven safe or effective for any use."
Although the injunction applies to only two stem cell clinics — the US Stem Cell Clinic based in Sunrise, Florida and the California Stem Cell Treatment Center Inc. in Rancho Mirage, along with its affiliate, Cell Surgical Network Corporation in Beverly Hills — the FDA's action has nonetheless cast new light on the exponential growth of stem cell clinics and their advertising of unapproved, direct-to-consumer therapies.
In the United States alone, there are nearly 600 stem cell clinics advertising interventions to treat a wide variety of conditions, ranging from Parkinson's disease to macular degeneration to orthopedic injuries. In particular, the promise of stem cell injections offering joint pain relief or even the slim possibility of avoiding more invasive surgeries has resonated heavily among patients with osteoarthritis.
"If a patient develops osteoarthritis that progresses despite the implementation of exercise routines, weight loss, anti-inflammatory medicine and activity modification, the only alternative they have is to proceed on to knee arthroplasty," George F. Muschler, MD, director of the Regenerative Medicine Laboratory at Cleveland Clinic, said in an interview. "For many patients, that is a very undesirable option, either due to fear of surgery or that they are so young that they don't want to consider having an arthroplasty that might fail and have to be revised. Osteoarthritis is an appealing target, not only because there is perhaps opportunity there, but also because there is a tremendous clinical need."
PAGE BREAK
Healio Rheumatology consulted a number of osteoarthritis experts who discussed how the explosive growth of direct-to-consumer stem cell clinics has contributed to the larger conversation regarding regenerative medicine and regulatory oversight. Sifting through the "marketing hype" often disseminated by stem cell clinics, the experts addressed how far the field has come in the development of new therapies for OA, and what challenges still lay ahead.
Health Sells — But Who's Buying?
Although "stem cell tourism" — in which U.S. citizens travel to countries with lax medical regulations to receive unapproved stem cell treatments for severe illnesses — is a fairly well-known and often derided practice in the U.S. health care community, physicians often fail to recognize the homegrown version with similarly deficient safety and efficacy standards.
In a 2016 study published in Cell Stem Cell, Turner and Knoepfler conducted an internet-based search and analysis of the keywords ''stem cell treatment'' and ''stem cell therapy'' and identified 351 U.S. businesses engaged in direct-to-consumer marketing of stem cell interventions offered at 570 American-based clinics.
Though some clinics occupied niche marketplace sectors, promoting stem cells for cosmetic applications — including "stem cell facelifts" and "stem cell breast augmentation" — the majority promoted stem cell services for a wide array of diseases and injuries, with marketing for orthopedic conditions exceeding all others. With more than 27 million Americans affected by OA, and an estimated 9.9 million adults affected by OA of the knee, if even a fraction of this patient population seeks treatment at these clinics, thousands of patients could receive unapproved therapies that lack confirmed health benefits.
"There are no robust large studies to confirm benefit, but there are a number of small studies suggesting that stem cells may lead to an improvement in pain among patients with OA of the knee or other joints," Stanley B. Cohen, MD, medical director at the Metroplex Clinical Research Center in Dallas, told Healio Rheumatology. "At the moment, this is strictly a cash business as these are not FDA-approved therapies, but moreover, stem cell therapy is not a permanent fix. While some patients may see improvement, we also know from clinical trials that approximately 30% to 40% of patients in OA trials who receive placebo improve for months afterward. This may be what we are seeing with stem cell therapy or perhaps there is truly something there, but the proper studies haven't been done."
PAGE BREAK
A lack of peer-reviewed evidence, however, has not curbed the growth of stem cell clinics nor advertisements boasting stem cell interventions purported to speed recovery for a variety of musculoskeletal conditions. In a recent study published in the Journal of Knee Surgery, Muschler and colleagues surveyed 273 U.S. centers that offer direct-to-consumer stem cell musculoskeletal treatments, inquiring about same-day stem cell injections for knee OA, clinical efficacy and cost. Among the surveyed clinics, 65 centers provided costs for knee injections with prices ranging from $1,150 to $12,000, averaging approximately $5,000 per injection.
Additionally, the researchers identified that, among centers that provided information on treatment efficacy, stem cell clinics claimed an average effectiveness of 82% and that 80% of treated patients exhibited "good results" or "symptomatic improvement," despite a lack of corresponding data in the published literature.
"Similar to their patients, there are many physicians out there who are willing to have their patients participate in stem cell therapy, but with the understanding that these treatments need to be rigorously tested through clinical trials or prospective cohort registries to generate generalizable information," Muschler told Healio Rheumatology. "Unfortunately, there is also a substantial part of the medical community that has entered this high demand field, in which many patients are willing to pay out-of-pocket for these therapies that are not approved by insurance, offering therapies that sound promising but lack data to prove their efficacy."
He added, "We know that these centers are making considerable profits, and we know that many patients are going there. What we don't know — because there isn't a really clear mechanism for tracking it — is whether these patients are actually getting better."
Moves Toward Oversight
In a special report published earlier this year in The New England Journal of Medicine, Gottlieb and coauthor Peter Marks, MD, PhD, director of the FDA's Center for Biologics Evaluation and Research, outlined plans to support the development of stem cell therapies and other regenerative medicine products proven to be safe and effective. Although the burgeoning stem cell clinic industry is not mentioned specifically by the authors, the emphasis that stem cell treatments should value patient safety over ill-defined risk-benefit points a clear finger.
"Even in the absence of serious adverse events, the use of therapies that are of unproven efficacy is a disservice to patients and to public health," the authors wrote. "An increasing number of safe and effective therapies are becoming available on the basis of the findings of well-designed clinical trials. It is critical to focus on efforts to facilitate the development of such therapies, rather than propagating products with dubious clinical efficacy and possible risks."
PAGE BREAK
Currently, the FDA regulates stem cells and other human cells and tissues under a set of regulations initially developed in the 1990s that eventually led to the rules captured in the Code of Federal Regulations under 21 CFR 1271. Classified as "human cells, tissues, and cell- and tissue-based products" (HCT/Ps), stem cell therapies are regulated as either a Section 361 HCT/P or a Section 351 biological product under the Public Health Service Act, depending on whether the product has been minimally manipulated, is intended for homologous use or relies on the metabolic activity of living cells to accomplish its primary function.
The majority of stem cell clinics claim their products under the Section 361 exemption, a regulation which lacks premarket review of the products for safety and efficacy, and is intended primarily to minimize infectious disease risks to patients.
"These agents have not been cleared by the FDA with a specific claim that they are regenerative," Muschler said. "The 361 exemption is basically a self-declared status, under which the clinics claim their product is a human cell- and tissue-based product that has been minimally manipulated, and it is up to the FDA to challenge whether that is true."
Though vague on concrete details of the next step of the FDA's plan, Gottlieb and Marks did indicate that stem cell manufacturers will be required to settle on and adhere to a common manufacturing and clinical trial protocol to be considered compliant — no easy feat for an industry in which most centers operate independently of any oversight.
"This is the critical part of this regulatory activity — a requirement for standardization," Denis Evseenko, MD, PhD, associate professor of orthopaedic surgery, stem cell research and regenerative medicine at Keck School of Medicine of the University of Southern California, said in an interview. "Different clinics derive cells in different ways, and for many, there is no evidence of their therapy actually having any stem cells. Therefore, it is critical to have a biological passport for each of the injections so they can be traced and tracked, including the efficacy, outcomes and side effects, and then link them to the recipe. At the moment, there are no recipes available — what they are injecting is basically a black box, which does not allow you to draw a line from what is injected and why it did or did not work."
PAGE BREAK
Regulating a Buzzword With Various Meanings
As noted by Turner and Knoepfler, the majority of surveyed stem cell clinics marketed autologous cell-based interventions, with an estimated 20% of clinics advertising allogeneic stem cell interventions, and some clinics offering both autologous and allogeneic stem cells. Even among clinics promoting only autologous stem cell procedures, there was a wide disparity in how stem cells were derived: 61% advertised autologous adipose-derived stem cells; 48% advertised autologous stem cells obtained from bone marrow, and 4% reported their stem cells were derived from peripheral blood.
"The consensus in the field is that these therapies are not efficient and not delivering any sustainable effects; however, the main issue is that these advertised formulations do not involve real stem cells," Evseenko said. "This a completely misused term, done purely from a marketing perspective. Although different professional societies are trying to inform the community that this is not true stem cell therapy, for patients who are in very progressive disease states and willing to try emerging therapies, there are many private practices that readily offer it."
Along with trying to better define stem cell therapy for the patient population, health care professionals have also struggled with determining which cells are actually capable of improving the joint as well as their structures to identify these beneficial cells in the event of patient improvement.
"In terms of regulation of stem cell therapies, what needs to be done is to define what exactly that cell looks like," Kristen A. Johnson, PhD, principal investigator at the California Institute for Biomedical Research, told Healio Rheumatology. "[In OA,] stem cell therapies utilize chondrocytes or stem cells that will become chondrocytes, which is the primary cell type in the articular cartilage. Compare this to CAR T cells: Those cells have a specific set of markers, and have a uniform quality, so to speak. There is a definition (or criteria) around what that cell looks like compared to anything close for cartilage cells used in cell therapy. Until we figure that out, there is simply no way to mass market this kind of cell therapy, and therapy will not be effective for many patients."
Next Generation OA Therapies
As OA progresses and joint pain intensifies, patients have fewer options to consider before knee arthroplasty, which according to Cohen, has a "phenomenal success rate" as a pain relieving operation and has "revolutionized the management of OA." However, due to patient apprehension of surgical procedures — especially among younger patients with concerns regarding limited mobility or the need for additional surgeries later — research continues for less invasive alternatives, including platelet-rich plasma, hyaluronic acid, and more recently, stem cell therapies.
PAGE BREAK
"For OA, stem cell therapy is likely to be inefficient, because there are multiple tissues in OA that undergo significant degeneration, including bone, ligament and synovium," Evseenko said. "It is not only about replacing defects in cartilage, but rather actually treating the entire joint, which is why I think it is very unlikely that stem cell therapies will help in this disease."
In a recent phase 1 study published in Annals of the Rheumatic Diseases, Evseenko and colleagues demonstrated that a small molecule gp130 modulator, RCGD 423, increased proliferation of joint cartilage cells while reducing apoptosis and hypertrophic responses in adult chondrocytes in vitro. Additionally, when the researchers injected RCGD 423 into the knees of mice with osteochondral defects, there was improved healing of cartilage damage.
"This molecule has the potential to suppress chronic inflammation and, for the first time, we can demonstrate that this molecule changed stem cell environments in the joint and stimulated cartilage regeneration," Evseenko said. "In this way, previously damaged cartilage can grow back. While this does not represent a cure for OA, it could delay the progression of disease to stages in which patients require knee arthroplasty."
Similarly, the California Institute for Biomedical Research recently announced the initiation of a phase 1, randomized, placebo-controlled trial to examine the safety and tolerability of the small molecule kartogenin — otherwise known as KA34 — among patients with OA of the knee.
"KA34 was created to target the stem cells in cartilage and cause them to differentiate into mature chondrocytes, which produces cartilage, the covering of the bone that often becomes degraded in OA," Johnson said. "In preclinical studies, we have seen that KA34 promotes healing of the cartilage, and in theory, if it translates into humans, it may alleviate pain, which is the main complaint of OA. This is slightly different than stem cell therapy, in which stem cells are injected into the joint, but it aims to answer the same question: If these healthy cells can generate the appropriate cartilage, will that alleviate pain for patients?"
Remaining Obstacles
The pain associated with OA is the primary complaint of most patients, often prompting them to seek out medical attention. Although nonpharmacologic approaches are advocated first, including strength training, low-impact aerobic exercises and weight loss, disease progression eventually narrows patient options until both patients and physicians investigate a range of pharmacologic approaches for improving pain and function.
"Clearly, there is a roadmap to managing osteoarthritis," Cohen said. "We have medications which are modestly effective in managing pain and inflammation — anything from acetaminophen to NSAIDs to analgesics such as tramadol/hydrocodone. However, with so few options, there is tremendous unmet need for the growing number of patients suffering from OA. Unfortunately, there have been no new oral treatments approved for OA since 2001 and only one recent intra-articular therapy —a longer acting glucocorticoid."
PAGE BREAK
In a recent study in the Journal of the American Academy of Orthopaedic Surgeons, Jevsavar and colleagues conducted a meta-analysis to determine the effectiveness of NSAIDs, acetaminophen, intra-articular corticosteroids, platelet-rich plasma and hyaluronic acid compared with each other, in addition to placebos. According to researchers, for pain reduction, intra-articular corticosteroids provided the most significant short-term pain relief, while naproxen was found to be the most likely to improve clinical function.
The researchers noted that, based on best available evidence, interventions that include naproxen combined with intra-articular corticosteroids were most likely to improve pain and function in patients with OA. However, even this relatively safe and low-cost intervention is only a short-term maintenance solution, another in a long line of such treatment options for patients with OA.
"Unfortunately, OA is usually a very diffuse degenerative disease, so it defects in the entire joint, and at the moment there are no disease-modifying activity therapies on the market for a number of reasons," Evseenko said. "One is the complexity of the disease, and the fact that most patients who have OA are relatively older aged people with very low levels of natural regenerative capacity. Another key problem is that clinical studies are extremely expensive, and OA lacks the reliable biomarkers or indicators that would help perform the clinical trials quickly, and report qualitative results in a short time frame, which are needed to keep large investors and 'big pharma' interested."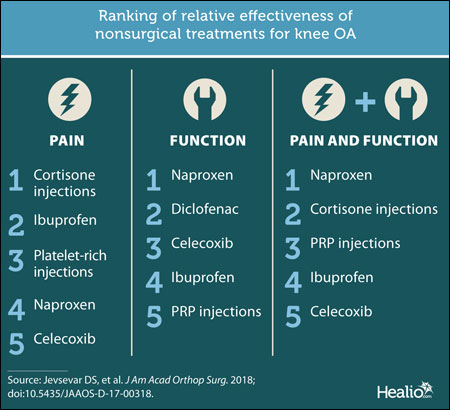 Johnson noted that the lack of large scale funding for OA research has been complicated by the multifactorial nature of the disease, and the need for a more complete understanding of the complex pathogenic mechanisms at work in the joint.
"There has been some waxing and waning in terms of 'big pharma' interest, namely because they don't know if they can make money from it," Johnson said. "OA is very complex, because it is a multifactorial disease associated with bone, cartilage and tendons, and can be further complicated if patients have multiple other metabolic diseases. When researchers try to include all these potential factors into a trial and make a claim that a particular drug is working, yet all the patients' knee cartilage look different, what has happened is that over the last 20 years, no one has been able to show that there is any significant change, certainly not enough to get the therapy registered. Although some of the pharmaceutical companies have backed off, there has been considerable – and impressive – OA research."
PAGE BREAK
Looking Ahead
"In my practice, patients generally know it is time to proceed to surgery when conservative measures, such as weight loss, exercise and medications no longer provide sufficient pain relief," Cohen said. "Until we have disease-modifying therapies available for patients with OA, total joint replacement will remain the best option for most patients."
Among patients for whom surgery is not a feasible — or desirable — option, however, the promise of stem cell clinics advertising "cutting edge" salves for their pain via simple injection continues to find willing believers.
"The biggest hurdle for patients at this point is where they should go to get truthful information about these therapies," Muschler said. "Without being adequately informed about the therapy they are receiving, there is a very real risk of patients being taken advantage of at these clinics, paying considerable out-of-pocket costs without much chance of benefit."
Muschler noted that patients themselves can drive change in the expanding stem cell clinic industry simply by requesting data on treatment efficacy, and refusing to patronize clinics that do not contribute to peer-reviewed literature.
"To legitimize these services, clinics should be able to inform patients about exactly what they are injecting, how many cells, what kind of cells, and actively measuring them in some objective way using patient recorded outcome tools," Muschler said. "Additionally, clinics should evaluate patient status before and after treatment so they are critically assessing their own performance and measuring individual patient performance. Finally, patients should be recruited into a prospective database of some kind — whether a quality registry, prospective trial or prospective cohort study — but data that is registered and intended to report their outcomes to the rest of the world."– by Robert Stott
References:
Jevsevar DS, et al. J Am Acad Orthop Surg. 2018; doi:10.5435/JAAOS-D-17-00318.
Marks P, Gottlieb S. N Engl J Med. 2018; doi:10.1056/NEJMsr1715626.
Piuzzi NS, et al. J Knee Surg. 2018; doi:10.1055/s-0037-1604443.
Shkhyan R, et al. Ann Rheum Dis. 2018; doi:10.1136/annrheumdis-2017-212037.
Turner L, Knoepfler P. Cell Stem Cell. 2016; doi:10.1016/j.stem.2016.06.007.
For more information:
Stanley B. Cohen, MD, can be reached at 8100 Walnut Hill Lane, Suite 800; Dallas, TX 75231; email: arthdoc@aol.com.
Denis Evseenko, MD, PhD, can be reached at the University of California at Los Angeles, 615 Charles E. Young Dr. South, Rm. 414, Los Angeles, CA 90095; email: devseenko@mednet.ucla.edu.
Kristen A. Johnson, PhD, can be reached at the California Institute for Biomedical Research, 11119 North Torrey Pines Road, Suite 100, San Diego, CA 92037; email: kjohnson@calibr.org.
George F. Muschler, MD, can be reached at 9500 Euclid Ave, Cleveland, OH 44195; email: muschlg@ccf.org.
Disclosures: Cohen reports a consulting relationship with Pfizer. Evseenko reports employment with Carthronix. Muschler reports a consulting relationship with Fortis and the NIH. Johnson reports no relevant financial disclosures.