June 15, 2018
14 min read
Wellness for a Life Well-lived, Even With Rheumatic Disease
We were unable to process your request. Please try again later. If you continue to have this issue please contact customerservice@slackinc.com.
It is no secret that, in terms of general health, it's better to eat a salad than a burger and fries. It's no secret that going for a walk is better than sitting on the couch watching television. It's no secret that practicing yoga or meditation can provide some peace in a busy, cluttered life. And it's no secret that improving these wellness-related lifestyle habits can pay dividends for patients with rheumatic or autoimmune diseases. Despite these well-known facts, both rheumatologists and patients consistently report poor dietary habits, alarming rates of tobacco and alcohol use, and insufficient exercise among individuals with these conditions. Many experts believe it's past time to discuss why.
One such expert is Leonard H. Calabrese, DO, vice chair of rheumatic and immunologic disease at Cleveland Clinic and chief medical editor of Healio Rheumatology. "The time for wellness has come," he said. "We are no longer satisfied with merely treating disease activity and only measuring our patients progress with standard disease activity scores. For too long, wellness has been considered an alternative to medication. That needs to change."
Nicole M. Cotter, MD, a rheumatologist and integrative medicine physician at Rheumatology and Osteoporosis Specialists, addressed the misconception among both patients and clinicians that pharmacotherapy and wellness are mutually exclusive. "In traditional medicine, we are good at pharmacotherapeutic treatments but often ignore the lifestyle practices that keep our patients sick," she said. "Pharmacotherapeutic treatments and health and wellness approaches go hand-in-hand in managing systemic inflammation. Changing negative lifestyle behaviors, like poor nutrition, stress and a sedentary lifestyle, can complement standard pharmacotherapeutic treatments. This is not an either/or scenario."
The challenges involved in instituting a wellness regimen include promoting positive habits like proper diet and exercise, reducing negative habits like smoking or excessive drinking, and raising awareness about approaches that currently reside on the fringe of health care, such as yoga, tai chi, mindfulness and meditation. It is important for all involved — doctors, nurses, patients and those in the patient's support system — to understand the importance of stress management, restful sleep and the myriad of factors that can exacerbate inflammation.
PAGE BREAK
A key hurdle in instituting these changes is that most rheumatologists are unaware of the increasing body of data supporting the benefits of wellness behaviors in the autoimmune disease setting, according to Calabrese. "There are numerous obstacles that face practitioners in the effort to increase wellness behaviors in their practice; among them are lack of knowledge in the data, lack of confidence and skill in wellness education, and clearly a lack of time."
Calabrese noted that patients are also challenged to find sound advice on wellness behaviors. "There are obstacles confronting our patients as well, including their lack of knowledge and confidence that changing their behaviors will actually make them healthier and possibly improve their autoimmune disease."
Even among patients and practitioners who are aware of wellness strategies and how to implement them, structural barriers exist, such as poor insurance coverage for aquatic therapy or even a gym membership. Additionally, wellness treatment options are generally not included in peer-reviewed guidelines.
R. Swamy Venuturupalli, MD, founder of Attune Health, clinical associate professor at UCLA and Cedars-Sinai Medical Center, and past secretary, treasurer, and president of the Southern California Rheumatology Society, sees hope. "As a community, rheumatology is generally open to new ideas and new approaches," he said. "The reason is simple: we see our patients suffering over a prolonged period of time."
Empowered to Exercise
John R.P. Tesser, MD, adjunct assistant professor in the division of clinical education at Midwestern University, Arizona College of Osteopathic Medicine and partner in Arizona Arthritis & Rheumatology Associates, told Healio Rheumatology the benefits of simple exercise cannot be overstated. "Exercise is good for the musculoskeletal system. It's good for skeletal mass, muscle mass, balance and important to prevent osteoporosis," he said. "Then there are the metabolic aspects of exercise, including glucose metabolism and lipid metabolism. There is a component for the central nervous system, with the production of endorphins and cortisol balance. It just affects so many systems."
Although most experts understand that diet is more important than exercise in terms of weight management, Tesser stressed that exercise does play a part in weight control. "All of this is particularly important in rheumatic disease, by helping to avert the effects of huge mechanical loads of impact on top of weight bearing joints," he said. "This is a key stressor on the development of osteoarthritis in the hips, knees and feet. It all goes together."
In a recent study published in Musculoskeletal Care, Garner and colleagues tested the feasibility of a personalized diet and exercise regimen, along with individualized counseling, in 30 patients with inflammatory arthritis who were assigned standard of care or the intervention. Results showed nonsignificant improvements in physical activity, LDL cholesterol level and intake of vitamin C, iron, fiber, vitamin A and folate among patients in the intervention arm.
PAGE BREAK
"I have to look at the patient individually and realize what the challenges are," Tesser said. "If the person has significant body pain and is not obese, but cannot move because of the pain, I encourage them to mobilize, even if it's simply walking inside the house for a week, then around the block for a week. If they have trouble doing that, we can find another way to suit their needs."
Elizabeth Kirchner, CNP, from the department of rheumatologic and immunologic disease at Cleveland Clinic, pointed out that beyond a lack of free time or access to a gym, some patients have other issues finding ways to exercise. "Many of our patients are not comfortable even walking around the block due to fears for personal safety," she said. "For other patients, the barriers are rooted in prioritization; many people put their own health last on the list of the many things they have to attend to on a daily basis."
For Calabrese, making patients understand exactly why implementing wellness changes will help them feel better is only half the battle. "It is a matter of empowering them. If we can educate patients and make them believe that their personal behaviors will actually impact their immune system and their underlying disease, we will empower them to make these behaviors part of their treatment program rather than 'alternative' forms of therapy."
Improving Nutritional Habits
In a 2017 study in Arthritis Care & Research, Tedeschi and colleagues investigated 300 patients with rheumatoid arthritis to determine whether foods popularly categorized as inflammatory or anti-inflammatory impacted patient disease status. Nearly one-quarter of the cohort (24%) reported that foods affect RA symptoms. Improvement in symptoms was reported by 15%, while 19% reported worsening. RA symptoms improved most following the consumption of blueberries and spinach, while soda and desserts were most likely to worsen symptoms.
"Cost can be a significant barrier to a healthy diet, as can access to healthy food choices and safe places to exercise," Kirchner said.
Speaking about inflammatory eating habits, Venuturupalli warned that the science in some nutrition books may be problematic. "Still, I encourage my patients to explore these approaches," he said. "We provide them with support as well as correct information."
Berube and colleagues used the Healthy Eating Index (HEI)-2010 score to assess diet quality as it is associated with disease activity and functional status in adults with RA. The results, published in Nutrition and Health, showed a mean total score of 58.7 ± 15.9, with 7.1% of participants scoring good, 58.3% scoring in the fair range, and 34.5% scoring at a poor level. The majority of participants failed to adhere to the recommended diet, which included total intake levels of options ranging from fruits, vegetables and whole grains to fatty acids, refined grains, sodium and empty calories.
PAGE BREAK
"Most people are at least aware that fast food, processed food and foods high in carbohydrates and glucose have a negative impact on health and promote obesity," Tesser said. "But these foods actually promote a proinflammatory state. There are several reasons to consume unprocessed foods over processed foods, and to eat a diet that emphasizes fruits, vegetables, fibers, grains and nuts."
However, Tesser suggested the problem may be bigger than the individual. "How do you get a patient to eat healthy when everyone around them is consuming fast food?" he said. "I recommend doing small things, a little at a time. Remove fast food once a week, or try to eat only nonprocessed food or stay vegetarian before 6 p.m. every day."
Venuturupalli works in California, where he noted that many of his patients are "tuned in" to the importance of a healthy lifestyle, but he still stressed that education can be useful for patients who lack that knowledge or are unwilling to alter their diet. "Changing dietary habits is indeed difficult, but having a chronic disease is a big factor in making patients change their worldview," he said. "They have been dealing with pain for so long that they want to change. You have to plant a seed: Give them resources for physical therapy or recommend a nutritionist."
Eliminating Bad Habits
Resources can also be found almost everywhere about the importance of eliminating harmful habits like smoking and excessive drinking. In a study published in Medical Hypotheses, Gracia and colleagues investigated a cross-section of potential sources of inflammation, from diet and exercise habits to smoking. "This study confirms that, most probably, the primary causes of inflammatory diseases are always external inflammatory agents, like infectious micro-organisms or toxic substances, of which a particularly ubiquitous example is nicotine," they wrote. "Only the identification and elimination of the inflammatory agents can efficiently prevent and cure inflammatory diseases, and currently nicotine, absorbed intentionally or passively, from tobacco or other sources, must be considered the chief suspect because of its inflammatory power, ubiquity and addictive properties."
"You are dealing with one of the most addictive substances that we know of," Tesser said of nicotine. "It's very clear what has to happen for patients to break an addiction like tobacco: they need professional help. They need smoking cessation aids and other types of interventions. More importantly, we as rheumatologists need to accept that we are not the person to make them quit."
PAGE BREAK
Kirchner noted that many behaviors like smoking, drinking and even drug use are sources of pleasure and/or comfort to the patients. "Stopping them represents a significant upheaval in their lives," she said. "In addition, these behaviors are not simply bad habits, but rather addictive behaviors to some degree. Addictions are complex medical problems which require complex, multidisciplinary approaches. Many patients simply don't have the time, financial resources, or mental energy to devote to addressing these issues."
Taking Responsibility
Another concern is who should be having these conversations with patients, and who should follow up. "Nurses, nurse practitioners and physician assistants typically have more time to discuss wellness with patients," Kirchner said. "Those of us involved in chronic disease management can address these behaviors in small bites at every visit. We can continue to circle back to them at every opportunity, instead of trying to cram it all into one 15-minute follow-up visit."
Kirchner also noted that advanced practice providers receive special training for patient communication, active listening and empathetic interactions. "This makes us ideally suited to have these types of conversations with our patients," she said. "Nurses, in particular, are consistently rated as one of the most trusted professionals; patients may be more willing to listen to us when it comes to topics such as these."
The patient-physician relationship can be further strengthened if efforts are made to share the burden of responsibility for knowledge, such as physicians who field questions from patients who have gathered information about their condition from other sources. Venuturupalli discussed the phenomenon of what he called the "democratization" of medicine. "In addition to our patients who come to us with information about new studies or approaches, patient advocacy groups are increasingly involved in research," he said. "Patients today have much more say in how their care is dished out."
This kind of activism has translated into hard data, according to Venuturupalli. "There has been an increasing recognition from the FDA that patient-derived or patient-approved outcomes should be part of our research calculus," he said. "An additional component to more patient involvement is the increasing use of communication. Patients could connect with other patients who can share experiences of their illness and what has worked or not worked for them. They can learn about each other's health and wellness techniques. While this doesn't supplant clinical trials, practical and useful information could be obtained without having to spend billions of dollars proving or disproving whether one method is superior over the other."
PAGE BREAK
Unconventional Approaches
During a comprehensive review published in Annals of the New York Academy of Sciences, Black and Slavich assessed outcomes from studies investigating the impact of mindfulness meditation on immune system parameters, including circulating and stimulated inflammatory proteins; cellular transcription factors and gene expression; immune cell count; immune cell aging; and antibody response. Results showed mindfulness meditation had some impact on specific markers of inflammation, cell-mediated immunity and biological aging, but these results are tentative and require further replication and validation.
"Mind-body medicine is the use of the mind to influence health and healing," Cotter said. "We know that the nervous system and immune system are linked and that chronic stress negatively impacts the function of the immune system. The mind, through management of chronic stress, is one of many tools we can use to promote healing in patients with rheumatic disease."
Cotter suggested the biggest challenges to incorporating these types of interventions are time and patient awareness. "A solution to overcoming these challenges is to simply start the conversation," she said. "Even if there is not time to go into depth, presenting the idea that wellness matters and can significantly and positively impact outcomes in rheumatic disease is a start. I post literature in patient rooms about topics such as mindfulness and nutrition. I provide handouts on the anti-inflammatory diet and stress reduction. I suggest easy tools to start a daily relaxation practice. And, of course, I keep bringing it up, just as I would with smoking cessation."
Calabrese reports using a similar process and cites another advantage that rheumatologists have. "We don't take care of patients once, we take care of them over a lifetime," he said. "A few extra minutes at the end of a visit, especially when the patient is feeling good, can go a long way. We also have a TV constantly showing healthy recipes, tips on immune strength, tips on reducing stress and getting sleep — it's constant bombardment."
Venuturupalli recommended pushing the envelope of new ideas. "We are investigating genomic and proteomic information at different stages of disease, looking for scientific insights into the disease process," he said. "There are several companies that allow advanced diagnostic testing for gene dysfunction or defects that could predict response to different drugs. We are looking at how pharmacogenomics can be used, or genetic associations with chronic pain."
Until these approaches reach prime time, Cotter encouraged rheumatologists to make simple improvements using the current playbook. "Standard pharmacotherapeutic treatments in rheumatology target inflammation," she said. "Health and wellness approaches, such as nutrition, physical exercise, and stress management, also have anti-inflammatory effects."
PAGE BREAK
Overcoming Structural Barriers
The failure of insurance payers to reimburse for nontherapeutic treatments is another significant part of the problem, according to Tesser. "I'll write an aquatic therapy order, but the biggest obstacle is access," he said. "If the patient cannot afford it and the insurance won't cover it, it isn't going to happen. It's difficult, as a clinician, to go beyond that."
Tesser documents each time he writes a script for a wellness intervention, but documentation only goes so far. However, he is encouraged that the CDC recently published a cross-section of data and recommendations in support of counseling patients for exercise and weight loss. "Some of the findings showed that approximately 75% of adults who are overweight are not receiving professional counseling, but that weight outcomes improved among those who were counseled," he said. "If Medicare was to lead the way and pay for aquatic therapy or a gym membership, it would also help. The professional societies like the American College of Rheumatology and EULAR can develop guidelines based on scientific evidence, and promote these as good, healthy habits. This is where we need to start, and then we can make a dent."
Tesser also believes it is possible to do better than just make a dent, and he offered the example of smoking. "If you really want to get an entire nation to stop a bad habit, what do you do?" he said. "You sue the tobacco companies. You increase taxation on cigarettes, change advertising to include health warnings, restrict access for younger individuals, restrict it in restaurants and public spaces. It can be done. We need to recognize what obesity is doing to our country and apply the same pressure."
The flow of funding for research also remains a hurdle to bringing wellness into the mainstream, according to Venuturupalli. "Drug companies generally fund the majority of clinical research," he said. "Since we tend to study things that are funded, this results in a body of evidence that is skewed toward drug therapies at the expense of other therapies."
Calabrese insists the data are available. His group has published a 30-page monograph on "how to train and maintain your immune system" with a host of information for rheumatologists to draw from, and their annual immunology 'boot camp' seminar, which featured the scientific basis of wellness, has seen growing attendance. "There is science behind mindfulness and immunity, diet and immunity, exercise and immunity, sleep hygiene and immunity," he said. "We need to make rheumatologists aware of these data, and empower them so that they buy into it."
PAGE BREAK
Education of clinicians works in tandem with education of patients, according to Kirchner. "We try to show patients that some of the benefits they will feel from adopting a healthier lifestyle will be immediate, such as increased energy and better sleep," she said. "We also point out that weight loss, mindfulness, exercise, and quality sleep can all result in better control of diabetes, blood pressure, less need for anti-inflammatory medications, and other health benefits. Therefore, they will spend less time and money on treatments for these conditions."
The transition from fee-for-service to value-based care may also be helpful, according to Calabrese. "If you have a rheumatologist who is responsible for a life rather than just paying a bill, and if you can demonstrate that people who engage in wellness behaviors have better outcomes, you can incorporate these strategies into a model," he said, adding that a gym membership or a yoga class, in the long run, will be less expensive than most medications. "Our online mindfulness meditation program is $50 one time for life. That is even less than a month of a health club or going out to dinner."
Calabrese envisions that alternative payment models of care which seek value will ultimately support more wellness behavioral education in their effort to positively influence the overall health of patient populations, but he realizes that that such value must be proven by research.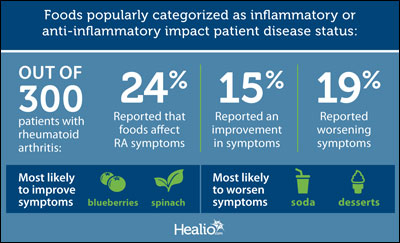 Looking Ahead
"We know much more than we did 20 years ago, and that is fortunate," Venuturupalli said. "In a way, the opioid epidemic has been instructive in showing us that for our patients with these chronic diseases, we cannot simply medicate our way out of the problem."
It is for this reason that Calabrese sees the landscape changing. "Adopting wellness behaviors lowers risk for insurers," he said. However, he acknowledged there is still distance to go. "Biologic companies consider themselves 'patient first.' They all should be stepping up. Everyone should be offering serious wellness education and training."
Calabrese encouraged clinicians to think holistically. "Wellness is when lives are lived well," he said. "It includes all things that affect a patient, their mind, body, spirit, family, community and functionality."– by Rob Volansky
References:
Berube LT, et al. Nutr Health. 2017;doi:10.1177/0260106016688223.
Black DS, Slavich GM. Ann N Y Acad Sci. 2016;doi: 10.1111/nyas.12998.
Garner S, et al. Musculoskeletal Care. 2018;doi:10.1002/msc.1214.
Gracia MC. Med Hypotheses. 2006;66:939-44.
Tedeschi SK, et al. Arthritis Care Res (Hoboken). 2017;doi:10.1002/acr.23225.
For more information:
Leonard H. Calabrese, DO, can be reached at 9500 Euclid Ave. #A50, Cleveland, OH 44195; email: calabrl@ccf.org.
Nicole M. Cotter, MD, can be reached at 820 Jordan Street, Suite 201, Shreveport, LA 71101; email: nicolecotter@hotmail.com.
Elizabeth Kirchner, CNP, can be reached at 9500 Euclid Ave. #A50, Cleveland, OH 44195; email: KIRCHNE@ccf.org.
John R.P. Tesser, MD, can be reached at 4550 E. Bell Road, Phoenix, AZ 85032; email: jtesser1@cox.net.
R. Swamy Venuturupalli, MD, can be reached at 8750 Wilshire Blvd Suite 350, Beverly Hills, CA 90211; email: md@attunehealth.com.
Disclosures: Calabrese reports he is a consultant for AbbVie, Bristol-Myers Squibb, Genentech, GlaxoSmithKline, Janssen, Pfizer and Sanofi; and is on the speaker's bureau for AbbVie, Bristol-Myers Squibb, Crescendo Bioscience and Genentech. Tesser reports being a speaker for UCB Wellness Program. Cotter, Kirchner, and Venuturupalli report no relevant financial disclosures.