Wellness and Rheumatology: Is it Important and Whose Job is it to Achieve?
We were unable to process your request. Please try again later. If you continue to have this issue please contact customerservice@slackinc.com.
What is wellness? Wellness encompasses diverse dimensions of physical, mental and social well-being — mind body and spirit — that extend beyond disease and its activity and severity. Wellness behavior includes personal choices aimed at achieving physical vitality, mental alacrity, social satisfaction and personal fulfillment. Put simply, wellness occurs when "lives go well."
Growing evidence suggests wellness can be achieved through individual choices and activities, including avoiding harm, such as excess alcohol, drugs and smoking, as well as engaging in exercise, healthy eating and achieving optimal mental and spiritual health. The effects of healthy lifestyle choices can be dramatic in certain areas, such as cardiovascular disease, even for those at high genetic risk, where a 45% risk reduction of critical events have been observed. While this may be the mantra in cardiovascular care, it is only now getting proper attention in our field and others that deal with the diverse group of diseases that fall under the heading of Immune Mediated Inflammatory Diseases, or IMIDs. With an estimated 25 million patients in the United States alone, IMIDs include such diverse disorders as rheumatoid arthritis, inflammatory bowel disease, multiple sclerosis, psoriasis and many others.
Our expert panel discussion this month on the subject of wellness clearly points to both the growing data supporting the belief that personal behaviors — in particular those that deal with diet, exercise, stress reduction and sleep hygiene — are not only important but also critical to improving the lives of our autoimmune patients rather than only their diseases. These experts assert that there are growing data supporting the influence of wellness behaviors on the integrated immune response, autoimmune disease activity and the genetic predisposition of individuals to develop many of these diseases. If these data are to be believed then the real question is: Why are we, as a profession, not more engaged in bringing wellness education to our patients with IMIDs?
I want to take this opportunity to reflect on this question and hopefully pose some solutions. The first set of obstacles is on the provider side and the critical question is whether we — physicians and advanced care providers — are knowledgeable and creditable believers in the concept of wellness as a modifier of immune responsiveness. I would say that the answer is a definite 'maybe' on the basis of my personal impressions of talking on this subject to IMID-treating providers over the past few years.
A decade ago I was a skeptic, but now that I have been increasingly working in this space and have an appointment in our Wellness Institute, I am increasingly convinced that wellness in the management of IMIDs is not simply an option but critical to quality care. This message needs to be disseminated, thus creditable and evidence-based education in the immunologic wellness space is essential.
PAGE BREAK
The second obstacle is who can and should be educating on wellness with our patients? The most frequent comment I get from providers is that they are increasingly enthusiastic but do not feel they have the skills, resources or time to do this. I hear this loud and clear and it's up to those working in this space to provide high throughput, effective educational tool kits for patients and providers. At the Cleveland Clinic, Elaine Husni, MD, MPH, and I are working on such a program that will be e-coached and web-based, designed specifically for patients with IMIDs, and we hope to roll it out at year's end. We have many research questions to address with this platform and look forward to engaging our community on helping with this initiative and reporting on it. As to who pays for wellness in our wild and wacky world of health care reimbursement, this too may be changing.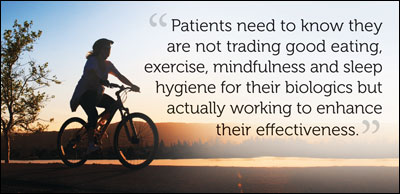 Moving slowly away from simple fee-for-service models into more value-based and population health models for reimbursement, the rewards of wellness will become more evident and valued. Such is the case with the exemplary patient-centered medical home model for inflammatory bowel disease developed by Miguel Regueiro, MD, and his colleagues at the University of Pittsburgh. Regueiro has recently joined us at Cleveland Clinic to continue this work and we will be engaging with him with our IMID model of immunologic wellness. Within value-based care models, team-based care designed to improve quality of life, enhancing patient empowerment while decreasing utilization, and achieving wellness behaviors in our patients will not only be rewarded but also is essential.
Lastly, the obstacles for the patient. IMID patients need to know that wellness behavior is not 'alternative.' They need to know they are not trading good eating, exercise, mindfulness and sleep hygiene for their biologics but actually working to enhance their effectiveness. Such is the message of immunologic wellness. While we are only at the beginning of this experience, I can tell you that the rewards in terms of our patient experiences are growing, and we feel the word needs to be spread. Lastly, for all of you out there already experimenting or actively engaging in wellness in your practice, I would love to hear from you.
Thank you for reading Healio Rheumatology. Please send your comments by email to calabrl@ccf.org or to me on Twitter @LCalabreseDO.
For more information:
Leonard H. Calabrese, DO, is the Chief Medical Editor, Healio Rheumatology, and Professor of Medicine, Cleveland Clinic Lerner College of Medicine of Case Western Reserve University, and RJ Fasenmyer Chair of Clinical Immunology at the Cleveland Clinic.
Disclosure: Calabrese reports serving as an investigator and a consultant to Horizon Pharmaceuticals.