CreakyJoints releases patient-centered gout guidelines
We were unable to process your request. Please try again later. If you continue to have this issue please contact customerservice@slackinc.com.
CreakyJoints — an online, nonprofit community for patients with rheumatoid arthritis, psoriasis, psoriatic arthritis and related conditions — has published a patient-centered guideline on the management and treatment of gout, according to a press release.
Announced in recognition of Gout Awareness Day, the guideline, titled "Raising the Voice of Patients: The Patient's Guide to Treating and Managing Gout," was developed by a panel of patients and reviewed by rheumatologists. It is available for free download on the CreakyJoints website, and explains how patients can speak to providers regarding treatment plans, pose questions to their insurance company and communicate with local legislators to advocate for patient-friendly health care laws.
"There are many misconceptions about how you get and treat gout, which is unfortunate because we know the cause and we have many excellent treatments for it," Theodore Fields, MD, professor of clinical medicine at Weill Cornell Medical College and an attending physician at the Hospital for Special Surgery, said in the release. "What I like about the new patient guidelines publication is that it uses accessible language to educate patients and the public about gout, while giving people the knowledge they need to ask the right questions when they see their doctor."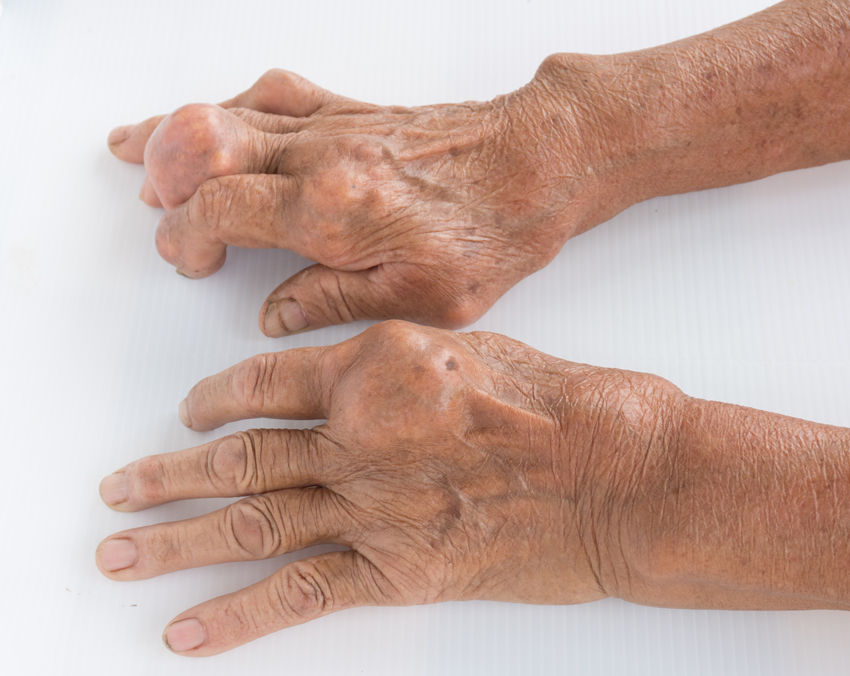 Source: Shutterstock
The guidelines also describe various gout medications, as well as complementary and alternative therapies.
"People with gout, and their loved ones, should know that sticking with the right treatments will provide them with an extremely good chance of completely getting rid of gout," Fields said in the release. "Nobody should have to just 'live with gout.'"
The "Raising the Voice of Patients" series also includes patient-centric, downloadable guidelines on RA, psoriatic arthritis, ankylosing spondylitis and family planning for patients living with arthritis.
In addition, Fields and CreakyJoints will host a free, 1-hour webinar titled "Gout: Fact Versus Fiction" today at 6 p.m. EST. The session will provide education and "clear up misconceptions about a chronic, but treatable, inflammatory disease," the press release stated. It will also cover the importance of patient adherence to treatment by combining medication and lifestyle changes. To register, visit https://register.gotowebinar.com/register/6089304692484301313. The webinar will be posted online following the live session.
"During our webinar, we'll talk about why people with gout need to understand the different types of medications for gout and how some work when you have a flare whereas some are preventive," Fields said in the release. "We'll also touch on the importance of diet management in gout, but explain that most people with gout will need medication, too, because the cause of gout is genetic and not just due to what you eat. Importantly, we'll discuss in more depth about what a good treatment goal looks like, which is a uric acid level below 6.0."
PAGE BREAK
To do its part in raising awareness of the disease today, Healio Rheumatology presents the latest news coverage regarding gout:
Discerning "the i mitator" f rom its i mitators: Sifting t hrough g out, p seudo- g out, o ther a rthropathies
There is much discussion surrounding the mechanisms and pathogenesis of microcrystalline arthropathies and gout. The body of knowledge is growing but remains incomplete. Read More.
Probenecid linked to decreased CVD risk in patients with gout
Patients with gout who were treated with probenecid had a modestly decreased risk for cardiovascular events including myocardial infarction, stroke and heart failure exacerbation, compared with those treated with allopurinol. Read More.
Diuretics ineffective in gout management
Diuretics, such as loop agents and thiazides, do not have a significant effect on managing gout. Read More.
Questions persist for 400% increase in hospitalizations among gout patients
All-cause hospitalization increased 410% among patients with gout during the last 22 years, nearly 100 times more than the overall population in the United States. Read More.
Gout not linked to increased risk for bone fracture
Gout is not associated with an increased risk for bone fracture, and urate-lowering drugs had no effect on long-term fracture risk. Read More.