IgG4 serum insufficient to diagnose IgG4-related disease
We were unable to process your request. Please try again later. If you continue to have this issue please contact customerservice@slackinc.com.

Arezou Khosroshahi
DESTIN, Fla. —An over-reliance on elevations in serum immunoglobin G4 concentrations, or tissue immunoglobin G4-positive plasma cell numbers, remain significant "pitfalls" in the diagnosis of immunoglobin G4-related disease, according to findings presented at the 2018 Congress of Clinical Rheumatology.
"Serology is misleading," Arezou Khosroshahi, MD, of the Emory University School of Medicine, told attendees. "There are many patients with allergies or asthma, in addition to many other disorders, that can have elevated serum immunoglobin G4 (IgG4), and completely normal or healthy patients can have elevated serum concentrations. In addition, a completely normal level of IgG4 does not exclude a diagnosis of related disease, although a higher level is more helpful."
According to Khosroshahi, the most important key to diagnosing IgG4-related disease is its unique histopathology, which includes dense lymphoplasmacytic inflammation, storiform fibrosis, obliterative phlebitis and eosinophilia. A correct diagnosis of IgG4-related disease also takes into consideration an infiltration of IgG4-positive plasma cells in the tissue, a pattern of organ involvement and an elevated serum IgG4 level of more than 135 mg/dl, she said.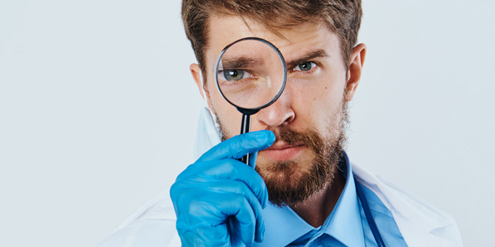 Source: Shutterstock
Although an elevated serum concentration alone is insufficient for diagnosis, Khosroshahi added that serum IgG4 levels that are more than two times the upper limit of normal can act as a predictor for relapse, as can multiorgan involvement, history of prior flare and proximal bile duct involvement.
Khosroshahi noted that IgG4-related disease also has several mimickers, the most significant of which is cancer.
"You can see IgG4 staining in pancreatic carcinoma, and you can see it in lymphomas, so when you have patients who your pathologist or radiologist is suggesting have this disease, you have to be very careful in making sure the diagnosis of cancer is excluded," she said.
Other mimickers of IgG4-related disease, according to Khosroshahi, include inflammatory myofibroblastic tumors, myelodysplastic syndrome, hypereosinophilic syndrome, histiocytosis, granulomatosis with polyangiitis, sarcoidosis and multicentric Castleman disease.
"It is important to remember that IgG4-related disease is a protean disorder that can mimic many of our rheumatologic diseases and systemic conditions," Khosroshahi said. "It has a characteristic histopathology regardless of the organ that is affected by the disease, and reliance on serum IgG4 is insufficient for a diagnosis. However, a correct diagnosis, that excluded cancer, can spare a patient from unnecessary surgeries and complications." – by Jason Laday
Reference:
Khosroshahi A. Update on IgG4 related disease. Presented at: Congress of Clinical Rheumatology; May 17-20, 2018; Destin, Fla.
Disclosure: Khosroshahi reports no relevant financial disclosures.