Spread of Vector-borne Diseases, Associated Arthralgias, a Concern For Rheumatologists
We were unable to process your request. Please try again later. If you continue to have this issue please contact customerservice@slackinc.com.
A rheumatologist can wear many hats: physician, researcher, therapist, family counselor — perhaps it's time to add "entomologist" to the list. An unexpected consequence of global warming, in addition to extreme or shifting weather patterns, has been the expansion of habitable environments for disease-carrying insects to live and thrive, and the increased risk for human exposure to vector-borne diseases.
Most notably, two species of Aedes mosquitoes have expanded their territory, spreading to the north from South America, bringing chikungunya, Zika and dengue viruses into regions that were previously not endemic to those infections. Similarly, the blacklegged tick — otherwise known as the common deer tick — a known vector for Lyme disease, has expanded beyond its historically-endemic range in the Northeast and Midwest regions of the United States, spreading west through New York and Pennsylvania, north into southern Canada, and south through Virginia.
Although chikungunya infection is well-known to present with several features that closely mimic rheumatoid arthritis, Zika, dengue and Lyme disease are also often accompanied by arthralgias that can lead a patient to seek the care of a rheumatologist. As these patients are referred from primary care to infectious disease and/or rheumatology, misdiagnoses are common. Some patients forget the fever they had while traveling to Southeast Asia the previous year, while others are unaware that Aedes mosquitosmay be taking up residence in their backyard.
"The more awareness we can raise about these vector-borne diseases, particularly for clinicians practicing along the southern border of the U.S., the better prepared we will be," Kevin L. Winthrop, MD, MPH, of Oregon Health & Science University, told Healio Rheumatology. "Because rheumatologists and primary care providers are seeing more and more cases, they are getting more familiar with these viruses. We are going to see expansion of all of these types of diseases in the U.S. in the future, there is no question in my mind."
However, he stressed that more work needs to be done in terms of alerting people to be vigilant and making public health efforts toward prevention and cures. "Surveillance is critical," Winthrop said. "But more doctors seem to be facile with making a diagnosis and treating appropriately."
Healio Rheumatology consulted a number of experts on viral arthritides, who provided their opinions on prevention, differential diagnoses and treatment of these diseases. Awareness of these possible conditions is key for both the patient and provider, with patients encouraged to take precautions against insect bites and note unusual symptoms following travel, and clinicians tasked with paying close attention to recent data on vaccine development and antiviral therapies.
PAGE BREAK
Migrating Vectors
In a study published in Journal of Medical Entomology, Zohdy and colleagues reported that after a 26-year absence, Aedes aegypti populations — the primary vector for the Zika virus — were observed in Mobile, Alabama. The researchers noted uncertainty about whether this was the result of a recent reintroduction of the species or the mosquitoes were part of a population that had previously gone undetected.
"In the U.S., we have both the Aedes aegypti and Aedes albopictus mosquitos endemically, so returning travelers can infect our local mosquito populations, leading to local chikungunya and cases of arthritis, which is what has happened in Florida," Aileen Y. Chang, MD, MSPH, assistant professor of medicine, at George Washington University, told Healio Rheumatology.
DNA sequencing results from the Zohdy group indicated the closest match was from a mosquito species in Kerala, India. Although residents of the area claimed extensive knowledge about Zika, survey results showed knowledge gaps regarding transmission cycles and vulnerability to illness. In light of these findings, the researchers stressed surveillance, vector control and public health education for the Gulf Coast region.
Jonathan Miner, MD, PhD, assistant professor of medicine, molecular microbiology, and pathology and immunology, in the division of rheumatology at Washington University in St. Louis, noted that Aedes aegypti is found primarily in the Gulf Coast region, whereas Aedes albopictus can be found in most of the Southeastern U.S. "The interesting point is that even though chikungunya has spread to the Western hemisphere and infected nearly 2 million people, it has never really spread through the continental U.S.," he said. "The good news is that the strain of chikungunya that went through the U.S. can't be spread efficiently by Aedes albopictus."
Although chikungunya was "really raging in 2014," according to Miner, it has mostly subsided. "There is enough immunity in the population to slow its progress at this point," he said. "However, if a different chikungunya strain arrives in the continental U.S., it may be able to spread efficiently in a different mosquito vector within the U.S."
There are fairly straightforward explanations for the expansion of these vectors, according to Monica Richey, MSN, board member of the Rheumatology Nurses Society and nurse practitioner in the division of rheumatology at Northwell Health. "The continued spread of mosquito-borne illness is related to world travel as well as overall changes in environment," she told Healio Rheumatology. "Health care providers all over the world should always take a thorough travel history when investigating sudden onset of arthritis or arthralgia."
PAGE BREAK
Working in New York, Richey reported multiple cases of chikungunya in patients who had travelled to the Caribbean and South America. "In some of these patients, the symptoms were so severe that immediate treatment with antirheumatic medication was mandatory," she said.
Although less mobile than other vectors, the blacklegged tick, the primary vector for Lyme disease, has experienced a population explosion within the past 20 years, nearly doubling its established range. Historically, the highest prevalence of Lyme disease has been observed in the Northeast and Midwest regions, where 14 states account for 96% of reported cases. However, a 2016 study from Eisen and colleagues in Journal of Medical Entomology reported that two species of blacklegged tick — Ixodes scapularis and Ixodes pacificus — could now be found in 49% of all U.S. counties, setting the stage for an increase in Lyme disease cases.
Ixodes ticks continue to spread geographically throughout the northeastern U.S., colonizing new territory in the Midwest and California, according to Robert T. Schoen, MD, MBA, of the section of rheumatology at Yale University School of Medicine. "For this reason, Lyme disease risk is occurring in new geographic areas," he said.
Chang noted that while chikungunya arthritis tends to initially affect the small joints acutely, Lyme disease more commonly affects the larger joints. "Lyme should be in the differential for people who are living in Lyme endemic areas and chikungunya should be considered in returning travelers," she said.
For Miner, an important challenge is that many viruses can be spread by both mosquitos and ticks, including the ticks that also carry Lyme. He added that the spread of certain infections may reflect the expansion of tickborne illness in the U.S. "We worked on another virus, the Powassan virus, which is related to dengue, Zika and West Nile," he said. "This comes from deer ticks, as well, which are increasing in number along with the rapidly growing deer population across the country."
An additional concern is the rise of encephalitis, according to Miner. "Powassan infections have been rarely observed in New England and the Great Lakes area," he said. "This is a highly lethal infection that may be spread by the same ticks that spread Lyme disease; it is worth knowing for rheumatologists, if only for risks associated with immunosuppressive medications."
The Rise of Chikungunya
"While the chikungunya virus was always more prevalent in the East, it caught millions by surprise when it reached the Western hemisphere in 2014," Richey said.
PAGE BREAK
During a 2014 to 2015 chikungunya epidemic in Colombia, Chang and colleagues followed 38 patients for a median of 22 months to determine if chikungunya persists in synovial fluid following infection. Although more than 90% of patients demonstrated joint pain, swelling, stiffness and fever, no patients with chikungunya arthritis had positive quantitative real-time-PCR in synovial fluid samples. Similarly, mass spectrometry revealed no viral proteins, and cultures also turned up negative.
"This finding suggests that chikungunya virus may cause arthritis through induction of potential host autoimmunity, suggesting a role for immunomodulating agents in the treatment of chikungunya arthritis, or that low-level viral persistence exists in synovial tissue only and is undetectable in synovial fluid," the researchers concluded.
"The study done by Chang and colleagues highlights not only the large percentage — 25% — of patients that developed persistent symptoms after being exposed to the chikungunya virus, but also the severity of their symptoms leading to chronic pain and possible disability," Richey said.
The etiologic cause of many cases of RA remain unknown, according to Chang. "Potentially, some of these cases are virally induced," she said. "Chikungunya can present with ACR criteria for RA; particularly some of the cohorts being followed in Brazil appear to have this presentation."
To help clear up some of this confusion, Barney and colleagues suggested a number of strategies for managing chikungunya and possibly curtailing its spread through North America. Public health approaches like surveillance and targeting disease populations are recommended, along with standardized lab protocols, increased data on efficacy of treatments, and more comprehensive basic science information. Infrastructure is key, along with the will to develop a vaccine, Barney and colleagues suggested.
Winthrop pointed out that certain patients will meet clinical definitions for RA or spondyloarthritis, which makes the surveillance component so important. "It's very difficult to know the percent of people who develop these complications of chikungunya," he said. "We are seeing reports of cohorts, but you never know what the denominator is. Suffice to say there is a small percent that do develop persistent arthritis, but we need clearer numbers."
In a commentary published in Clinical and Experimental Rheumatology, Runowska and colleagues noted that although the underlying mechanism of chikungunya remains unknown, emerging evidence suggests that chronic chikungunya and RA may share cellular and cytokine pathways.
"The most common misdiagnoses I see are among patients who have a positive chikungunya immunoglobulin G-based test who later turn out to have RA," Miner said. "However, just coincidentally, they have had a prior infection with chikungunya. Many patients think their arthritis is due to chikungunya, even though it's clear they have RA."
PAGE BREAK
Findings from Sharma and Jain in International Journal of Rheumatic Diseases showed that diagnosis of chikungunya is based largely on the initial viral detection using molecular methods or viral culture. Diagnosis at later stages is often based on immune response.
Schoen described the similarities between chikungunya-associated arthritis and RA. "Chikungunya patients have not only arthralgias but also frank arthritis," Schoen said. "Often this arthritis is polyarticular and may affect the hands. In this pattern, chikungunya infection may be a rheumatoid arthritis mimic."
For Winthrop, it is a matter of assessing individual patients. "Pay attention to them 6 months or longer after infection," he said. "Some of those people will meet case classifications for RA. Some will not. It's pretty clear that there is a spectrum of potential diagnoses."
Misdiagnosing Dengue, Zika
Azeredo and colleagues investigated serological samples from 134 patients with acute fever syndromes that were suspected to be dengue, Zika or chikungunya. Results indicated 79.1% were confirmed for Zika and/or dengue, while 38% were monoinfected with dengue, 26.8% were monoinfected with Zika, and 13.4% were coinfected with both viruses. Fever, rash, arthralgia, myalgia, headache and conjunctivitis were common among both Zika and dengue, while Zika was distinguished by pruritus and edema and dengue was marked by prostration and vomiting. Dengue and Zika patients both demonstrated differences in total protein and ALT levels.
"There are a number of mosquito-borne viral infections seen particularly in the tropics and subtropics which can cause polyarthralgias or polyarthritis," Schoen said. "Both dengue and Zika virus infection cause arthralgias. Usually these occur in the setting of an acute febrile illness. In the case of dengue, there is typically headache, muscle pain and fever. Chikungunya is different because it causes more pronounced arthritis. For each of these infections, specific laboratory testing is becoming increasingly available, but the diagnosis continues to rely on clinical manifestations and relevant epidemiologic exposure."
"Often times a patient with dengue or Zika will present with other symptoms like fever and maculopapular rash with a travel history to an endemic area," Chang noted. "This history can be useful in determining if the patient is at risk for viral arthralgia. That said, approximately 75% to 80% of dengue and Zika cases are asymptomatic. Dengue and Zika tend to have a transient arthralgia as opposed to chikungunya, which can have a persistent arthritis."
Clinicians should always be on the lookout for febrile patients, according to Winthrop. "Dengue and chikungunya can present similarly, and dengue can even have significant bone pain, but it's not arthritis," he said. "With Zika, you can have arthralgias, but they are not inflammatory."
PAGE BREAK
It is important to understand that chikungunya is a virus from a completely different family than dengue and Zika, according to Miner. "Chikungunya causes true inflammatory arthritis with morning stiffness that can last hours," he said.
Prevention Efforts
Prow and colleagues described the so-called Sementis Copenhagen Vector system, which is a "vaccinia-based, multiplication-defective, vaccine vector technology that allows manufacture in modified CHO cells," according to their findings. The "single-vector construct SCV vaccine that encodes the structural polyprotein cassettes of both Zika and chikungunya viruses from different loci."
Results showed that one dose of the vaccine neutralized antibodies to Zika and chikungunya in wild-type and interferon α/β receptor mice. It also offered a protective effect against a number of outcomes, including: chikungunya viremia and arthritis in wild-type species; Zika viremia, including fetal/placental infection among interferon α/β receptor mice; and Zika viremia, testes infection, and pathology in male interferon α/β receptor mice. "To our knowledge this represents the first single-vector construct, multi-pathogen vaccine encoding large polyproteins, and offers both simplified manufacturing and formulation, and reduced shot burden for these often co-circulating arboviruses," they concluded.
"Vaccines are being developed, but it's a slow process," Winthrop said.
Miner's advice about prevention remained simple. "The number one thing is doing whatever is reasonable to avoid mosquito bites, including repellents, long sleeve shirts and staying indoors," he said.
Additional findings from Azeredo and colleagues included data for 11 pregnant women, three of whom had Zika monoinfection, four had dengue monoinfection, and two were coinfected. One baby born to a coinfected mother died of respiratory insufficiency, while the rest had generally normal birth outcomes.
"As far as Zika virus is concerned, I would generally advise extra precaution among women who are pregnant or might become pregnant," Miner said. "There is quite a high risk, as high as 40%, of some developmental abnormality, including microcephaly or brain calcifications with Zika."
Miner noted that there is little evidence of chikungunya leading to congenital or in utero infections in pregnant woman. "There is some evidence of chikungunya transmission to neonates, perhaps occurring in the birth canal," he said. "Chikungunya encephalitis in neonates can be quite devastating, so it may be beneficial to exercise additional caution where chikungunya is actively spreading."
Looking beyond traditional prevention methods, Asad and colleagues investigated the endosymbiont Wolbachia, which has demonstrated the capacity to block replication of arboviruses, including dengue, in Aedes aegypti. A closer look at the possible mechanism revealed that the pelo protein is upregulated during dengue replication. Silencing of this protein can reduce production of dengue virion, which the researchers believe suggests it may facilitate replication of the dengue virus.
PAGE BREAK
"However, in the presence of Wolbachia, specifically in female mosquitoes, the pelo protein is downregulated and its subcellular localization is altered, which could contribute to reduction in [dengue virion] replication in Ae. aegypti," the researchers wrote. "In addition, we show that the microRNA aae-miR-2940-5p, whose abundance is highly enriched in Wolbachia-infected mosquitoes, might mediate regulation of pelo."
"While there isn't great evidence of prevention using pharmacotherapies, the Wolbachia data is a really interesting story," Miner said. "Essentially, it may be possible to give the mosquitoes an infection that may limit the ability of Aedes aegypti to transmit the virus. This is one of the more exciting recent developments in scientists' efforts to combat the spread of arboviruses."
Treatment Challenges
For rheumatologists dealing with chikungunya arthritis, Sharma and Jain noted it is characterized by swelling and acute pain, but it responds poorly to analgesic therapies. However, without formal guidelines, many clinicians prescribe analgesics and steroids. "There is no accurate approach for the treatment and management of pain," they wrote.
"The treatment of the acute phase of chikungunya fever is supportive, similar to the treatment of any acute viral infection," Schoen said. "No clear antiviral strategy has emerged. The treatment of chronic chikungunya arthritis is similarly uncertain. Should therapy be supportive only in this phase, or is there a postinfectious inflammatory aspect to chronic chikungunya arthritis? Given this possibility, studies are ongoing to evaluate agents such as methotrexate in the treatment of patients with chronic chikungunya arthritis."
Miner added that immunosuppression may not be problematic in chikungunya, but further studies need to be conducted.
Amaral and colleagues conducted a systematic literature review to assess the use of methotrexate for chikungunya arthritis in 131 studies, including four retrospective analyses, an uncontrolled prospective study, and one unblinded randomized clinical trial of combination therapy. Results of the randomized data set indicated methotrexate with hydroxychloroquine and sulfasalazine bested hydroxychloroquine monotherapy in terms of both Disease Activity Score (DAS28ESR 3.39 ± 0.87 vs. 4.74 ± 0.65; P < .0001) and Health Assessment Questionnaire (HAQ 1.14 ± 0.31 vs. 1.88 ± 0.47; P < .0001).
"The trials lacked rigorous study designs and used different treatment strategies and outcome measures," the researchers concluded, and suggested better studies are needed.
"What every clinician needs to know is that these patients require long-term follow-up," Winthrop said. "But as for the specifics, some of them may need treatment, some of them will resolve on their own. With no antiviral therapies, and conflicting reports in the literature about nonbiologics such as methotrexate or prednisone, in some patients it goes away, but in some patients, it does not. After that point, if arthritis remains that it could differentiate into RA or other recognizable arthritis syndromes."
PAGE BREAK
Runowska and colleagues suggested treatment of acute chikungunya is symptomatic, whereas in chronic stages, varying success has been observed with disease-modifying antirheumatic drugs.
As for treatment of arthralgias associated with dengue and Zika virus infection during the acute viral phase, there is no clear antiviral therapy, Schoen suggested. "Care is supportive," he said.
Schoen suggested aspirin and NSAIDs that might increase bleeding risk be avoided in dengue.
All of these hurdles to treatment lead Miner back to a common refrain for rheumatologists: "Therapy for chikungunya viral arthritis should be individualized. There should be some shared decision-making between doctors and patients."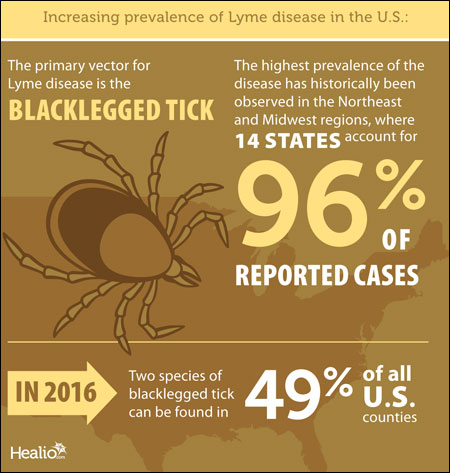 Richey noted mosquito-borne viruses will continue to change and adapt to different environments. "Therefore, it is our responsibility to research methods of prevention, develop first-line treatments and, most importantly, educate the population regarding the prevention of mosquito proliferation and when to seek medical assistance," she said.
As a parting shot, Miner offered a variation of one more adage. "The first thing I would counsel patients to do is prevent tick and mosquito bites in the first place," he said. "As these species continue to migrate and the associated diseases become more prevalent, we can all stand to be a little more careful." – by Rob Volansky
References:
Amaral JK, et al. Arthritis Care Res (Hoboken). 2018 doi: 10.1002/acr.23519.
Asad S, et al. PLoS Negl Trop Dis. 2018;doi:10.1371/journal.pntd.0006405.
Azeredo EL, et al. PLoS Curr. 2018;doi:10.1371/currents.outbreaks.0bf6aeb4d30824de63c4d5d745b217f5.
Barney S, et al. J Infect Dis. 2018;doi:10.1093/infdis/jiw370.
Chang AY, et al. Arthritis Rheumatol. 2018;doi:10.1002/art.40383. Epub 2018 Mar 7.
Prow NA, et al. Nat Commun. 2018;doi:10.1038/s41467-018-03662-6.
Runowska M, et al. Clin Exp Rheumatol. 2018;[Epub ahead of print].
Sharma SK, Jain S. Int J Rheum Dis. 2018;doi:10.1111/1756-185X.13273.
Zohdy S, et al. J Med Entomol. 2018;doi:10.1093/jme/tjy050.
For more information:
Aileen Chang, MD, MSPH, can be reached at 2150 Pennsylvania Ave 5-416, Washington, DC 20037; email: chang@email.gwu.edu.
Jonathan J. Miner, MD, PhD, can be reached at Washington University, Campus Box 8226, 660 S. Euclid Ave., St. Louis, MO 63110-1093; email: jonathan.miner@wustl.edu.
Monica C. Richey, MSN, can be reached at 535 E 70th St Hss Department Of Medicine New York, NY 10021-4823; email: monica.richey@rns-network.org.
Robert T. Schoen, MD, can be reached at 60 Temple St, New Haven, CT 06510, email: robert.schoen@yale.edu.
Kevin L. Winthrop, MD, can be reached at 3181 SW Sam Jackson Park Road, Portland, OR 97239; email: winthrop@ohsu.edu.
Disclosures: Chang, Miner, Richey, Schoen and Winthrop report no relevant financial disclosures.
PAGE BREAK