ASCO, Renal Physicians Association APMs provide insights for rheumatology model
We were unable to process your request. Please try again later. If you continue to have this issue please contact customerservice@slackinc.com.
SAN DIEGO — A pair of alternative payment models piloted by the American Society of Clinical Oncology and the Renal Physicians Association as alternatives to the CMS models in their respective specialties could serve as an example of a similar program in rheumatology, according to a presentation at the 2018 United Rheumatology National Meeting.
Addressing an audience of independent practice rheumatologists, Jon Glaudemans, chief executive of United Rheumatology, said both the Renal Physicians Association (RPA) and American Society of Clinical Oncology (ASCO) models provide common lessons that rheumatologists can learn from regarding clinical pathways, process and outcome metrics, records and data management, and other aspects.
"If we look at these models with some care, we can extract some insights into what might be headed our way, either from a public-payer standpoint or a private-payer, or what we might do ourselves as the ASCO and the RPA have done," Glaudemans said. "What does that mean for rheumatology? Also, is United Rheumatology, or some other entity, an appropriate vehicle to put forward a payment model that serves our mission, or our interests, as both the ASCO and RPA both believe their models serve their members' interests?"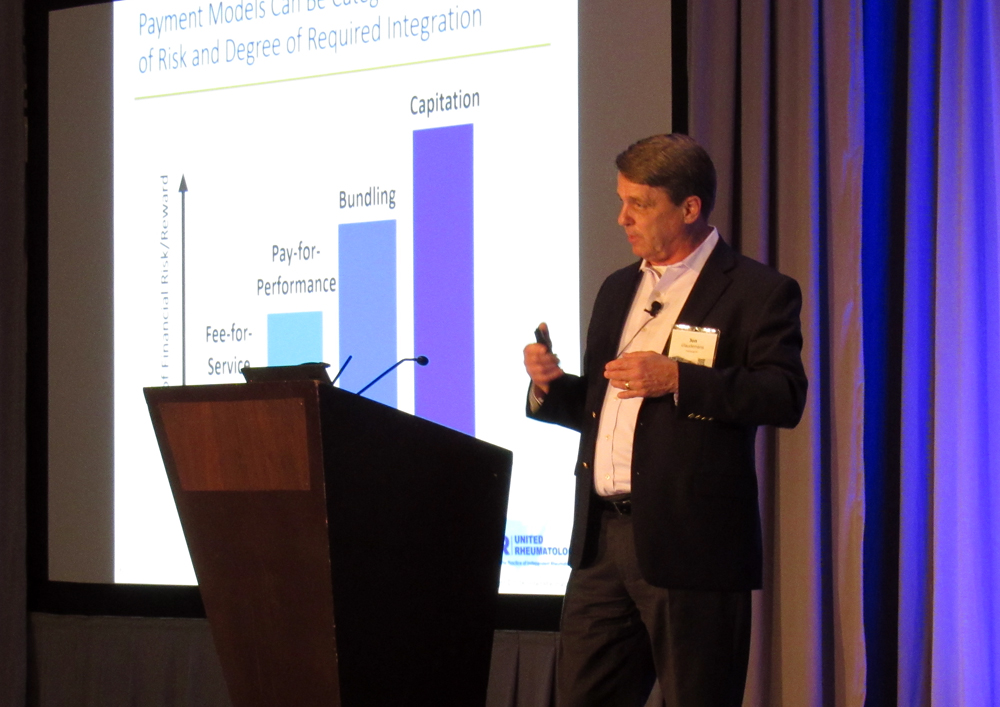 Source: Staff photo
Both the RPA and ASCO payment models are the result of legislation introduced last year that authorized CMS and HHS to make exceptions within the Stark Law to allow for physician practice participation in alternative payment models. Previously, the Stark Law, enacted nearly 30 years ago, hindered physician practices from participating in alternative payment models due to self-referral prohibitions.
According to Glaudemans, ASCO's proposed patient-centered oncology payment model has three models. The basic model is paid under existing Medicare Part B or Part D drug payment systems; the consolidated model includes the administration of chemotherapy and supportive drugs, with other drugs, tests and imaging still paid separately; and the bundled model allocates a risk-adjusted payment that includes the cost of drugs.
Markedly different than the ASCO model, the RPA model for end-stage renal disease has two major elements. The physician continues to receive fee-for-service payment, with annual reconciliations against financial and clinical performance. In addition, shared savings payments to the nephrologist, or repayments to Medicare for losses, are based on performance metrics and the change in total Medicare spending on all services for the nephrologist's patients in the 6 months following initial dialysis, compared to a regional benchmark.
In this model, there is also a one-time, $3,000 bonus payment for pre-emptive transplantation before dialysis, or $1,500 for transplantation after dialysis begins, but during the clinical episode.
PAGE BREAK
"They obviously are not precisely analogous to the rheumatology space, but we can begin to think about questions like, 'What are the common elements?'" Glaudemans said. "What does that mean for us if and when we are either forced to or choose to pursue versions of these kinds of models?"
Glaudemans said rheumatologists should be thinking along these lines, and provided a checklist for physicians to follow in their own practice regarding clinical pathways, outcome metrics, data management, education and other aspects covered in the ASCO and RPA models. They include:
Adopt and adhere to concrete, credible and measurable clinical pathways that resonate with payers;
Develop a set of relevant metrics and take a "measure and manage" approach to clinical decisions;
Partner with an entity that can integrate electronic medical records and claims data and allow for detailed analytics;
Initiate or expand patient-provider education and engagement programs;
Partner with a group that can provide a "bird's eye" view of your patient population across settings of care;
Gain the capability for timely insights into clinical decisions and outcomes; and
Develop the capability to analyze financial data.
"You all may want to begin to think about this checklist against your own timelines, markets and capabilities," Glaudemans said. "Ask yourself, 'How do I being to think about this, if in fact in 2020 the government wakes up and says this is the way it's going to be?' Or, if the newly combined Aetna-Anthem-Humana conglomeration that may occur causes yet another consolidation, and tells you 'This is the way it's going to be?' That is what I am most worried about — one day we wake up and our world has been rocked." – by Jason Laday
Reference:
Glaudemans J. Emerging payer payment models: A community rheumatologist's checklist. Presented at: United Rheumatology National Meeting. April 20-21, 2018; San Diego.
Disclosure: Glaudemans reports no relevant financial disclosures.