April 24, 2018
2 min read
Controversy persists for palindromic rheumatism: RA precursor or distinct entity?
We were unable to process your request. Please try again later. If you continue to have this issue please contact customerservice@slackinc.com.

William Rigby
SAN DIEGO — Although often considered a rare subset of rheumatoid arthritis, palindromic rheumatism remains a controversial diagnosis with conflicting data supporting its status as a separate disease entity and as a preclinical form of rheumatoid arthritis, according to a presenter at the United Rheumatology National Meeting.
Characterized by recurrent attacks of acute arthritis or periarticular inflammation followed by extended intervals without symptoms, palindromic rheumatism commonly affects the finger joints, wrists and knees, yet leaves no residual articular damage, William Rigby, MD, principal investigator at the Dartmouth Hitchcock Medical Center department of microbiology and immunology, noted in his presentation.
Although approximately 25% to 50% of patients with palindromic rheumatism develop typical RA and have reported responses to RA treatments, certain unique manifestations — including the generally favorable long-term prognosis and lack of bone/cartilage damage — support the possibility that palindromic rheumatism represents a distinct disorder.
"Is palindromic rheumatism just intermittent rheumatoid arthritis or is it RA waiting to happen?" Rigby said. "My general rule of the joints is that the joint is like a drunk wrestler on Saturday night after they have lost a match: It is looking for a fight. I would argue that we should think about the joint as defending a space and looking to be angry. When we think about rheumatoid arthritis, think about what does work [in RA] that isn't working in palindromic rheumatism."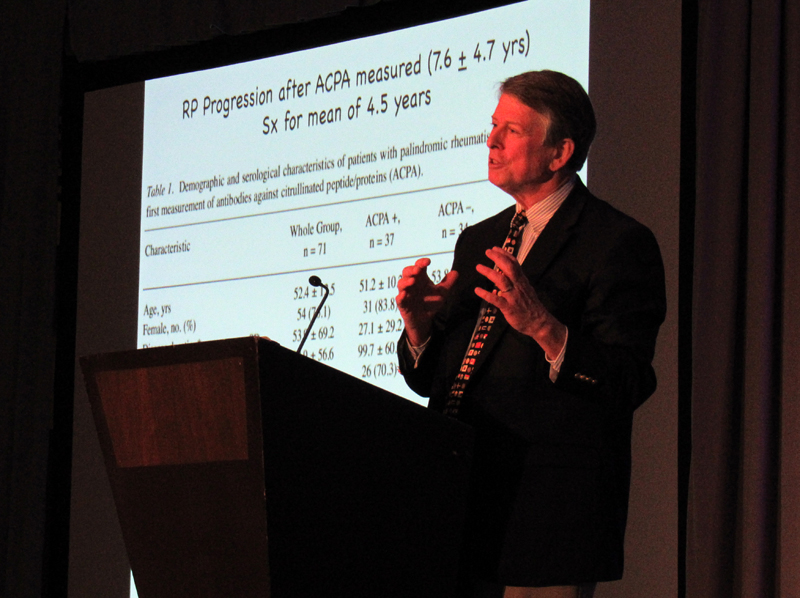 Source: Healio.com
During his presentation, Rigby outlined the clinical features that RA shares with palindromic rheumatism, such as the frequent occurrence of nodules and familial aggregation observed in both conditions, but also highlighted where the conditions deviated from one another throughout the process.
"What we should really be thinking about is whether palindromic rheumatism fits into [the RA] process — systemic inflammation and bone marrow edema, but then [in palindromic rheumatism] the bone marrow edema resolves. Instead of being a joint being inflamed, the process actually involves the bone marrow. Is this actually RA 'light' or is this a completely different disease?"
In addition to its uncertain designation, Rigby questioned whether palindromic rheumatism could be occurring more frequently than previously thought, and simply mistaken for other arthritides. Rigby referenced the 2008 study by Powell and colleagues in the Journal of Rheumatology, which found that among 145 patients newly diagnosed by a rheumatologist, 51 were diagnosed with palindromic rheumatism and 94 with RA. The researchers also determined that the average age at diagnosis of palindromic rheumatism was 49 years compared with 56 years for RA.
"I think that palindromic rheumatism is more frequent than we thought if we go back and actually inquire about the beginning of the history. Also, remarkably, I don't think it's about synovial disease. It is not clear how that is different from RA, which is obviously a synovial disease, but palindromic rheumatism seems to wax and wane in a different domain. It may have some synovial involvement during attacks, but the bone marrow appears to be where the activity is."
Reference:
Rigby W. Pathophysiology of RA and palindrome rheumatism. Presented at: United Rheumatology Spring National Meeting. April 20-21, 2018; San Diego.
Disclosure: Rigby reports consulting fees from Bristol-Myers Squibb, Crescendo BioScience, Eli Lilly, Roche Laboratories Inc., and UCB Inc., and ownership interest/shareholdership in Bristol-Myers Squibb.