April 20, 2018
13 min read
Shrinking Workforce, Increasing Demand Pose Imminent Challenges in Rheumatology
We were unable to process your request. Please try again later. If you continue to have this issue please contact customerservice@slackinc.com.
In February, a pair of analyses published in Arthritis Care & Research and Arthritis & Rheumatology identified an alarming trend among practicing adult rheumatologists in the United States: The demand for rheumatology services will outstrip the projected growth of the rheumatology workforce by 2030.
Echoing findings from the 2005 American College of Rheumatology Workforce Study — which reported that a burgeoning elderly population combined with a lack of growth in new rheumatologists would lead to a severe lack of rheumatologists by 2025 — the updated workforce data demonstrate that the ACR efforts to increase the number of rheumatology fellowships have done little to forestall an inevitable shortage.
"Based on our projected rheumatology workforce shortages, innovative strategies will be needed to address access to patient care, as it will not be possible to solve the supply-demand gap by training more rheumatologists alone," Seetha Monrad, MD, associate professor of rheumatology at the University of Michigan and senior researcher of the analysis published in Arthritis Care & Research, said in a press release.
An estimated 62 million people in the U.S. are affected by arthritis, according to the CDC, a number expected to increase to 78 million by 2040. In the shadow of these disquieting statistics, the rheumatology workforce faces a simple case of supply and demand: People are living longer; older people tend to develop arthritis and other rheumatologic conditions; and, as of 2015, there were more patients than doctors, a gap that is only expected to widen over time.
Although the updated workforce analyses detailed several recommendations for closing the rheumatology care gap, including continued efforts to recruit rheumatologists to underserved areas, additional rheumatology training for nurse practitioners and physician assistants, as well as an increased use of telemedicine, whether these measures will be enough to provide suitable care for every patient remains.
Joseph Flood, MD, FACR, clinical professor of internal medicine in the division of rheumatology and immunology at the Ohio State University Wexner Medical Center, put the issues in context in an interview. "This has been a vexing problem for years," he said. "We see fewer students choosing internal medicine residencies; internal medicine is the parent specialty for rheumatology. After internal medicine residency, a physician is eligible for fellowship training in rheumatology, so it follows that fewer internal medicine residents leads to fewer potential rheumatology fellows."
PAGE BREAK
In an editorial published in Arthritis & Rheumatology,William F. Harvey, MD, assistant professor of rheumatology at Tufts University School of Medicine, and colleagues offered a call to action, emphasizing that professional societies, government, practice groups and training programs were all necessary to support students, trainees and faculty "so that they see our specialty as their natural home within medicine".
"The ACR's Rheumatology Research Foundation has developed a new fellowship training award for programs that have accredited fellowship training slots that they are unable to fill due to lack of funding, particularly those that are in rheumatology-underserved areas," Anne R. Bass, MD, from the department of rheumatology in the Hospital for Special Surgery at Weill Cornell Medical College, and chair of the Workforce & Training Committee at ACR, told Healio Rheumatology. "The Foundation also provides small grants to encourage medical students and residents to attend the ACR/Association of Rheumatology Health Professionals annual meeting, which is always a good way to get trainees interested in the field."
Projected Shortage
In one analysis of the Workforce Study, Battafarano and colleagues reported that in 2015, the adult workforce was estimated to be 6,013 providers, with 5,415 clinical "full-time equivalent providers." The researchers noted that this supply was 700 short of the demand for full-time equivalent providers. By 2030, there are expected to be 4,882 providers, with 4,051 falling into the full-time category. At that point, demand is projected to exceed supply by 102%, according to the findings.
"The very important ACR 2015 Workforce Study was built upon the ground-breaking 2005 study," Calvin R. Brown Jr., MD, training program director in the division of rheumatology at Northwestern Medicine, said in an interview. "It utilized similar methodology and established firstly that the projections of the earlier study were not only on target, but also that the actual shortfall was worse than predicted. Based on the confirmation of the methodology and data, further projection from 2025 to 2030 shows the shortfall will grow even greater."
Additionally, researchers found that half of rheumatologists are anticipated to retire in the next 15 years, while 80% of future retirees may reduce their patient loads by one-fourth before retirement. Perhaps most troubling, there are fewer than 300 pediatric rheumatologists currently practicing in the U.S.
John D. Fitzgerald, MD, PhD, interim chief of rheumatology and director of Rheumatology Clinical Care at UCLA, noted that the proportion of adults older than 65 years will increase by 100% between 2014 and 2060. "This situation is a combination of increased demand due to the aging of America, and reduced supply," he said. "Some of the reduced supply is aging of rheumatologists — more rheumatologists will be retiring than starting."
PAGE BREAK
Growing the Workforce
In their workforce analysis in Arthritis & Rheumatology, Bolster and colleagues developed an integrated workforce model to ascertain the range of factors impacting graduates entering the workforce, including available and filled fellowship positions, gender shifts, plans for part-time or full-time employment, practice settings, and number of international medical graduates intending to work in the U.S. Data from 2015 demonstrated 113 adult rheumatology programs with 468 available positions, of which 431 were filled. Based on the 215 annual fellowship programs available, the researchers projected that 107 full-time equivalent members would enter the workforce each year, with 17% of international graduates likely to practice outside of the U.S. upon graduation.
"The current U.S. adult rheumatology workforce is in jeopardy of accelerated decline at a time when demands on the workforce face tremendous growth," the researchers noted. "The current [graduate medical education] GME training structure cannot support the increased demand." They suggested more fellowship training programs, incentives for entering rheumatology, and improved recruitment strategies.
Bass offered an additional solution. "The Workforce and Training Committee is also committed to supporting the careers of rheumatology program directors," she said. "These educators teach not only fellows, but also medical students and residents, and play a critical role in attracting trainees to the field. The ACR provides educational resources to program directors, and also hosts a conference for program directors each year."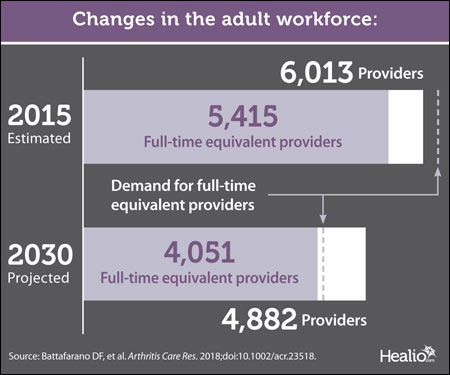 These efforts, though admirable, need to be more robust, according to Flood. "The Rheumatology Research Foundation had made a positive impact in the number of rheumatology fellows finishing training each year, but even this significant impact will not be able to keep up with the growing demand for our services," he said.
Bass agreed. "We want to continue to encourage trainees to enter rheumatology," she said. "Unfortunately, that is not the entire answer, because there aren't enough rheumatology training slots to make up the deficit that we anticipate. We will need to expand the supply of mid-level rheumatology providers and continue to lobby Congress to fund more fellowship slots."
For Flood, it may be useful to look at the finances. Rheumatology involves fewer revenue-generating procedures than other specialties, which means that the income of rheumatologists is comparatively lower. "The ACR continues to promote rheumatology to students and residents and the Foundation offers financial assistance to students and residents for clinical exposure and research projects and experience," he said. "Reimbursement for rheumatology has also improved, but not enough, of course."
PAGE BREAK
Shifting Demographics by Age, Gender
In a 2017 report released by the Association of American Medical Colleges, women comprise 50.7% of incoming medical students in the current academic year compared with 49.8% in 2016 — a landmark transition that is expected to ripple across several medical fields, including rheumatology.
Although the analysis by Bolster and colleagues observed a male majority of 59% in the current rheumatology workforce, that figure is expected to decrease to 43% by 2030. Statistical data indicate that, at present, women work 7 fewer hours per week and see 30% fewer patients than men.
"This is important," Fitzgerald said. "Historically, female providers worked fewer clinical hours during the reproductive years."
"Women are more likely than men to work part-time, and women on average see fewer patients per day than men, possibly because they spend more time talking to their patients," Bass added.
Brown suggested that these trends reflect societal evolution. "As the gender balance among rheumatologists is expected to shift toward women, data indicate the overall average number of patient visits will continue to decline per provider. These data do not show that men are better doctors than women, but have important implications for the physician workforce supply."
Bolster and colleagues also focused on the contribution of millennials to the workforce; although millennials currently comprise 6% of the workforce, that number is expected to swell to 44% by 2030. Men and women in the millennial rheumatology workforce had fewer patient visits in 2015 than their counterparts in 2005.
"Millennials also care about quality of life and may work fewer hours than the older generation," Bass said. "This will certainly impact the workforce."
A decreasing trend in patient load for millennials per week was about 15% from 2005 to 2015, according to Brown. "Generational differences will likely also be a factor," he said. "A common observation is that as millennials enter the workforce, there will be more emphasis on the value of both leisure time and earnings."
Rheumatology by Location
Distribution of the workforce may also prove problematic in the future, noted Battafarano and colleagues, who demonstrated that while 21% of adult rheumatologists in 2015 practiced in the Northeast, just 3.9% practiced in the Southwest. The ratio of providers per 100,000 patients in the Northeast is expected to decrease from 3.07 in 2015 to 1.61 in 2030, while this ratio in the Southwest is projected to decrease from 1.28 to 0.5.
"There are issues with distribution of the rheumatology workforce, which is concentrated in some areas, providing adequate numbers, and sparse in other areas, leaving those underserved," Fitzgerald said.
PAGE BREAK
Brown suggested that this situation may deteriorate as the shortage continues. "There appears to be a significant geographic maldistribution of adult rheumatologists across the United States, and this will worsen in the coming years," he said.
Flood offered an explanation — and persistent hurdle — for this disparity. "Physicians often choose to live near where they have been trained, and this is frequently near large cities especially on the East and West coasts, but also near centers of excellence in other regions of the country," he said. "Programs to incentivize practice in areas where the need is highest have been used, but helping folks to persist in living in those areas can be a challenge."
Perhaps the most obvious solution to geographic maldistribution is telemedicine. In a recent study in Pediatric Rheumatology, Bullock and colleagues investigated challenges parents face in accessing pediatric rheumatology care, and how telemedicine may be beneficial. Survey results showed that 28% of parents traveled more than 3 hours for a pediatric rheumatology visit, and 43% reported travel as an inconvenience. Overall, 95% of respondents preferred an in-person visit.
However, the researchers found that there were some positives for telemedicine. Even among those who reported that travel is inconvenient, parents who were familiar with telemedicine preferred that method to in-person visits, 27% vs. 3% (P = .0087). Sixty-three percent of respondents found an outreach clinic to be an acceptable method of treatment, as well.
"Shortages in underserved areas may lead to creative community solutions leveraging technology and using various providers, teams, and even unconventional physician extenders to facilitate patient care," Brown said. "Fortunately, the ACR is vigorously pursuing all of these strategies."
Flood noted that procedures for telemedicine consultation and care are increasingly attractive. "Algorithms for quality care and appropriate reimbursement need to be formalized," he said. "However, whether you see a patient in your office or on a screen, time is needed for each appointment. This approach might increase access to those who do not have rheumatologists near their homes, but it will not likely increase total numbers of patients seen."
Non-rheumatologists Pick up the Slack
Because of scarcity of rheumatologists, the field has seen nurse practitioners, primary care providers, and physicians' assistants play an increasingly large role in delivering rheumatology care and services. Riley and colleagues surveyed members of the American Association of Nurse Practitioners working in primary care settings to understand their capacity to manage rheumatoid arthritis. Results showed that improved communication with rheumatologists, "access to educational tools and resources, and further education and training in the management of RA" would be useful in optimizing outcomes.
PAGE BREAK
"The role of nurses in rheumatology care is varied and dependent on the work setting," Linda Grinnell-Merrick, MS, NP-BC, of the division of allergy, immunology, and rheumatology at the University of Rochester Medical Center and president of the Rheumatology Nurses Society, said in an interview. She added that the rheumatology nurse's scope of practice, as defined by the American Nurses Association, includes conducting physical assessments such as joint count, joint mobility and assessment of comorbid conditions.
"The registered nurse can be seen in various positions, including management of rheumatology practices, working in infusion centers, rheumatology offices or clinics, home care and research facilities," Grinnell-Merrick said. "Some of their many roles include educating patients and families on rheumatic diseases, administering medications, monitoring for adverse effects to treatment, guiding patients through insurance and financial assistance, helping coordinate care and providing emotional support."
ACR and the Association of Rheumatology Health Professionals also have created programs to increase the number of NP/PAs entering rheumatology practice, according to Flood. "We have created a curriculum for effectively onboarding these professionals into rheumatology practice, with curriculum outline accepted for publication in Arthritis Care & Research," he said. "We have also created the Advanced Rheumatology online course with plenty of educational materials to help NP/PAs learn our subspecialty and enable them to practice in association with rheumatologists."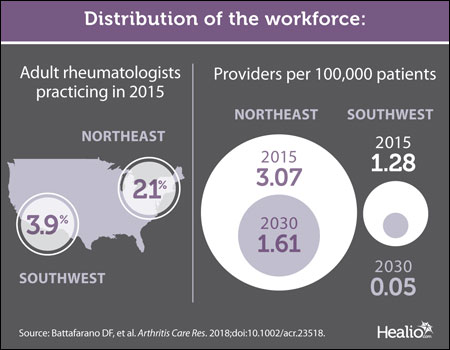 For Grinnell-Merrick, nurses absolutely must work to their full potential. "Too often, nurses get caught up in the administrative duties in a rheumatology practice," she said. "They can spend hours working on prior authorizations when they could be spending that time caring for patients."
These professionals, under the supervision of rheumatologists, will continue to provide high quality and accountable care, noted Flood. "My patients express high satisfaction with the personal care they receive from our PAs," he said. "I review each of their notes, with special care for newer PAs, and know that there are not compromises in quality or patient satisfaction."
For Fitzgerald, self-awareness and self-examination may be necessary. "It will be important to better understand the impact of rheumatologist-provided care," he said. "We may need to start sharing more responsibility for diseases where other providers can help share the work. We may need to focus efforts on the more complex disease management conditions."
The Foundation is doing its part, according to Bass. "We are also working hard to expand the non-physician rheumatology workforce by recruiting nurse practitioners and physicians' assistants to the field," she said. "The Foundation has a grant specifically to train mid-level providers in rheumatology."
PAGE BREAK
Championing the Specialty
Despite significant concerns with the rheumatology workforce, Brown suggested that not all the news is bad. "Current interest in rheumatology is very high, with almost all currently funded and operating rheumatology fellowship positions filled — in spite of the obstacles, many graduates are choosing rheumatology as a career," he said. However, Brown stressed that capitalizing on this interest is critical. "The bottleneck of a limited number of training positions, most of which are primarily dependent on federal funding for their support, is a primary problem. Thus, the current GME training structure cannot support the increased demand and strategies must be developed to address this gap."
Sharing this information is an important way to build the field, according to Flood. "Current rheumatologists who open their practices to medical students, residents and NP/PA students can have a big impact on the ultimate choice of specialty they choose," he said. "If you are with students and residents, it is important that you love what you do. If you are sullen, angry at changes in health care and reimbursement, few young people will choose to be like you."
It may be necessary to think even bigger, according to Fitzgerald. "Going forward, we will need to change the way we practice rheumatology," he said. "There will simply be too much demand for the projected number of rheumatologists. This might mean a different case-mix of patients, spacing patient visits out, along with greater use of NP/PAs."
Grinnell-Merrick conveyed that the Rheumatology Nurses Society also recognizes the gravity of the situation. "We are actively developing education for RNs, NPs and PAs in non-rheumatology practices and also for students," she said.
Flood suggested that beyond the doctor-patient relationship, practice management is also key to helping attract new talent. "It is also important that practices be effectively managed to maintain employees and health professionals who are happy with their work and look forward to coming to the office every day," he said. "This requires careful management of the financial health of the organization and its cash flow. Aggregating in groups large enough to support the use of ancillary services is also part of this equation."
In the end, it essential to focus on the positive, Flood said. "We have been described as the happiest subspecialty in the past and we try to help folks understand why that is," he said. "There are many reasons we have job satisfaction, including the amazing impact we can have on our patients' lives and the satisfaction of caring for people over time. The lifestyle of rheumatology can offer more time for family, community involvement, and personal growth."– by Rob Volansky
PAGE BREAK
References:
Battafarano DF, et al. Arthritis Care Res. 2018;doi:10.1002/acr.23518.
Bolster MB, et al. Arthritis Rheumatol. 2018;doi:10.1002/art.40432.
Bullock DR, et al. Pediatr Rheumatol Online J. 2017;doi: 10.1186/s12969-017-0184-y.
COGME. Twentieth report: Advancing primary care. 2010. Available at: https://www.hrsa.gov/advisorycommittees/bhpradvisory/cogme/Reports/twentiethreport.pdf. Accessed April 3, 2018.
Harvey WF, et al. Arthritis Rheumatol. 2018;doi:10.1002/art.40431.
Revielle JD, et al. J Clin Rheumatol. 2016;22:405-410.
Riley L, et al. J Am Assoc Nurse Pract. 2017;doi:10.1002/2327-6924.12525.
For more information:
Anne R. Bass, MD, can be reached at 535 E 70th Street, New York, NY 10021; email: BassA@hss.edu.
Calvin R. Brown Jr., MD, can be reached at 240 East Huron Street, McGaw M300, Chicago, IL 60611; email: c-brownjr@northwestern.edu.
John D. Fitzgerald, MD, PhD, can be reached at Rheumatology – Westwood, 200 UCLA Medical Plaza, Suite B365, Los Angeles, CA 90095; email: jfitzgerald@mednet.ucla.edu.
Joseph Flood, MD, FACR, can be reached at 1211 Dublin Road, Columbus, OH 43215; email: jjflood@columbus.rr.com.
Linda Grinnell-Merrick, MS, NP-BC, can be reached at 601 Elmwood Ave, Rochester, NY 14642; email: amy.phillips@rns-network.org.
Disclosures: Bass, Brown, Fitzgerald, and Flood report no relevant financial disclosures. Grinnell-Merrick reports being on the speakers' bureau at AbbVie, Celgene, Janssen, and Novartis, and consulting for Lilly and Sanofi.