Source/Disclosures
Published by:
April 13, 2018
2 min read
Two-week methotrexate hiatus after flu vaccine improves vaccine effect
Source/Disclosures
Published by:
We were unable to process your request. Please try again later. If you continue to have this issue please contact customerservice@slackinc.com.
Temporarily ceasing methotrexate for 2 weeks following seasonal influenza vaccination improves the vaccine's immunogenicity, without increasing rheumatoid arthritis disease activity, according to findings published in the Annals of the Rheumatic Diseases.
"Since the underlying immune dysfunction and the treatment-associated immune suppression render patients with RA more susceptible to infections, vaccines are strongly recommended against preventable diseases in patients with RA," Jin Kyun Park, MD, from the Seoul National University College of Medicine in South Korea, and colleagues wrote. "However, [methotrexate] significantly decreases vaccine response to pneumococcal and seasonal influenza vaccines, particularly response to novel strain antigens."
According to the researchers, although a pilot study found that discontinuing methotrexate for 4 weeks following influenza vaccination could significantly increase immunogenicity among patients with RA, that long of a hold was associated with an increase in RA disease activity. Based on those findings, the researchers aimed to determine the effects of a 2-week hold on methotrexate following vaccination. In a prospective, multicenter, randomized investigator-blind parallel-group study, Park and colleagues recruited 324 adult patients with RA from rheumatology clinics at three tertiary medical centers in South Korea.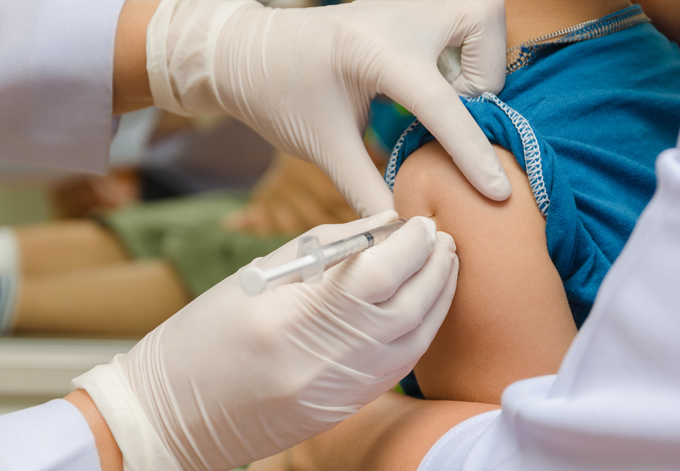 Source: Shutterstock
Among the participants, 159 were assigned to continue methotrexate after receiving a seasonal influenza vaccine, while 161 were advised to withhold methotrexate for 2 weeks following vaccination. Patients in both groups received the 2016-2017 quadrivalent seasonal influenza vaccine containing H1N1, H3N2, B-Yamagata and B-Victoria. The researchers defined satisfactory vaccine response as fourfold or greater increase in hemagglutination inhibition antibody titer at 4 weeks after vaccination against two or more of the four vaccine strains. Of the participants, 156 in the continuation group, and 160 in the hold group, completed the study.
According to the researchers, 54.5% of patients in the continuation group demonstrated satisfactory vaccine response, compared with 75.5% of those in the hold group (P < .001). In addition, the seroprotection rate was higher in the hold group than the continue group for all four vaccine strains. Patients in the hold group achieved a higher-fold increase in antibody titers against all four strains (P < .05). The two groups demonstrated a similar change in RA disease activity.
"This current trial done with higher subject number clearly demonstrated that even a 2-week discontinuation of [methotrexate] after vaccination significantly improves immunogenicity in all four strains of the quadrivalent influenza vaccine," Park and colleagues wrote. "In addition, holding [methotrexate] improved the vaccine response especially in those patients taking higher [methotrexate] dose, indicating inhibition of vaccine response by [methotrexate] is dose dependent. ... The [methotrexate] discontinuation strategy therefore could be even more important when patients with RA should be vaccinated against these novel influenza strains." – by Jason Laday
Disclosure: Park reports no relevant financial disclosures. Please see the study for all other authors' relevant financial disclosures.