April 03, 2018
2 min read
Blocking iRhom2 protein may prevent kidney damage in SLE
We were unable to process your request. Please try again later. If you continue to have this issue please contact customerservice@slackinc.com.

Jane E. Salmon
Inhibiting the inactive rhomboid 2 protein, which regulates the body's inflammatory system, could help physicians prevent kidney injury in patients with systemic lupus erythematosus, as well as play a crucial role in mediating irreversible scarring, according to findings published in the Journal of Clinical Investigation.
"Lupus nephritis often results in progressive renal dysfunction and therapeutic options to prevent irreversible damage are quite limited," Jane E. Salmon, MD, of the Hospital for Special Surgery, told Healio Rheumatology. "The inactive rhomboid 2 (iRhom2) is a newly identified key regulator of A disintegrin and metalloprotease 17 (ADAM17), whose substrates, such as TNF-alpha and heparin-binding epidermal growth factor (HB-EGF), have been implicated in the pathogenesis of chronic kidney disease. Blockade of iRhom2 offers a mechanism to inhibit these two important mediators of renal damage."
To determine if they could inhibit ADAM17, which can cause excessive shedding of TNF-, in turn leading to tissue damage in autoimmune disease, by manipulating iRhom2, the researchers studied a strain of mice with a mutation that predisposed them to SLE and kidney injury. In addition, they treated the same strain of mice with either a drug that suppresses the activity of TNF-alpha, or one that blocks signaling by the receptor for HB-EGF, the EGFR.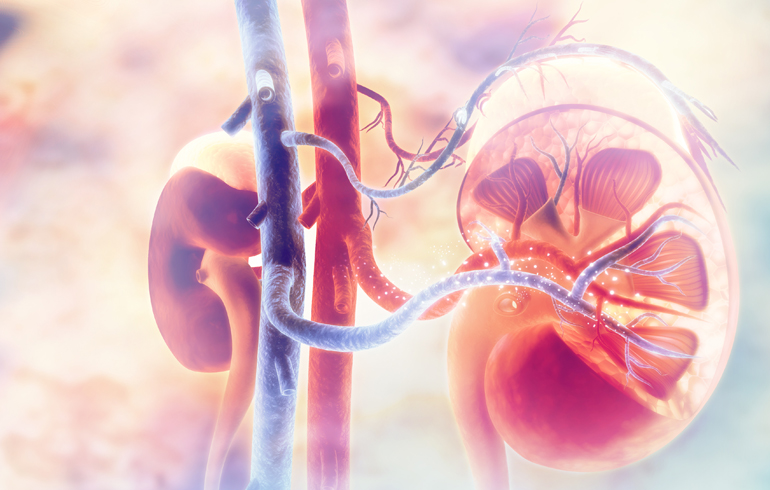 Source: Shutterstock
According to the researchers, inhibiting iRhom2 prevented kidney damage, with greatly reduced inflammation, scarring and other signs of harm. In addition, mice that were treated demonstrated significantly less evidence of kidney damage than those that were untreated. According to a press release from Hospital for Special Surgery, this indicates that TNF- and the EGFR play important roles in the disease process of SLE.
The researchers also found, after analyzing tissue samples from kidney biopsies, that elevated expressions of HB-EGF with the highest levels are associated with irreversible damage. In addition, data from a large national databank showed that kidney cells from patients with lupus express abnormally high amounts of iRhom2, another indicator of the role of this molecule in the development of lupus nephritis, the press release said.
"We established a pivotal role for iRhom2, a key regulator of ADAM17, in the pathogenesis of lupus nephritis," Salmon said. "We found that Fcgr2b-/- mice lacking iRhom2 are protected from progressive renal injury, likely by simultaneous blockade of TNF-alpha and EGFR signaling. In addition, pharmacological blockade of either TNF-alpha or EGFR signaling protected Fcgr2b-/- mice from severe renal damage."
According to Salmon, the research provides the first evidence that iRhom2 blockade can protect lupus-prone mice from the consequences of dysregulation of TNF-alpha and EGFR. This, she said, uncovered a possible new target for selective and simultaneous inhibition of two major pathological pathways in the effector arm of lupus nephritis.
PAGE BREAK
"In addition to showing that that iRhom2 is critical for the development of lupus nephritis in Fcgr2b-/- mice, most likely by activating ADAM17-dependent TNF-alpha and HB-EGF/EGFR pathways, we found increased expression of iRhom2 and HB-EGF in kidneys from lupus nephritis patients," Salmon said.
She added, "Moreover, the intensity of HB-EGF expression in interstitial cells in lupus nephritis positively correlated with disease chronicity index, an indicator of irreversible damage and poor prognosis. Blockade of iRhom2 provides a means to inhibit two important mediators of renal damage and a new therapeutic approach to lupus nephritis, and approach focused on effector mechanisms of irreversible renal damage rather than targeting autoimmunity." – by Jason Laday
Disclosure: The researchers report no relevant financial disclosures.