Source/Disclosures
Published by:
March 12, 2018
2 min read
Pain mechanisms vary by synovial subtype of RA
Source/Disclosures
Published by:
We were unable to process your request. Please try again later. If you continue to have this issue please contact customerservice@slackinc.com.

Dana E. Orange
Gene expression analysis of synovial tissue from patients with rheumatoid arthritis and osteoarthritis revealed three distinct synovial subtypes, and demonstrated that mechanisms of pain may differ among patients with different subtypes, according to findings published in Arthritis and Rheumatology.
In addition, according to Dana E. Orange, MD, MSc, of Rockefeller University, the Hospital for Special Surgery and the New York Genome Center, she and her colleagues were surprised to find that some patients with RA had high tender- and swollen-joint counts while demonstrating minimal inflammation in their tissue, and normal erythrocyte sedimentation rates and C-reactive proteins.
"One interpretation of this result is that these patients may have developed osteoarthritis in the joint that we evaluated and have active rheumatoid arthritis in their other joints," Orange told Healio Rheumatology. "However, the discrepancy between high swollen and tender joint counts and normal acute phase reactants raises the question of whether any of their other joints were highly inflamed."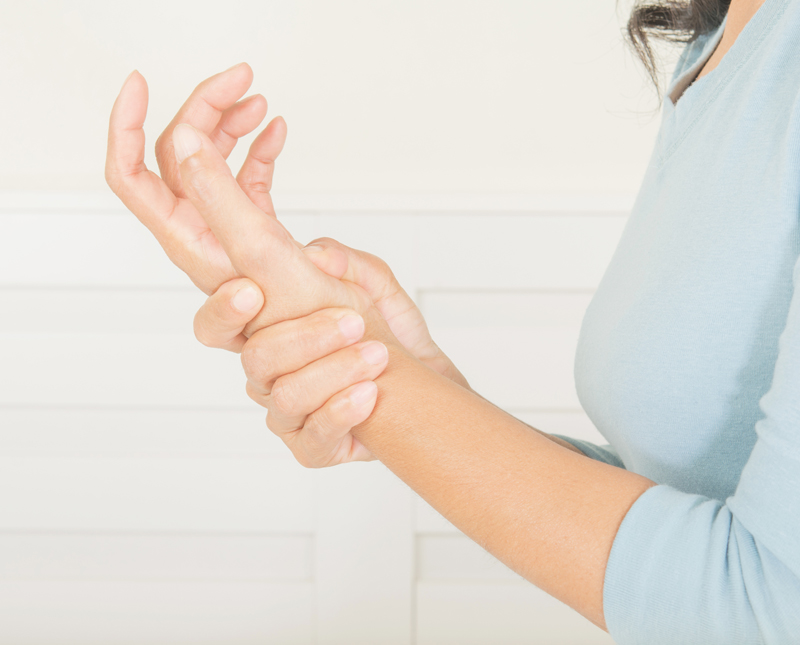 Source:Shutterstock
To develop an algorithm to score histology features of synovial tissue in a way that differentiates between synovial subtypes, Orange and colleagues recruited 123 patients with RA from the Hospital for Special Surgery, in New York, as well as six patients with osteoarthritis. The researchers evaluated 20 histologic features of the samples to determine their use in differentiating synovial subtypes, defined by transcriptome-wide gene expression patterns.
The researchers performed consensus clustering on gene expression data from 45 of the synovial samples, and used support vector machine learning to predict gene expression subtypes based on the histology data. They then compared the clinical data across those subtypes.
According to the researchers, the consensus clustering revealed three synovial subtypes: a low inflammatory subtype characterized by enrichment in pathways including TGF-, glycoproteins and neuronal genes; a highly inflammatory subtype with extensive infiltration of leukocytes; and a mixed subtype. After developing their algorithm for scoring histology features through machine learning, the researchers also found that patients with highly inflammatory synovial subtypes demonstrated greater levels of systematic inflammation and autobody markers. Also, C-reactive protein was significantly correlated with pain in the highly inflammatory groups.
"One technical point is that it is challenging to synchronize gene expression data with other types of clinical data such as histology scores," Orange said. "Our paper outlines an approach which could be applied in many different scenarios to use unbiased clustering of samples using gene expression data to guide interpretation of clinical features."
Orange added that there is much to learn from hematoxlyn- and eosin-stained synovial tissue.
PAGE BREAK
"This assay is a routine clinical assay that is widely available and cost effective relative to other methods," she said. "We learned that some histologic features, like plasma cells, are strongly predictive of high inflammatory gene expression."
According to Orange, the findings suggest that synovial biopsies may be worth considering for patients who do not respond to usual immune-targeting drugs, particularly those with low markers of inflammation in their blood."
"It may be that these patients also have little synovial inflammation and immune suppression may not be useful for them," Orange said. "We are working now to better understand mechanisms of pain in this subgroup. In the future, we also hope to develop blood and imaging biomarkers to identify this subset and thereby guide treatment decisions." – by Jason Laday
Disclosure: The researchers report support from a partnership between AbbVie, the Arthritis Foundation, Bristol-Myers Squibb, the Lupus Foundation of America, the Lupus
Research Alliance, Merck Sharp & Dohme Corp., the NIH, Pfizer, the Rheumatology Research Foundation, Sanofi and Takeda Pharmaceuticals International, as well as grant funding from the NIH.