September 18, 2018
2 min read
One in three college freshmen report history of mental disorders
We were unable to process your request. Please try again later. If you continue to have this issue please contact customerservice@slackinc.com.
About one-third of first-year college students across eight countries who participated in a self-report WHO survey screened positive for at least one anxiety, mood or substance use disorder, according to research published in the Journal of Abnormal Psychology.
"The college years represent a distinct period in which there is a critical need to improve early identification and treatment for debilitating mental disorders," Randy P. Auerbach, PhD, from the department of psychiatry at Columbia University, and colleagues wrote. "It is a challenge for universities to determine whether and, if so, how to identify college students for outreach and treatment of existing mental disorders or for preventive interventions when at high risk of mental disorders and, once identified, how to offer services to the very large proportion of students likely to profit from either treatment or preventive interventions."
Researchers estimated prevalence and basic sociodemographic factors associated with common mental disorders among first-year college students using data from the WHO's World Mental Health International College Student Initiative surveys among 13,984 first-year students from 19 colleges in eight mostly high-income countries — Australia, Belgium, Germany, Mexico, Northern Ireland, South Africa, Spain and the U.S. Web-based self-report questionnaires administered to incoming freshmen screened for common lifetime and 12-month DSM–IV mental disorders, including major depressive disorder, mania/hypomania, generalized anxiety disorder, panic disorder, alcohol use disorder and substance use disorder.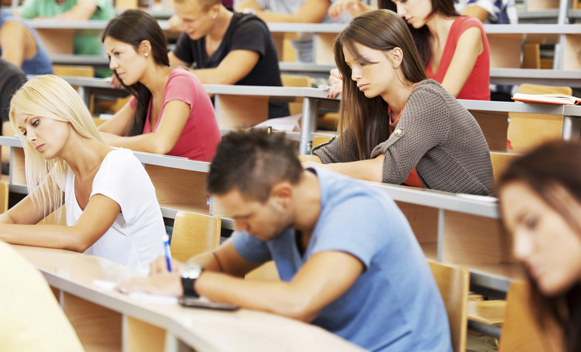 Source:Adobe Stock
The data showed that 35% of respondents screened positive for at least one of the common lifetime mental health disorders and 31% screened positive for at least one 12-month disorder. Although modest, Auerbach and colleagues found that the strongest factors associated with having a mental health disorder were:
older age;
female sex;
unmarried-deceased parents;
no religious affiliation;
low secondary school ranking; and
extrinsic motivation for college enrollment.
The researchers noted that these connections were relatively stable across countries, with 6.3% of country-specific ORs differing significantly from the cross-national average.
The most common disorder reported across all countries was major depressive disorder (21.2% lifetime prevalence; 18.5% 12-month prevalence) followed by generalized anxiety disorder (18.6% lifetime prevalence; 16.7% 12-month prevalence).
"While effective care is important, the number of students who need treatment for these disorders far exceeds the resources of most counseling centers, resulting in a substantial unmet need for mental health treatment among college students," Auerbach said in a press release. "Considering that students are a key population for determining the economic success of a country, colleges must take a greater urgency in addressing this issue. Internet-based clinical tools may be helpful in providing treatment to students who are less inclined to pursue services on campus or are waiting to be seen." – by Savannah Demko
Disclosure: Auerbach reports no relevant financial disclosures. Please see the study for all other authors' relevant financial disclosures.