Virtual reality therapy shows clinical benefit for fear of heights
We were unable to process your request. Please try again later. If you continue to have this issue please contact customerservice@slackinc.com.

Daniel Freeman

Findings from a large randomized controlled trial published in The Lancet Psychiatry showed that an automated psychological intervention delivered by immersive virtual reality was highly effective in reducing fear of heights.
"In [virtual reality] people can experience carefully graded recreations of their difficult situations, which brings on their symptoms, but then be coached in the most helpful ways to respond," Daniel Freeman, PhD, of the department of psychiatry at University of Oxford, and of Oxford Health NHS Foundation Trust, told Healio Psychiatry. "The potential is that [virtual reality] treatment can be faster, more powerful and have a greater appeal for patients than traditional mental health approaches."
Researchers conducted a randomized trial of automated virtual reality vs. usual care to determine the efficacy of an automated cognitive intervention for fear of heights using virtual reality. The intervention was guided by a virtual coach avatar animated using motion and voice capture in a virtual reality and delivered with the latest consumer equipment.
"'Revolutionary' is an overused word; for [virtual reality] and mental health care, it may actually be justified over the coming years," Freeman said. "[Virtual reality] could become the method of choice for psychological treatment: out with the couch, on with the headset."
Adults clinically diagnosed with fear of heights — scoring higher than 29 on the Heights Interpretation Questionnaire — were randomly allocated (1:1) to automated virtual reality delivered in about six 30-minute sessions over a 2-week period (intervention group) or usual care (control group). Randomization was classified by severity of fear of heights. The researchers administered three fear-of-height assessments — at baseline, end of treatment and at 4-week follow-up — to assess change in Heights Interpretation Questionnaire score, with higher scores indicating greater severity.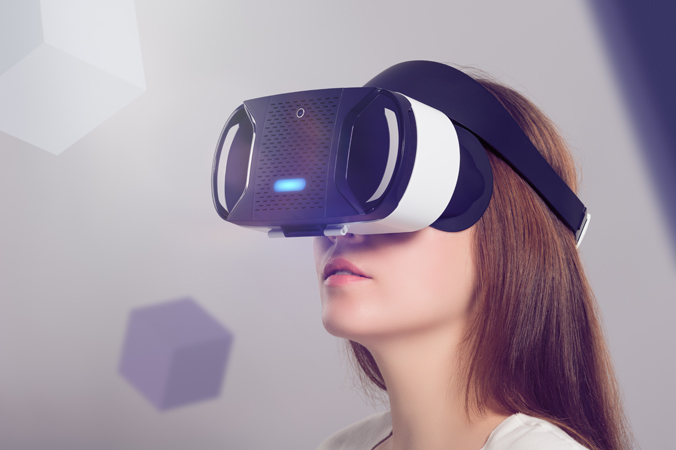 Source: Shutterstock.com
Of 100 people who completed 4-week follow-up, 49 were assigned to receive virtual reality treatment and 51 to usual care. Patients who received virtual reality treatment experienced a reduced fear of heights at the end of treatment compared with people in the control group (mean change score –24.5 vs. –1.2; adjusted difference, –24; 95% CI, –27.7 to –20.3). This benefit was maintained at follow-up, with a mean change score of –25.1 in the virtual reality group compared with a change score of –1.5 in the control group (adjusted difference, –24.3; 95% CI –27.9 to –20.6). There were no reported adverse events.
"The results were even better than we had hoped. The clinical benefits shown were better than would be expected from receiving the best face-to-face therapy," Freeman said. "Most of the people in the trial had a history of over 30 years of a fear of heights, yet they all responded to the [virtual reality] treatment."
Fear of heights dropped by two-thirds on average in the group receiving virtual reality treatment and about three-quarters of people experienced at least a 50% reduction in their fear of heights, according to Freeman. After treatment, people were able to go places that they wouldn't before, including walking up a mountain, going with their children on a rope bridge or using an escalator without fear.
"The automation of treatment has the potential to revolutionize the provision of help for people with mental health difficulties. Millions of people could have access to the very best psychological expertise using automated delivery of therapy using [virtual reality]," Freeman told Healio Psychiatry.
"The therapeutic techniques need to be based upon the best psychological science for the specific problem being targeted," he continued. "These techniques then need to be tailored within [virtual reality] for each individual. And it is crucial to carry out extensive user testing, so that the treatment is easy to use, engaging and fits with what people want. You have to invest heavily at first in creating the treatment, but then there will be large cost-savings when used by many people." – by Savannah Demko
Disclosures : Freeman is a co-founder and employee of Oxford [Virtual Reality]. Please see the full study for all other authors' relevant financial disclosures.