'Red flag' laws may cut population-level firearm suicide rates
We were unable to process your request. Please try again later. If you continue to have this issue please contact customerservice@slackinc.com.

Aaron J. Kivisto

Risk-based firearm seizure legislation, also called "red flag" laws, in Connecticut and Indiana were linked to lower firearm suicide rates at the population level, findings published in Psychiatric Services showed.
In Connecticut, the firearm seizure law requires police investigation if they believe someone may injure themselves or others, and a warrant request; in Indiana, it allows warrantless seizure of someone's firearms if police believe they have a mental illness and are dangerous, according to Aaron J. Kivisto, PhD, and Peter Lee Phalen, MA, from the School of Psychological Sciences, University of Indianapolis.
"Guns represent one of the most efficient means of ensuring the success of a suicide attempt, and in states without 'red flag' laws there are few legal mechanisms available to temporarily remove guns from the home of a potentially suicidal individual," Kivisto told Healio Psychiatry. "While 'red flag' laws have gained attention in response to mass homicides such as that at Marjory Stoneman Douglas High School, in practice these laws have functioned largely as suicide prevention measures. In Indianapolis, for example, in some years roughly 80% of all gun seizures have been in response to a perceived risk of suicide, not homicide."
To examine the effects of risk-based firearm seizure laws on suicide rates in Indiana and Connecticut, researchers performed quasi-experimental analyses using annual state-level panel data from all 50 states between 1981 and 2015.
The outcome variables, firearm and non-firearm suicide rates per 100,000 population, came from the CDC's Web-Based Injury Statistics Query and Reporting System. Kivisto and Phalen used a synthetic-control method to examine the effect of firearm seizure laws on state-level suicide rates as well as difference-in-place placebo tests, also controlling for state-level covariates shown to be linked with state-level suicide rates.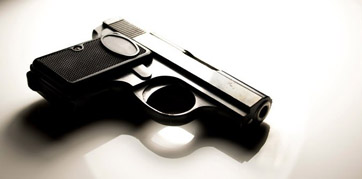 Source:Shutterstock.com
There were 15,130 firearm suicides in Indiana and 4,020 in Connecticut between 1981 and 2015. During this period, Indiana's rate of 7.21 per 100,000 population was more than double that of Connecticut's rate of 3.28. Analysis showed a 7.5% drop in firearm-related suicides in the 10 years following the enactment of Indiana's firearm seizure legislation. These results indicated that 383 firearm suicides may have been prevented in this decade because of this legislation, according to the authors.
Connecticut's firearm seizure law resulted in a 1.6% drop in firearm suicides immediately after it was enacted and a 13.7% drop after the Virginia Tech shooting in 2007, when its enforcement rose significantly. These results suggested that enforcement of this law prevented an estimated 128 firearm suicides between 2007 and 2015, according to the researchers.
"What our research shows is that these temporary gun seizures are associated with a reduction in firearm suicides," Kivisto said. "From a policy-making perspective, this sort of information is essential to striking the right balance between individual risk and constitutional rights."
Sensitivity analyses revealed these findings were robust to different specifications; though Indiana showed an overall decrease in suicides, Connecticut's reduction in firearm suicides was offset by a boost in nonfirearm suicides.
"Clinicians in states with 'red flag' laws need to be familiar with specifics of the law in their state because states differ in who is eligible to petition for a temporary firearm seizure," Kivisto told Healio Psychiatry.
"Some states, such as Indiana, only allow for law enforcement to petition for a seizure. Other states, such as Washington, permit family members to do so," he continued. "We're seeing a lot of variability in the bills currently under review, and some of these proposals would expand the ability to petition to mental health professionals. Knowing the particulars of your states' legislation is essential." – by Savannah Demko
Disclosures: The authors report no relevant financial disclosures.