Antidepressant use may increase long-term risk for weight gain
We were unable to process your request. Please try again later. If you continue to have this issue please contact customerservice@slackinc.com.
Study results published in BMJ demonstrated long-term use of antidepressant medications was associated with an increased risk for weight gain over at least 5 years.
The findings reported that patients in the U.K. prescribed any of the 12 most common antidepressants were 21% more likely to have an episode of gain weight than those not taking these medications.
"The current high prevalence of antidepressant use could have potentially important public health impacts through the association with body weight gain, but the nature of this association is poorly described," Rafael Gafoor, PhD, MRCPsych, from the School of Population Health and Environmental Sciences, King's College London, and colleagues wrote.
In their population-based cohort study, researchers evaluated the long-term relationship between antidepressant prescribing and body weight among 136,762 men and 157,957 women from general practices contributing to the UK Clinical Practice Research Datalink from 2004 to 2014. Analyzed antidepressants included mirtazapine, duloxetine, sertraline, venlafaxine, citalopram, fluoxetine, escitalopram, trazodone, amitriptyline, paroxetine, nortriptyline and dosulepin.
The investigators assessed all records of body weight, height and BMI. If a recorded body weight indicated gain of 5% or more compared with the previous year, the calendar year was classified as being associated with weight gain. They also evaluated this association in different subgroups and whether individual antidepressant drugs might be associated with greater risks for weight gain. Analysis adjusted for age, sex, depression recording, comorbidity, coprescribing of antiepileptics or antipsychotics, deprivation, smoking and diet advise.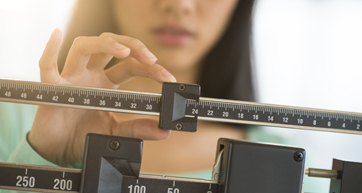 Source:Shutterstock.com
In 2004, 17,803 (13%) men and 35,307 (22.4%) women received an antidepressant prescription. Over the 10-year follow-up period encompassing 1,836,452 person-years, the incidence of 5% or more weight gain was 8.1 per 100 person-years among participants not prescribed antidepressants and 11.2 per 100 person-years among those who received antidepressants (adjusted RR = 1.21; 95% CI, 1.19-1.22). Mirtazapine was associated with the greatest risk for weight gain (adjusted RR = 1.5; 95% CI, 1.45-1.56).
"We were surprised to find that despite the current clinical impression being that antidepressant-associated weight gain tends to occur soon after starting an antidepressant, in fact the greatest risk occurs during years 2 and 3 — a delay that has not been previously recognized," Gafoor told Healio Psychiatry.
The risk for weight gain among those taking antidepressants remained increased for at least 6 years of follow-up after inception of treatment, according to Gafoor.
"Patients and prescribers should be vigilant and enhanced weight management surveillance may be appropriate," he said.
In the second and third year of follow-up, adjusted rate ratios were 1.46 (95% CI, 1.43-1.49) and 1.48 (95% CI, 1.45-1.51); then these ratios declined and from year 7 onwards there was no evidence for an increased risk of weight gain. During the second year of treatment, the risk of 5% or more weight gain was 46.3% higher than in a general population comparison group.
"There may be a causal association between antidepressant-related weight gain and increasing levels of obesity at a population level," Gafoor said. "More research needs to be done in this area to understand the mechanisms behind the observed delay in the peak risk of weight gain." – by Savannah Demko
Disclosures: Gafoor reports no relevant financial disclosures. Please see the full study for all other authors' relevant financial disclosures.