April 24, 2018
2 min read
Cannabis use temporarily eases symptoms of depression, anxiety, stress
We were unable to process your request. Please try again later. If you continue to have this issue please contact customerservice@slackinc.com.
Findings from a naturalistic examination showed that although medical cannabis use reduced perceived symptoms of depression, anxiety and stress in the short-term, continued use did not lead to any long-term reductions in these symptoms.
"Only two of the 32 states, districts, and territories in the United States that permit medical cannabis use currently recognize anxiety as a qualifying condition, and none overtly recognize depression or high levels of perceived stress as qualifying conditions for a medical cannabis card," Carrie Cuttler, PhD, of the department of psychology and the Translational Addiction Research Center at Washington State University, and colleagues wrote in Journal of Affective Disorders. "This is largely because of a paucity of evidence for the efficacy of cannabis in treating negative affect."
Using a naturalistic approach, the researchers assessed the perceived efficacy of cannabis in reducing symptoms of depression, anxiety and stress as a function of dose and concentration of cannabidiol (CBD) and tetrahydrocannabinol (THC). They analyzed data from the mobile application Strainprint, which offers medical cannabis users a way to track changes in symptoms after using different doses and chemotypes of cannabis. The investigators examined nearly 12,000 tracked sessions. Specifically, cannabis users used the app 3,151 times to track changes in depression, 5,085 to track changes in anxiety and 3,717 for stress.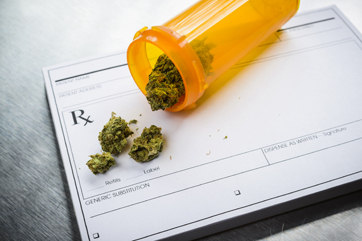 Source:Shutterstock.com
After using medical cannabis, self-reported symptoms of depression dropped 50% and symptoms of anxiety and stress dropped 58%. Furthermore, cannabis users reported an 89.3% drop in depression symptoms, a 93.5% drop in anxiety symptoms and a 93.3% drop in stress symptoms after inhaling cannabis, though these percentages may be inflated in the present sample because those who regularly have symptom exacerbation following cannabis use may be less likely to continue to use it to treat their symptoms and track symptom changes over time, according to the authors. Although Cuttler and colleagues observed no changes in the self-reported efficacy of cannabis across time, baseline symptoms of depression seemed to worsen across time and tracked sessions.
Analysis showed that two puffs of cannabis lead to sufficient reductions in depression and anxiety symptoms; however, 10 or more puffs lead to the greatest self-reported reduction in stress. Notably, women reported larger reductions in anxiety as a function of cannabis than men. High use of CBD/low use of THC was linked to the greatest changes in depression ratings, whereas high CBD use/high THC use lead to the greatest self-reported changes in stress.
"It is vital that the results from the present study be further investigated under double-blind, placebo-controlled conditions," Cuttler and colleagues wrote. "Results from the present study indicate that medical cannabis users report a substantial and significant reduction in symptoms of negative affect shortly after using cannabis. Importantly, while acute cannabis intoxication temporarily alleviates perceived states of depression, anxiety, and stress, the repeated use of cannabis does not appear to lead to any longer-term reductions in these symptoms." – by Savannah Demko
Disclosures: The authors report no relevant financial disclosures.