February 28, 2018
3 min read
Experts say mental illness 'should not be stigmatized' in wake of mass shootings
We were unable to process your request. Please try again later. If you continue to have this issue please contact customerservice@slackinc.com.

Renee L. Binder

Recent mass shootings across the United States have prompted policymakers, journalists and the public to often focus the blame on individuals with serious mental illness, disregarding other contributory factors, such as firearm accessibility, according to a viewpoint published in JAMA Psychiatry.
The risk for violent interpersonal behavior is only slightly higher among people with serious mental illness, according to the viewpoint authors Matthew E. Hirschtritt, MD, MPH, and Renee L. Binder, MD, of the department of psychiatry, School of Medicine, University of California, San Francisco.
"Individuals with serious mental illness are more likely to be victims of violence, rather than perpetrators. Most of the individuals who perpetrate mass shootings do not display symptoms that would lead to psychiatric hospitalization and they do not have serious mental illness," Binder told Healio Psychiatry.
Prior research estimates that people with mental illness contribute to approximately 4% of criminal violence, according to Hirschtritt and Binder. A 2017 study published in Psychiatric Services demonstrated only 12.4% of adults in state prisons who were charged with violent gun offenses had a history of psychiatric hospitalization, indicating that gun violence cannot be blamed only on mental illness.
Other individual characteristics that contribute to the risk of gun violence include male sex, younger age, a history of prior violent acts or experiencing violence and unlawful use of firearms, gang affiliation, and possession/distribution of narcotics, they wrote. In addition, easy access to firearms in America significantly affects gun violence as well. People with previous psychiatric hospitalization report accessing guns from family, friends and other sources not under federal regulation, according to Hirschtritt and Binder.
Widespread belief that mental illness is largely responsible for gun violence only stigmatizes and reinforces negative public attitudes about this population. Efforts to address lack of mental health insurance coverage, gaps in coverage for mental health conditions, shortages of the mental health workforce, poverty and treatment nonadherence remain vital to reduce untreated serious mental illness.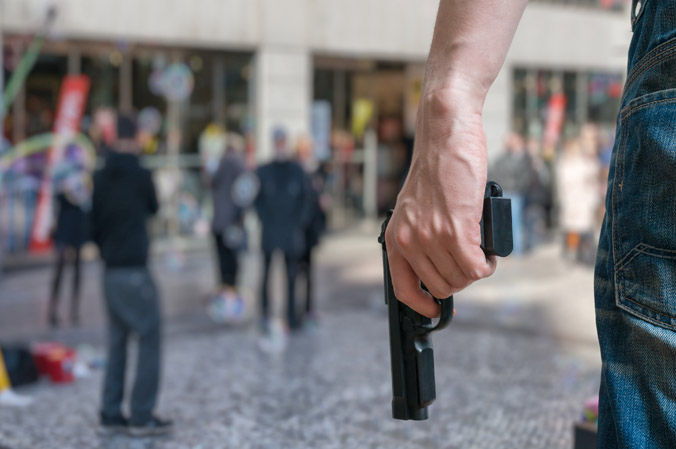 Source:Shutterstock.com
"We should not stigmatize all people with mental illness, most of whom will never be violent. Instead, we must decrease access to guns by people who pose a danger to themselves or to others, no matter what the cause, eg, domestic disputes, intoxication, being disgruntled and/or threatening," Binder told Healio Psychiatry. "The use of Gun Violence Restraining Orders is one way of decreasing violence. It allows family members to petition to temporarily remove firearms from an individual during a crisis period."
To decrease gun violence in the U.S., policy makers should address the association between rates of gun ownership and gun-related violence, as well as provide universal screening protocols for firearm access in clinical settings, according to the authors. Legislation for the restriction of firearms should also include a standardized process that returns gun access rights to people after a high-risk period.
"Attributing mass shootings to untreated, serious mental illness is politically expedient; by drawing attention to those with serious mental illness, policy makers may avoid having to make difficult decisions about regulating firearm distribution and access," the authors wrote. "The burden of untreated serious mental illness is expressed more often in human problems, not in acts of violence. ... Reducing the risk of mass shootings and improving mental health care are two different issues and should not be conflated. Millions of Americans who are diagnosed with serious mental illness will never engage in any gun violence and should not be further stigmatized." – by Savannah Demko
Disclosures: The authors report no relevant financial disclosures.