September 18, 2018
4 min read
Burnout frequency varies by specialty, but exact prevalence unclear
We were unable to process your request. Please try again later. If you continue to have this issue please contact customerservice@slackinc.com.
Symptoms of burnout and career choice regret were common among U.S. resident physicians, but differed substantially by clinical specialty, according to findings recently published in JAMA.
A second study on burnout, a systematic review also appearing in JAMA, found substantial differences in how frequently burnout occurs among practicing physicians and noticeable variations in assessment methods, burnout definitions and study quality.
Burnout by specialty
"Studies of U.S. physicians have found substantial differences in the prevalence of symptoms of burnout and career satisfaction by clinical specialty," Liselotte N. Dyrbye, MD, MHPE, of the department of medicine at the Mayo Clinic wrote in the first study. "To our knowledge, no similar national study has been conducted for resident physicians."
Dyrbye and colleagues analyzed 3,574 responses to a questionnaire that residents answered during both year 4 of medical school and their second year of residency. The median age of the respondents was 29 years, and 50.9% were women.
Dyrbye and colleagues found burnout symptoms were reported by 45.2% of respondents (95% CI, 43.6-46.8). Career choice regret was reported by 14.1% of respondents (95% CI, 12.9%-15.2%).
"The findings suggest the prevalence of burnout symptoms among resident physicians may be similar to that of practicing physicians," researchers wrote.
In addition, multivariable analysis showed residents training in emergency medicine, general surgery, neurology and urology were associated with higher relative risk of reported burnout symptoms.
"These findings suggest the increased burnout among physicians in these specialties may be attributable, in part, to unique characteristics of the work intrinsic to these specialties," Dyrbye and colleagues wrote.
"Alternatively, the high prevalence of burnout symptoms among supervising physicians in these specialties may adversely affect the learning environment, or these supervising physicians may model burnout to resident physicians, placing the resident physicians who are training in these specialties at greater risk," they added.
Conversely, training in pathology and dermatology was associated with lower relative risk for reported symptoms of burnout during the second year of residency relative to training in internal medicine, according to Dyrbye and colleagues.
Unclear prevalence , definition
In the second study, Lisa S. Rotenstein, MD, MBA, of Harvard Medical School, and colleagues tried to determine how burnout is assessed among physicians and its prevalence.
"[The] expansion of the scope of burnout has made it useful for describing the shared experience and stress of medical practice, particularly in conjunction with research demonstrating elevated levels of depressive symptoms among physicians. ... Consequently, there is interest among researchers, clinicians, and health policy leaders in ascertaining the prevalence and drivers of burnout in physicians," Rothstein and colleagues wrote.
182 studies consisting of 109,628 individuals in 45 countries published between 1991 and 2018 used some form of the Maslach Burnout Inventory to determine burnout. Among those studies, there were at least 47 distinct definitions of overall burnout prevalence, 29 definitions of emotional exhaustion, and 26 definitions each of depersonalization and low personal accomplishment.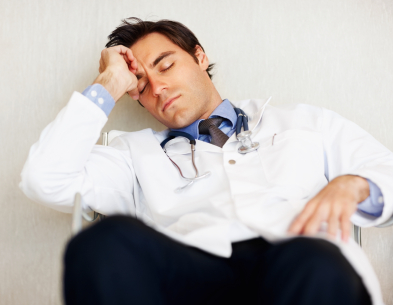 Photo Source:Shutterstock
In addition, the overall burnout prevalence in the 156 studies fluctuated from 0% to 80.5% with depersonalization prevalence varying from 0% to 89.9%, low personal accomplishment ranging from 0% to 87.1% and emotional exhaustion prevalence varying from 0% to 86.2%.
"Because of inconsistencies in definitions of and assessment methods for burnout across studies, associations between burnout and sex, age, geography, time, specialty, and depressive symptoms could not be reliably determined," Rotenstein and colleagues wrote.
"This review indicates that a more consistent definition of burnout and improved assessment tools may be necessary if ... policy measures are to successfully improve the physician work environment," they added.
Thomas L. Schwenk, MD, of the School of Medicine at University of Nevada, Reno, and Katherine J. Gold, MD, MSW, MS of the Institute for Healthcare Policy and Innovation, University of Michigan, addressed the ambiguity of both studies' findings in a related editorial.
"Little is known about whether or how the prevalence has changed over time and, if so, why. There is no grounded understanding of the pathophysiology of burnout or agreement on how it should be measured. It is not clear whether it is a dichotomous or continuous variable and how that distinction might affect the management of symptoms of burnout, nor any data to guide symptom management for what are likely several variations and forms," they wrote.
Schwenk and Gold added that although a cure for burnout certainly needs to be found, it cannot be at the cost of violating the rules of medicine.
"There is clearly something important and worrisome happening to physician well-being. ...
The physician has become the patient, but the profession has started to act on the patient's symptom before there is any actual understanding of its pathophysiology, origins, consequences, and effective approaches to prevention and treatment," they wrote.
"Physicians reporting burnout are receiving recommendations for treatments before there is any real understanding of the diagnosis. The profession has violated the very way it has taught, and been taught, to approach the care of patients. The profession can and should do better," Schwenk and Gold added. – by Janel Miller
References:
Dyrbye LN, et al. JAMA. 2018;doi:10.1001/jama.2018.12615.
Rotenstein LS, et al. JAMA. 2018;doi:10.1001/jama.2018.12777.
Schwenk TL, Gold KJ. JAMA. 2018;doi:10.1001/jama.2018.11703.
Disclosures: Dyrbye reports receiving royalties from CWS Inc. for the Well-Being Index licensed by the Mayo Clinic. Please see the studies and editorial for all other authors' relevant financial disclosures.