August 02, 2018
8 min read
US opioid use remained high through 2016
We were unable to process your request. Please try again later. If you continue to have this issue please contact customerservice@slackinc.com.

Molly Moore Jeffery

Despite extensive efforts opioid use did not substantially decline in the United States through the end of 2016, according to findings recently published in The BMJ.
"Current knowledge about opioid use in the U.S. is largely derived from studies of a single state or health care system, or market level information that limits detailed examination of prevalence, patient level use, or subgroup analyses," Molly Moore Jeffery, PhD, of the department of health sciences research at Mayo Clinic, and colleagues wrote.
"As a result, relatively little is known about person level opioid use in large national samples outside of Medicare fee-for-service beneficiaries. There are few sources of claims data for Medicare Advantage beneficiaries, who are believed to be healthier than fee-for-service beneficiaries, but have not been studied in depth; there are also few datasets that cover a geographically diverse group of commercially insured beneficiaries," they added.
Researchers looked at the rate and daily dose of opioids used among 48 million individuals, including Medicare Advantage beneficiaries due to permanent disability, Medicare Advantage beneficiaries older than 65 years and commercial beneficiaries from Jan. 1, 2007 to Dec. 31, 2016.
Jeffery and colleagues found that disabled Medicare beneficiaries had both quarterly use rates (39%) and average daily doses (56 milligram morphine equivalents) that were higher at the end of 2016 than the quarterly use rate of 26% and 53 milligram morphine equivalents seen in 2007. In this group, long-term episodes comprised 14% of the total episodes of opioid use, but 89% of the opioids dispensed were related to long-term opioid episodes. In addition, the average daily dose of opioids in this group was never below 50 milligram morphine equivalents per day during the entire study period.
For Medicare beneficiaries older than 65 years, quarterly use prevalence was relatively stable, ranging from 11% on Jan. 1, 2007 to 14% on Dec. 31, 2016. In addition, those in the commercial beneficiary group had little change in their quarterly prevalence of opioid use with the rate at 6% at the start and end of the study period and the average daily dose of 17 milligram morphine equivalents remaining unchanged since 2011.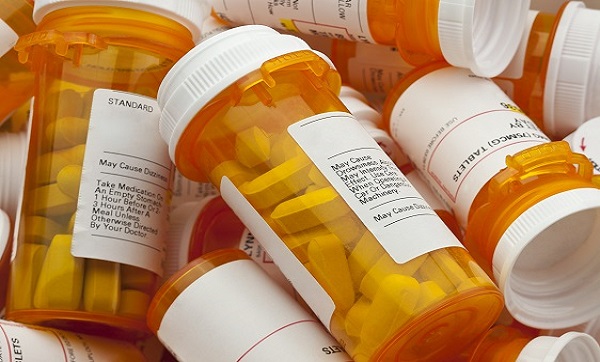 Photo Source: Shutterstock
"The findings of this study suggest that clinicians should carefully scrutinize their opioid prescribing practices and remain vigilant in their efforts to raise patient awareness about the potential detrimental effects of long-term opioid therapy," W. Michael Hooten, MD, a co-author on the study and a Mayo Clinic anesthesiologist and pain specialist, said in an interview.

W. Michael Hooten
Jeffery and colleagues wrote that CMS proposed a strategy earlier this year that would prohibit pharmacies from submitting prescriptions of 90 morphine milligram equivalents (or 7 days supply) for payment by the insurance company until they receive notice that the insurance company would pay for the prescription, after review of medical necessity.
"Policies such as this could reduce the risk of opioid overdose for some patients, but that reduction in risk must be weighed against the burden to patients and their physicians," they wrote. "Because patients can buy their way out of the restrictions by paying cash, there might be equity implications to these hard edits, where patients with fewer resources might face a greater burden."
Jeffrey added that there "is clearly more work to do" to solve the opioid epidemic, as she discussed the findings with Healio Family Medicine.
"We desperately need better treatments for chronic pain, and we need to improve access to the nonopioid treatments that we already have," she said.
"Multidisciplinary pain programs have been a very successful treatment to improve function in people with chronic pain, but they are expensive and can be difficult to access. So reducing the amount of opioids prescribed to people with chronic pain can't be a matter of cutting people off opioids and leaving them with no treatment options. We have to make sure that patients' pain is treated."
She offered one possible solution that is utilized within her health care system and has seen some success.
"Here at Mayo Clinic, our department of orthopedic surgery took a look at their opioid prescribing after surgery and came up with voluntary guidelines on the amount of opioids to prescribe after surgeries, from less painful surgeries like carpal tunnel surgery to the most painful, like hip and knee replacements," Jefferey said. "The department found an immediate decrease in the amount prescribed after surgery — the median prescription amount dropped almost in half within just a few months. And most importantly, they observed no change in the proportion of people who requested a refill. In other words, even though prescribing went way down, patients were no more likely to need more pain medication." Editor's note: More details about the program Jeffery is referring to can be found in the 'For more information' section of this article.
The apparent lack of success in curbing opioid use is discouraging given the widespread efforts to curb the opioid epidemic, which HHS data claim was responsible for 66% percent of all drug overdoses in 2016, or the equivalent of 116 deaths a day, although many programs and initiatives were launched after the study period.
The CDC released guidelines for primary care physicians several years ago that centered on principles of preferring nonopioid treatments for chronic pain except in cases of active cancer, palliative and end-of-life care; using the lowest effective dosage when opioids are necessary and exercising caution when prescribing opioids and closely monitoring all patients receiving them. This arsenal was updated in April to include an alcohol screening and brief intervention to help people who drink excessively and are receiving opioids for pain relief to help them drink less, or completely stop drinking, and an online course that helps health care providers will be able to recognize situations that can increase risk for harmful outcomes for patients on opioid therapy.
Other federal efforts to address opioid use include the FDA's recent approval of the first non-opioid treatment for lessening the severity of opioid withdrawal symptoms. Separately, the FDA also warned more than 50 websites to stop marketing illegal opioids.
Earlier this year president Donald J. Trump announced a strategy to curtail opioid use that included getting "tough" on drug dealers, increasing federal funding to further support the development of nonaddictive painkillers and potentially "major litigation" against drug companies for their selling practices.
In addition, delegates at this year's AMA annual meeting adopted policies that would stem the tide of the opioid crisis such as urging the elimination of administrative barriers to medication-assisted therapy. The AMA also has previously offered guidance on safely storing and disposing opioids, and the American Academy of Family Physicians has resources on its website that can help members help patients struggling with opioid addiction.
Healio's Opioid Resource Center has news articles and features covering multiple medical specialties to provide the latest information on the opioid crisis including treatment strategies, FDA decisions regarding treatments and other important, related announcements. Bookmark this page as a valued resource for opioid updates. – by Janel Miller
Disclosure: The authors report no relevant financial disclosures.
For more information: Advancing the Science. https://advancingthescience.mayo.edu/2018/04/16/new-mayo-guidelines-cut-some-opioid-prescriptions-by-half. Accessed July 31, 2018.