Yoga meditation may prevent Alzheimer's disease in women
We were unable to process your request. Please try again later. If you continue to have this issue please contact customerservice@slackinc.com.
Kirtan Kriya, a form of yoga meditation, improved cognitive function and may protect women against the development of Alzheimer's disease, according to a presentation at the Alzheimer's Association International Conference.
"At least 66% of all cases of Alzheimer's disease are women," Dharma Singh Khalsa, MD, and Tejinder Kaur Khalsa, MD, both from the Alzheimer's Research and Prevention Foundation, wrote in their abstract. "Interventions to delay disease onset by just a year or two could prevent millions of women from ever developing this dreaded disease. Yoga meditation is a 5,000-year old approach to healthy aging. Recent research on a simple singing medical yoga meditation suggests multiple brain health benefits and risk factor reduction."
The researchers investigated the cognitive impacts of Kirtan Kriya, a simple 12-minute per day yoga meditation, among 161 women who reported subjective cognitive decline or mild cognitive impairment or who had stressed family caregivers. The researchers measured memory, cognitive function and various biomarkers at baseline, 3 months and 6 months. Participants in the control group listened to music or received memory enhancement training.
Women who practiced Kirtan Kriya 12 minutes per day for 8 to 12 weeks demonstrated improvements in cognitive function, cerebral blood flow and neuroanatomical plasticity of neurotransmitters in the anterior and posterior cingulate gyrus, hippocampus and pre-frontal cortex.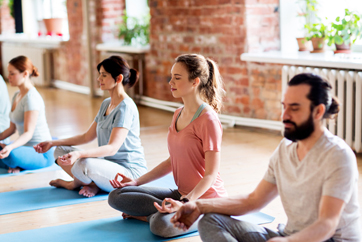 Additionally, Kirtan Kriya was associated with health benefits that may help prevent or reverse cognitive decline, including improved mental health, better sleep, reduced stress, increased telomerase, longer telomeres, reduced inflammatory markers, better neuro-connectivity, increased plasma amyloid beta and improved psycho-spiritual well-being.
There were no adverse events associated with Kirtan Kriya.
"Kirtan Kriya is a simple and effective yoga meditation with striking results, including an improvement in cognitive function in subjective cognitive decline and mild cognitive impairment," the researchers concluded. "Kirtan Kriya has significant potential to be valuable in the fight against [Alzheimer's disease] in women." – by Alaina Tedesco
Reference:
Khalsa DS, Khalsa TK. The Pink Brain Project: How yoga meditation may prevent Alzheimer's in women. Presented at: Alzheimer's Association International Conference; July 22-26, 2018; Chicago.
Disclosure: Healio Internal Medicine was unable to confirm relevant financial disclosures at the time of publication.