Exclusive commentary: FDA approval of marijuana-based drug 'should open doors for significant advances'
We were unable to process your request. Please try again later. If you continue to have this issue please contact customerservice@slackinc.com.
Charles Pollack
The recognition of potential utility of marijuana for medicinal purposes is nothing new. A search in PubMed by Healio Family Medicine found several articles describing the substance's use as far back as ancient times to treat epilepsy, joint pain, muscle spasms, as well as gout and malaria.
Fast forward to the past few decades, and as medical vocabulary has expanded, so has the use of medical marijuana as evidenced by its use to treat conditions including multiple sclerosis, glaucoma, HIV and AIDS. Some of these medicinal uses were established well before California became the first state to enact a medical marijuana law in 1996. More than two dozen other states have approved similar legislation since then.
Nationwide approval of medicinal use has been stymied at least in part by the FDA, which in 2006 stated there were "no sound scientific studies" supporting the medical use of marijuana despite overwhelming evidence to the contrary, according to The New York Times. The FDA's position was consistent with the U.S. Drug Enforcement Administration's continued treatment of marijuana and all of its constituent compounds — including the well-known, 'high'-inducing tetrahydrocannabinol (THC) and the nonpsychoactive cannabidiol) as 'Schedule 1' compounds, making research into their actions very challenging and expensive.
But in an about-face, the FDA began wading into these waters when it announced on June 25 that it had approved, for the first time, a drug that contained a substance derived from marijuana: Epidiolex (cannabidiol, GW Research Ltd.), for the treatment of seizures in patients aged 2 years and older with Dravet Syndrome or Lennox-Gastaut, two severe forms of pediatric epilepsy.
Healio Family Medicine discussed this shift in regulatory positioning with Charles V. Pollack, Jr., MA, MD, director of The Lambert Center for the Study of Medicinal Cannabis & Hemp at Thomas Jefferson University. The Philadelphia-based organization is the nation's first center within an academic institution dedicated to providing resources and support for the study of medical marijuana. – by Janel Miller
I applaud the FDA's approval of Epidiolex — a purified, plant-based cannabidiol product — for two severe types of epilepsy. This action may well be the catalyst for expanding a much broader clinical research agenda for the therapeutic use of cannabinoids, which is critically needed to provide a legitimate evidence basis for the appropriate use of cannabis-based medicinal products.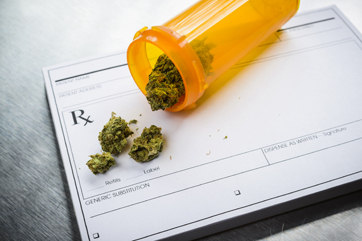 Photo source: Shutterstock
It has been well established that cannabidiol, unlike the perhaps better-known psychoactive component of cannabis — delta-9-tetrahydrocannabinol, or THC — does not create the "high" associated with marijuana. The medical community has long recognized that the biologic effects and side effects of various cannabinoids can vary greatly, but it is only with rigorous and substantial study that we'll be able to address the range of cannabinoids' true therapeutic potential and safety.
I am in agreement with the FDA Commissioner that manufacturing controls and well-controlled clinical trials that identify appropriate dosages and routes of delivery ensure that patients will "derive the anticipated benefits." Mislabeling, lack of good quality control and inaccurate concentration of cannabis components in some cannabidiol products, as described in a 2017 study published in JAMA and led by Marcel Bonn-Miller, PhD, research director for The Lambert Center for the Study of Medicinal Cannabis & Hemp, support the need for better oversight of medicinal cannabis products, including hemp derivatives.
The FDA expert advisory panel's unanimous vote determining that cannabidiol has "negligible abuse potential" and the Drug Enforcement Administration's possible, follow-on rescheduling of cannabidiol to Schedule 2 or 3 should open the doors for significant advances in rigorous cannabinoid clinical research. The Lambert Center supports this action and is poised to launch meaningful research once it happens.
With the ever-changing legislation and political commentary on the topic of medical marijuana, while scientific data from around the world continue to accumulate, there exists a vast knowledge gap. It is important to improve provider knowledge and comfort around the topic, from primary care physicians to specialists. Our goal at the Lambert Center for the Study of Medicinal Cannabis & Hemp is to expand the knowledge base of clinicians — physicians of every specialty, nurses, nurse practitioners, physician assistants and pharmacists — with expert analysis of and commentary on the often limited clinical and experimental data.
The process of bringing a new drug to market has always been rigorous, expensive and time-consuming, and it is made even more challenging for cannabinoids, including cannabidiol, by the requirements of the Schedule 1 process for research review and approval. We trust that FDA's approval of Epidiolex will lead to a future in which many cannabinoids are studied, tested, and — if results are positive for an acceptable efficacy to safety balance — made legally available to patients who will benefit from them.
References:
Baron, EP. Headache. 2015;doi:10.1111/head.12570. Accessed June 28, 2018.
Bonn-Miller MO, et al. JAMA. 2017;doi:10.1001/jama.2017.11909
FDA.gov. https://www.fda.gov/NewsEvents/Newsroom/PressAnnouncements/ucm611046.htm.Accessed June 28, 2018.
Friedman D, Sirven JI. Epilepsy Behav. 2017; doi:10.1016/j.yebeh.2016.11.033. Accessed June 28, 2018.
Harris G. https://www.nytimes.com/2006/04/21/health/21marijuana.html. Accessed June 28, 2018.
Hill KP. JAMA. 2015;doi:10.1001/jama.2015.6199. Accessed June 28, 2018.
Hill KP, et al. Cannabis Cannabinoid Res. 2017;doi:10.1089/can.2017.0017. Accessed June 28, 2018.
Kalant, H. Pain Res Manag. 2001 Summer;6(2):80-91. Accessed June 28, 2018.
Disclosure: Pollack is director of the Lambert Center for the Study of Medicinal Cannabis & Hemp at Thomas Jefferson University. Healio Family Medicine was unable to determine other relevant financial disclosures prior to publication.