Daily fasting effective for weight loss
We were unable to process your request. Please try again later. If you continue to have this issue please contact customerservice@slackinc.com.
Individuals with obesity who adhered to an 8-hour restricted eating time for 12 weeks lost about 3% of their body weight, according to findings published in Nutrition and Healthy Aging.
"Time restricted feeding decreases energy intake without calorie counting and may be a viable option for weight loss," Kelsey Gabel, MS, RD, from the University of Illinois at Chicago, and colleagues wrote. "However, the effect of this diet on body weight in obese subjects has never been examined."
Gabel and colleagues conducted a 12-week trial to investigate how 8-hour time-restricted feeding influences body weight and metabolic disease risk among adults with obesity (n =23; average age, 45 years; average BMI, 35 kg/m2), compared with a matched historical control group (n = 23).
For 12 weeks, participants in the intermittent fasting group could eat any type and quantity of food for 8 hours — between 10:00 a.m. and 6:00 p.m. — then they could only drink water or calorie-free beverages for 16 hours — between 6:00 p.m. and 10:00 a.m.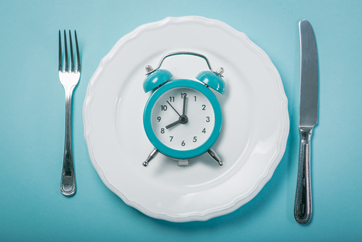 The researchers found that participants in the time-restricted group lost about 3% of their body weight and lowered their systolic BP by about 7 mm Hg, compared with those in the control group. Participants in the time-restricted group also consumed fewer calories.
Both groups showed similar fat mass, lean mass, visceral fat mass, diastolic BP, LDL cholesterol, HDL cholesterol, triglycerides, fasting glucose, fasting insulin and homocysteine throughout the study.
"The take-home message from this study is that there are options for weight loss that do not include calorie counting or eliminating certain foods," Krista Varady, PhD, coauthor and associate professor of kinesiology and nutrition in the University of Illinois at Chicago College of Applied Health Sciences, said in a press release.
"The results we saw in this study are similar to the results we've seen in other studies on alternate day fasting, another type of diet, but one of the benefits of the 16:8 diet may be that it is easier for people to maintain," she said. "We observed that fewer participants dropped out of this study when compared to studies on other fasting diets."
The researchers noted that longer-term, large-scale randomized controlled trials are necessary to confirm results.
"The 16:8 diet is another tool for weight loss that we now have preliminary scientific evidence to support," Varady added. "When it comes to weight loss, people need to and what works for them because even small amounts of success can lead to improvements in metabolic health." – by Alaina Tedesco
Disclosure: Gabel reports no relevant financial disclosures. Please see study for all other authors' relevant financial disclosures.