Expert discusses risk factors, emerging treatments, distinguishing traits of migraines
We were unable to process your request. Please try again later. If you continue to have this issue please contact customerservice@slackinc.com.

Jennifer Caudle

With more than 1 billion patients experiencing migraine worldwide, this type of headache is "an extraordinarily prevalent disease" with almost everyone being touched, directly or indirectly, by the condition, according to the Migraine Research Foundation.
However, despite the prevalence, researchers suggest the differences between migraine and other types of headaches are not always easily discernable.
"In cases of chronic headaches, the phenotype is often not clear," Mark W. Weatherall, PhD, FRCP, of the Princess Margaret Migraine Clinic in London wrote in Therapeutic Advances in Chronic Disease. "In some cases, it may not be possible to make a definitive diagnosis," he added.
"Distinguishing dangerous headaches from benign or low-risk headaches is a significant challenge because the symptoms can overlap," Barry L. Hainer, MD, and Eric M. Matherson, MD, of the Medical University of South Carolina, wrote in American Family Physician.
In recognition of June as Migraine and Headache Awareness Month, Healio Family Medicine asked Jennifer Caudle, DO, a board-certified family physician and associate professor of family medicine, Rowan University School of Osteopathic Medicine, Stratford, N.J., to discuss the risk factors for migraines, the questions primary care physicians can ask to determine the exact cause of the patient's suffering and more.
In addition, last month's American Academy of Neurology meeting included several updates on emerging and existing treatments for migraines, which are listed below with other news on disease management. – by Janel Miller
Healio: What are some of the risk factors for developing migraines?
Caudle: We know that migraines run in families, and that being younger than 40 to 45 years old. We also know that these headaches are three times more common in women than men, and women are also susceptible to migraines that coincide with their menstrual cycle. Stress, anxiety and straying from normal eating habits can also cause migraines, as can drinking red wine, eating chocolate and certain aged cheeses like cheddar and Brie. Processed, cured or canned meats like ham, herring, hot dogs, game, baloney, and pepperoni, put some people at risk for developing migraines. There is no blood test to determine a patient's risk for migraine, so most patients won't know they will get a migraine from consuming those foods or drinking that type of wine until it happens.
Healio: What questions can a PCP ask to determine if a head ache is really a migraine, or perhaps a more serious neurological condition?
If a patient has a pulsing or throbbing on one side of the head, or is sensitive to light or sound, it's probably a migraine. However, to be sure, ask your patients if they are experiencing numbness, tingling or weakness on their face or anywhere else on their body. A patient who can't move or feel their face or legs, or finds their headache is accompanied by vision loss, or headaches after a stiff neck, may be experiencing a stroke or something else, such as a brain mass or meningitis, and should go to the emergency department immediately. Also, remember we said that migraines typically happen when people are younger so if you have an older patient who is complaining of headaches for the first time they should definitely be evaluated. If a patient experiences a headache that is severe or like a 'thunderclap, they should also go to an emergency department right away because these can be signs of a stroke, brain tumor or other neurological disorder. It is also important to know if a patient experiences "aura" — a group of nervous system symptoms that lets the patient know the migraine is coming on — or, if a patient has other symptoms such as nausea or vomiting. In addition to asking the patient questions about symptoms, our physical exam findings — in particular the neurological exam — is very important.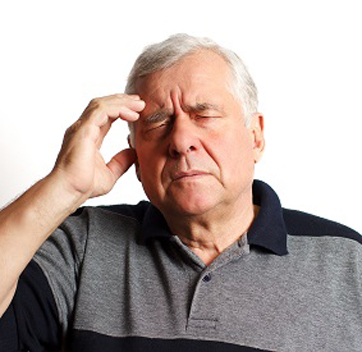 Photo source: Shutterstock
Healio: How can PCPs help clear up confusion their patients may have about migraines?
Caudle: I've had a lot of patients who have lived with migraines for a long time and feel that they must live with the pain. As primary care physicians, we need to make sure we are evaluating the full spectrum of the condition. We need to understand risk factors, look for underlying causes, consider imaging such as an MRI or CAT scan and labs if necessary, and discuss treatment and prevention options for patients. We should also encourage your patient to discuss headaches with you that get worse with exertion, coughing, straining or sexual activity, since these might be signs of a more serious condition.
Healio: What are some of the things PCPs should consider when prescribing migraine treatments?
Caudle: There is not one go-to medicine, so we as doctors need to decide if the patient would benefit from therapies that treat individual headaches as needed (abortive therapy), or if we need to consider preventive/maintenance therapy to prevent the headache from coming on.
Editor's note: Further regarding migraine treatment, a first-of-its-kind migraine prevention therapy received approval from the FDA last month, and there is growing evidence to suggest additional pharmacological approaches are forthcoming. As a courtesy to its readers, Healio Family Medicine compiled some of the available data on these measures, as well as the latest research on complementary and alternative approaches to treating migraines.
FDA approves novel migraine prevention treatment
The FDA has approved the monthly self-injectable treatment Aimovig for preventing migraines in adults, according to a press release. Read more.
Alder, Allergan report success in developing migraine treatments
Two pharmaceutical companies recently reported positive results in trials involving therapies for migraines. Read more.
Another trial shows galcanezumab's effectiveness in preventing migraines
Galcanezumab 120-mg and 240-mg monthly subcutaneous injections improved functioning and provided clinical benefits in a phase 3 trial involving adult patients with migraines, according to findings recently published in JAMA Neurology. Read more.
Erenumab relieves migraines in hard-to-treat patients
A new drug, erenumab, reduced monthly migraine days in patients unsuccessfully treated with multiple other medications, according to a study presented at the American Academy of Neurology annual meeting. Read more.
PAGE BREAK
New targeted approaches offer renewed hope for migraine treatment
Even when patients have been properly diagnosed with migraines, and are on an appropriate medication, they frequently do not remain on these medications, according to Amaal Starling, MD, assistant professor of neurology in the Mayo Clinic College of Medicine. Read more.
Eye drops used for glaucoma may help treat migraines
Timolol eye drops alleviated the pain in most patients with migraines, according to a small study recently published in JAMA Neurology. Read more.
First noninvasive hand-held medical therapy treats migraines
The vagus nerve stimulator known as gammaCore, which creators said was the first such noninvasive hand-held treatment, provided relief for the pain linked to migraines and episodic cluster headaches in adults, according to findings presented at the American Academy of Neurology Annual Meeting. Read more.
Greater occipital nerve blocks effectively treat migraines
Most patients with migraine who underwent a greater occipital nerve block for treatment reported moderate to significant positive responses, according to findings recently published in the Journal of the American Board of Family Medicine. Read more.
References:
AmericanMigraineFoundation.org. Migraine and Headache Awareness Month 2018. https://americanmigrainefoundation.org/understanding-migraine/migraine-headache-awareness-month-2018/. Accessed June 18, 2018.
Hainer BL, Matheson EM. Am Fam Physician. 2013(10):682-687.
MigraineResearchFoundation.org. About Migraine. http://migraineresearchfoundation.org/about-migraine/migraine-facts/. Accessed June 18, 2018.
Weatherall M. Ther Adv Chronic Dis. 2015;doi:10.1177/2040622315579627
Disclosure: Caudle reports no relevant financial disclosures.