Tickborne diseases are on the rise: What PCPs need to know
We were unable to process your request. Please try again later. If you continue to have this issue please contact customerservice@slackinc.com.
In the United States, diseases from tick bites have more than doubled since 2004 and are increasingly threatening public health, according to the CDC.
As we approach the height of the tick season, primary care providers must educate their patients about strategies to protect themselves from getting bit and be aware of the best methods to treat patients who have been bitten.
"Tickborne diseases are transmitted to people through the bites of infected ticks," Alison Hinckley, PhD, acting epidemiology team lead of the bacterial diseases branch at the division of vector-borne diseases at the CDC, told Healio Internal Medicine. "Ticks are most active from April through September but can be active any time the ground temperature is greater than 50 degrees Fahrenheit."
Lyme disease
Fred A. Lopez
"Lyme disease is the most common tickborne infection in the United States with more than 30,000 infections reported each year," Fred A. Lopez, MD, Richard Vial Professor of Medicine at the Louisiana State University School of Medicine in New Orleans, told Healio Internal Medicine. "These infections primarily occur in the upper Midwest, mid-Atlantic and Northeast portions of the United States, although the Ixodes tick responsible for transmitting infection can also be found on the Pacific Coast of the United States, particularly northern California."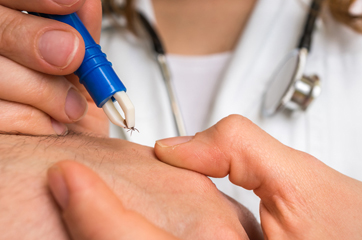 The presentation of Lyme disease varies based on the stage of infection, according to Lopez.
Early localized symptoms of Lyme disease, often characterized by a single targetoid skin lesion known as erythema migrans, begin to occur 1 to 4 weeks after the patient has been bitten by the Ixodes tick, he said.

Clifford W. Bassett
Erythema chronicum migrans, a red expanding circular rash that resembles a bull's eye, is present in about two-thirds to three-quarters of infected patients, Clifford W. Bassett, MD, founder and medical director of Allergy & Asthma Care of New York, and assistant clinical professor of medicine at New York University, told Healio Internal Medicine.
In the early stage of Lyme disease, diagnosis should be made clinically in at-risk patients because serologic testing is often insensitive at this stage, according to Hinckley.
If patients are untreated, they may later develop an early disseminated infection weeks to months later, which is characterized by multiple disseminated erythema migrans lesions and flu-like symptoms including fever, headache, myalgias and arthralgias, according to Lopez. Nervous system and heart abnormalities — such as facial nerve palsy, aseptic meningitis, heart block and myocarditis — may also be present, he said.
PAGE BREAK
"Late disseminated disease occurs months to years after initial infection and typically presents as arthritis, usually involving the knee," Lopez said.
Hinckley noted that serologic antibody testing is appropriate to establish diagnosis of Lyme disease at the disseminated stage.
"A two-tier testing protocol is recommended — enzyme-linked immunosorbent assays or immunofluorescence assays should be performed first; if positive or equivocal, it is followed by a Western blot to confirm diagnosis," she said. "In persons with illness for more than 1 month, only immunoglobulin G testing should be performed following a positive or equivocal enzyme-linked immunosorbent assay or immunofluorescence assay."
Nucleic acid testing of the synovium or synovial fluid can also be used to diagnose the disease in the late disseminated stage, Lopez said.
Emerging tick infections
There is a broad variety of newer ticks and infections plaguing the United States recently, according to Bassett.
"It is thought that as climate change causes a rise in both temperature and humidity levels in many areas of the United States, a majority of ticks are able to flourish and create havoc on more and more susceptible persons," he said. "In fact, the Lone star tick has spread to many areas of the country — primarily southeastern, Midwest and eastern states, even up to Maine," he said.
The lone star tick causes southern tick-associated rash illness, or STARI, according to Bassett.
"STARI closely resembles Lyme disease and occurs in individuals who have not traveled to Lyme-endemic areas," Lopez said. "The actual cause of this infection is unknown at the moment and the diagnosis is made clinically."
In many cases, a lone star tick infection may cause a somewhat delayed allergic reaction after eating red meat, such as beef, pork and even lamb, according to Bassett. The serious and potentially life-threatening allergic reaction to red meat is caused when a lone star tick carries a substance called alpha-gal and injects it into a person via the bite, he said.
"The reaction is often accompanied by hives, in some cases, up to 12 hours after ingestion of red meat," he said. "That could mean a veggie burger in place of sirloin and hamburger this summer. Of course, those affected are likely to be huge carnivores, so the impact for them is typically greater."
Babesiosis, anaplasmosis, Rocky Mountain spotted fever, Powassan virus and ehrlichiosis are other clinically significant tickborne illnesses, according to Lopez.
PAGE BREAK
"The likelihood of these diseases is based on geography, tick exposure and the clinical presentation," he said.
Oral doxycycline can treat many tickborne diseases and should be initiated as soon as infection is suspected, according to Lopez.
"Patients who are ill with babesiosis are typically treated with a combination regimen of atovaquone plus azithromycin or clindamycin plus quinine, the latter usually reserved for patients with severe disease," he said.
There is no treatment for patients with Powassan virus, he noted.
"Although most tickborne diseases are treated with antibiotics, they can sometimes be difficult to diagnose," Hinckley said. "However, early recognition and treatment of the infection decreases the risk of serious complications."
Tips to help prevent tickborne diseases
"Educating patients about how to protect themselves from getting bitten by a tick is the cornerstone of protection against tickborne infections," Lopez said.
Clinicians should encourage patients to wear repellents registered by the United States Environmental Protection Agency, Hinckley said.
"People who spend a lot of time outdoors should also consider treating clothing and gear with products containing 0.5% permethrin," she said.
A recent study led by CDC investigators published in the Journal of Medical Entomology found that exposure to permethrin-treated clothes for 1 minute caused loss of normal movement after 1 hour in 100% of blacklegged ticks, 86% of lone star nymphs, 62% of blacklegged tick adult females, 18% of American dog tick adult females and 2% of lone star tick adult female nymphs. Additionally, exposure to the treated clothing for 5 minutes caused all ticks of all three species to lose normal movement for at least 1 hour.
"Clinicians should also emphasize the importance of tick checks," Hinckley said. "People should check themselves and their children for ticks every day. Places that ticks frequently hide are in the ears, on the back of the neck, and in the groin area."
"In conjunction with the tick check, it's helpful to remove clothing where ticks might be hiding and take a shower to wash off any unseen ticks," she added. "Research has shown that showering within two hours of coming indoors can protect against Lyme disease."
Clinicians should also stress to patients who spend time in tick habitats or who find an attached tick to watch for fever and rash and to visit their primary care provider if they have any symptoms or concerns, she said.
PAGE BREAK
"The onset of a variety of infections caused by a tick bite may kick in within days or up to about a month and it is quite variable," Bassett said.
Proper removal of the tick is imperative, according to Bassett. Patients should never burn a tick because studies have shown that it could cause the tick to regurgitate and increase the risk for infection, he said.
To remove an attached tick, Bassett advised that patients grasp the tick head, not body, firmly with tweezers as close to the skin's surface and tick's mouth, then pull up with steady even pressure without jerking or twisting.
Clinicians should encourage patients to keep the tick if it is recoverable, he said.
"Saving the tick for proper identification and therefore optimal management is key," Bassett said. – by Alaina Tedesco
References:
CDC Vital Signs. Illnesses on the rise: From mosquito, tick and flea bites.
Prose R, et al. J Med Entomol. 2018;doi:10.1093/jme/tjy062.
For more information:
Bassett reviews more information on tick bite prevention in his book, The New Allergy Solution.
Disclosure: Bassett and Hinckley report no relevant financial disclosures. Lopez reports receiving royalties from the UpToDate electronic textbook.