June 20, 2018
11 min read
Despite efforts, no new Alzheimer's drug therapies in 15 years
We were unable to process your request. Please try again later. If you continue to have this issue please contact customerservice@slackinc.com.
Rachelle Doody
There are 5.7 million patients currently with Alzheimer's disease, a number that due to the influx of U.S. residents already in, or about to enter, middle age, could top more than 14 million by the middle of this century, according to the Alzheimer's Association if a cure to Alzheimer's is not found.
The FDA approved 46 drug therapies in 2017. These approvals covered a broad spectrum of diseases, including treatments for cancer, cardiovascular disease, rheumatoid arthritis, Parkinson's disease, constipation and some forms of infectious disease.
However, the record number of FDA approvals did not include a new therapy for Alzheimer's disease. Indeed, it has been 15 years since researchers reported on memantine – the last drug approved for Alzheimer's – in The New England Journal of Medicine.
"[Memantine] will offer hope to patients with severe Alzheimer's and those who care for them," Rachelle Doody, MD, PhD, global head of neurodegeneration for Roche & Genentech, and one of the study authors, said in a 2003 Houston Chronicle article. "It will mean advanced Alzheimer's patients won't rapidly decline into a horrible state waiting to die."
The finding published in the New England Journal of Medicine was significant in other ways, according to Barry Reisberg, MD, director of the Fisher Alzheimer's Disease Education and Resources Program at the New York University's Alzheimer's Disease Center and the lead author of the study.
"Until the advent of memantine, there were no approved medications for the most needy Alzheimer disease persons — those who had problems doing things like dressing or bathing themselves," he told Healio Family Medicine in an interview. "Our findings 15 years ago advanced Alzheimer's disease to the point where it has become better understood and less neglected."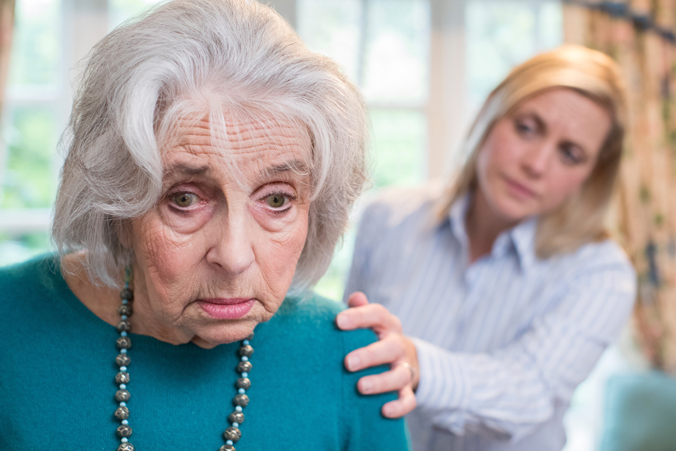 Photo source: Adobe
"The advent of medications for advanced Alzheimer's disease has enabled families to better face up to, understand and address, the physical and emotional problems of advanced Alzheimer's persons," Reisberg continued. "Our research shows that with proper guidance this can result in less behavioral disturbances and improved functioning for Alzheimer's persons."
The drug that staves off and treats Alzheimer's currently remains out of reach, W. Vallen Graham, and colleagues at the Laboratory of Chemical Biology and Signal Transduction at The Rockefeller University in New York wrote in the Annual Review of Medicine in January, despite "major efforts to understand its basic biology and clinical pathophysiology."
In the absence of a new FDA-approved pharmacological approach, primary care physicians, geriatricians, neurologists and researchers have sought other ways to manage Alzheimer's disease.
With no pharmacologic answer, there has been a growing amount of research that suggests exercise may help patients with the disease. Experts in geriatrics recently told Healio Family Medicine that exercise can prevent and/or stave off the cognitive decline linked to Alzheimer's disease. In the absence of new medications and with the limited effectiveness of the four existing Alzheimer's drugs, exercise provides some hope to these patients.
Understanding the brain
Alzheimer's disease involves a part of the body that is still largely not understood, which hinders advances into the disease care.
"Though it has been 15 years since memantine was approved, there's still so much that we don't understand at this point about normal development. There are still areas we can go in terms of better treatment," Reisberg said in the interview.
Doody said the complexity of the disease creates a roadblock in the development of drugs for treatment and prevention.
"Alzheimer's disease refers to an entire disease continuum, from initial pathological changes in the brain decades prior to the appearance of symptoms, through to the dementia stage caused by brain changes like accumulation of amyloid beta plaques and neurofibrillary tangles within nerve cells over 20 or more years," she said in an interview. "To that end, we believe interventions most likely need to be made early on to have the most impact."
"Before we are able to intervene early enough, we need better diagnostic tools to know who is developing the earliest stages of Alzheimer's disease," she continued.

Sharon Brangman
Sharon Brangman, MD, division chief of the Center of Excellence for Alzheimer's Disease at Upstate Medical University in New York agreed with Reisberg and Doody's sentiments.
"The brain is our last frontier. We don't know about its functioning as well as we know about how the heart or the kidneys function. It's hard to get drugs into the brain and into the central nervous system where Alzheimer's disease attacks," she said in an interview.
Lacking financial support
The tax reform bill passed by Republicans in 2017 was criticized by many financial analysts as providing the majority of the benefits of the tax relief to the wealthy and corporations. The legislation may have had unintended consequences in the pharmaceutical industry. A column in the Los Angeles Times earlier this year questioned what Pfizer would do with the tax cut, and suggested the company would eliminate about 300 jobs and end research into several diseases, including Alzheimer's.
PAGE BREAK
A Pfizer spokesperson told Healio Family Medicine the assumptions in the Los Angeles Times report were "not reflective of the facts."
"Our decision to end our discovery and early clinical development efforts in neuroscience had absolutely no connection to the corporate tax legislation. It is the science alone that drives our [research and development] decisions," the spokesperson continued.
However, the Alzheimer's Association viewed the pharmaceutical company's decision as part of a movement among pharmaceutical companies away from early stage research.
"The Alzheimer's Association is disappointed that Pfizer Inc. is ending investment in its internal discovery and early development programs (pre-clinical studies, Phase 1 and 2 clinical trials) for Alzheimer's disease and other brain diseases," the association wrote in a statement in January.
"It is important to note that much of the knowledge we have gained about potential new treatments has been from clinical trials that have failed to meet end points. We have seen a trend among 'big pharma' companies – choosing to focus their resources on late stage clinical trials (phase 2 and 3), often through partnerships, licensing agreements and outright purchases of innovative smaller companies and biotechs," the statement read.
Brangman suggested that not enough financial support is another reason for the lack of new drugs dedicated to Alzheimer's disease.
"The competition for federal and other research dollars is huge, and there's not enough money being offered by our federal agencies for funding research," she said in the interview.
Difficulty with pharmacological approaches
Other companies also halted some components of their Alzheimer's-related research. Merck announced in February it was stopping its protocol 19, or APECS study, that evaluated the Alzheimer's disease drug verubecestat due to the unlikelihood of positive benefits that outweighed the risks. Further, about a year ago, Merck also announced it was stopping its EPOCH, or protocol 17 study, into the same drug, citing "virtually no chance of a positive clinical effect."
Concerns about Alzheimer's disease drug therapies also extend to medications that have already received FDA approval: donepezil, rivastigmine, galantamine and memantine.
After conducting a systematic review and meta-analysis of 142 studies comprising 33,389 patients, Sharon E. Straus, MD, and colleagues wrote in the Journal of the American Geriatrics Society that Alzheimer's medications had "minimal effects on cognition according to minimally clinically important difference and global ratings."
Graham and colleagues wrote in their Annual Review of Medicine report that although Alzheimer's drugs have shown some symptomatic relief and can slow decline related to the disease, their efficacy and safety beyond 6 months has not been thoroughly studied, thus making it hard to "provide useful guidelines" for clinicians to follow.
Such results are hard for patients with Alzheimer's and their caregivers to accept, according to Brangman.
"Patients and families impacted by Alzheimer's disease and dementia are very discouraged about the current pharmacological situation," she said. "Everybody wants a medication where it makes everything all better. But we have to provide realistic expectations from these medications because they're not like an antibiotic that you take when you have, say pneumonia, it's not going to make everything go away or go back to the way it was."
On the wrong path?
Brangman said that some ongoing research projects, however well intended, may be taking the wrong approach.
"A lot of the current research has been clustered over, such as the studies related to amyloid plaques in the brain. That's a very late stage occurrence in dementia and may be too late to be helpful. What we need to do is look at Alzheimer's disease earlier, before we see all the plaque and the tangles building up in the brain," she said.
Reisberg agreed with Brangman.
"Many studies have pursued what we call the plaques and tangles in Alzheimer's disease. There are amyloid plaques and neurofibrillary tangles and many, many of those studies have pursued the hypothesis that brain/pre-amyloid is the cause of Alzheimer's disease and if you move the brain amyloid, that's going to treat Alzheimer's disease," he told Healio Family Medicine. "Perhaps too much investment has been in that hypothesis and one needs to pursue other avenues between the disease."

James Hendrix
James Hendrix, PhD, director of global science initiatives and medical and scientific relations at the Alzheimer's Association, told Healio Family Medicine the fear surrounding Alzheimer's disease adds a level of urgency to research efforts.
"Alzheimer's disease is either tied with cancer or above cancer as the most feared disease in America," he said.
Drug companies respond
In an open letter on Pfizer's website during the winter months, Mikael Dolsten, MD, PhD, president of worldwide research and development, provided more details on the company's decision to stop Alzheimer's research.
"Many of us have seen first-hand the devastation of Alzheimer's. More than anything we wanted to succeed in finding a meaningful therapy... [Pfizer scientists'] efforts have vastly contributed to the broad scientific understanding of Alzheimer's," he wrote.
"However, after our internal programs faced continual setbacks, we had to come to terms with the fact that our research efforts were simply not making the progress necessary to translate into truly transformational therapies for patients," Dolsten continued. "This decision was driven by science, not cost."
PAGE BREAK
That does not mean the company has not abandoned research into neurological diseases.
Pfizer announced plans for a venture fund announced earlier this month and, according to a press release, will have Pfizer Ventures invest about $150 million of its available capital to what it called promising early-stage neuroscience companies.
"By changing the way we invest in neuroscience, we hope to support an energized community of biotech entrepreneurs who are progressing the understanding of the molecular mechanisms of neurologic diseases and help advance potential treatments for people with neurological conditions," Denis Patrick, PhD, Pfizer's vice president of worldwide research and development, and managing partner of Pfizer Ventures said in the release.
Reports suggest Pfizer's venture funding initiative closely mirrors the strategy taken by Johnson & Johnson to fund Alzheimer's drug research, and that several academic institutions receive research and development dollars from Biogen to look for pharmaceutical cures for the disease.
Healio Family Medicine also reached out to some of the larger pharmaceutical companies to ascertain the state of Alzheimer's research within their organizations.
Despite setbacks, "Merck remains committed to developing novel therapies for the treatment of Alzheimer's and other neurodegenerative diseases," Roger Perlmutter, MD, PhD, president of Merck's research laboratories, said in an interview.
He referenced "novel mechanisms of action" that the company had announced during the past few years that cover neurodegeneration, cognitive symptoms and the neuropsychiatric symptoms that appear later in the disease process.
These include a licensing agreement with Teijen Pharmaceuticals for a preclinical tau antibody candidate, collaborations with Cerveau Technologies to evaluate a tau PET tracer (MK-6240) to image neurofibrillary tangles in the brain, and with Bionomics on a candidate for the treatment of cognitive dysfunction associated with Alzheimer's disease.
Roche also continues to consider Alzheimer's disease a priority, according to Doody.
"Roche and Genentech have a broad pipeline portfolio in Alzheimer's disease investigating multiple pathways, beginning with molecules designed to target the key neuropathologies of beta-amyloid and tau protein," she told Healio Family Medicine.
Doody said these include crenezumab, an investigational, humanized monoclonal antibody that is designed to bind to all forms of beta amyloid, with a preference for neurotoxic oligomers, and has an antibody backbone (IgG4) designed to activate brain scavenger cells (microglia) to remove amyloid while minimizing the inflammatory response in the brain. Researchers are currently studying crenezumab in two phase 3, randomized, double-blind, placebo-controlled, multicenter clinical trials (CREAD 1 and CREAD 2) for the treatment of early Alzheimer's disease. Enrollment is progressing well.
PAGE BREAK
She said another drug in Roche's and Genentech's phase 3 portfolio, gantenerumab, an investigational, fully-human monoclonal antibody designed to bind to aggregated amyloid beta and remove amyloid beta plaques. In clinical studies, gantenerumab removed beta amyloid plaques and is the focus of two recently initiated phase 3 studies (GRADUATE 1 and 2), which are evaluating the efficacy and safety of gantenerumab in early Alzheimer's disease, according to Doody.
"We're aiming to transform the clinical management of Alzheimer's disease – from screening and diagnosis to treatment – and to make a significant difference in the lives of people living with Alzheimer's disease, as well as their families and caregivers," she added.
New draft guidance proposed
To help move forward the process of drug development for Alzheimer's disease, FDA Commissioner Scott Gottlieb, MD, announced in February new draft guidance for drug manufacturers.
"The FDA recognizes the urgent need for new medical treatments for many serious conditions including neurological disorders such as Alzheimer's disease," he said in a statement.
"This requires us to become more nimble, collaborative and patient-focused," Gottlieb continued. "As part of our ongoing efforts to expand access to safe and effective treatment options across all disease areas and promote innovation, the FDA is modernizing multiple aspects of our drug regulatory programs – including how we communicate scientific and regulatory guidance for drug development."
An FDA spokesperson told Healio Family Medicine that 29 comments were received on the draft guidance, and that a timeframe on when the guidance would be finalized could not be provided. The deadline for submitting comments has since passed.
Though real-world implementation of any government strategy can take years to come to fruition, Hendrix, the Alzheimer's Association director, remains optimistic that a cure to prevent or treat Alzheimer's can be found.
"We learn a lot from every human trial that comes along, and we have quite a few other drug candidates that are still making their way through the clinical pipeline. We are hopeful every time that one of them will be successful." – by Janel Miller
References:
Ackerman T. Drug found to delay Alzheimer's deterioration. Houston Chronicle. April 3, 2003. Accessed April 17, 2018.
Alzheimer's Association. Pfizer stops internal discovery and early development research on Alzheimer's disease. January 2018. https://www.alz.org/documents_custom/pfizer_stops_early_phase_alz_research_statement_010918.pdf. Accessed April 17, 2018.
FDA. Statement from FDA Commissioner Scott Gottlieb, M.D. on advancing the development of novel treatments for neurological conditions; part of broader effort on modernizing FDA's new drug review programs. https://www.fda.gov/NewsEvents/Newsroom/PressAnnouncements/ucm596897.htm.
PAGE BREAK
Accessed April 17, 2018.
Fillit H. Pfizer ends its neuroscience program – what does it mean for Alzheimer's? Jan. 10, 2018. https://www.huffingtonpost.com/entry/pfizer-ends-its-neuroscience-programwhat-does-it-mean_us_5a5521a1e4b0f9b24bf31b53?ncid=engmodushpmg00000004. Accessed April 17, 2018.
Graham WV, et al. Annu Rev Med. 2017;doi:10.1146/annurev-med-042915-103753.
Hiltzik M. Pfizer, pocketing a big tax cut from Trump, will end investment in Alzheimer's and Parkinson's research. Jan. 8, 2018. http://www.latimes.com/business/hiltzik/la-fi-hiltzik-pfizer-20180108-story.html. Accessed April 17, 2018.
Merck. Merck announces discontinuation of APECS study evaluating verubecestat (MK-8931) for the treatment of people with prodromal Alzheimer's disease. Feb. 13, 2018. http://investors.merck.com/news/press-release-details/2018/Merck-Announces-Discontinuation-of-APECS-Study-Evaluating-Verubecestat-MK-8931-for-the-Treatment-of-People-with-Prodromal-Alzheimers-Disease/default.aspx. Accessed April 17, 2018.
Pfizer. Learn more about our neuroscience decision. Jan. 11, 2018. https://www.pfizer.com/news/featured_stories/featured_stories_detail/learn_more_about_our_neuroscience_r_d_decision. Accessed April 17, 2018.
Pfizer. Pfizer to expand venture investing with $600 million commitment to Pfizer Ventures. https://www.pfizer.com/news/press-release/press-release-detail/pfizer_to_expand_venture_investing_with_600_million_commitment_to_pfizer_ventures. Accessed June 8, 2018.
Tricco AC, et al. J Am Geriatr Soc. 2017;doi:10.1111/jgs.15069.
Disclosures: None of the contributors to this article report any relevant financial disclosures.