Eggs, nuts, coffee, dairy, veggies positively impact health
We were unable to process your request. Please try again later. If you continue to have this issue please contact customerservice@slackinc.com.
A broad spectrum of foods and beverages produced an equally diverse range of health benefits, according to findings presented at Nutrition 2018, the first-ever flagship meeting of the American Society for Nutrition.
Eggs reduce diabetes risk
The first abstract outlined a 12-week, parallel trial involving 42 patients aged 40 to 75 years, who were overweight or obese and had been previously diagnosed with prediabetes or type 2 diabetes. The patients were randomly assigned in a 1:1 ratio to receive one large egg daily or an equal amount of egg substitute daily for 12 weeks. Several plasma and serum tests were taken at baseline, 6 and 12 weeks.
Researchers found patients who ate the large egg had lower fasting blood glucose by at the end of the study (P = .05), lower levels of homeostatic model assessment of insulin resistance (P = .01) at all visits, as well as higher levels of the ATP-binding cassette protein family at 6 weeks and mean apolipoprotein A1 levels at the end of the study (P = .01).
Pecans lower cardiometabolic risk factors
The second abstract described a 4-week randomized, controlled crossover feeding trial of 26 patients older than 45 years with cardiometabolic disease risk factors and a BMI between 25 and 35, with central adiposity. A researcher examined the consequences of adding about 1.5 oz of pecans a day to one's diet vs. a diet that did not include nuts.
The findings indicated that changes in serum insulin levels (P = .02), beta cell function (P = .02), insulin resistance (P = .04) were all greater among those who added pecans to their diet vs. those who did not. In addition, an analysis of the aggregate change produced mean standard deviations of –0.14 when the pecans were added to the diet and 0.25 with the when the nuts were left out (P = .009).
Coffee reduces risk for liver disease
In the third study, researchers prospectively analyzed medical history and coffee consumption data from 14,208 participants of the Atherosclerosis Risk in Communities study aged 45 to 64 years. Participants completed food frequency questionnaires between 1987 and 1989, and again between 1993 and 1995.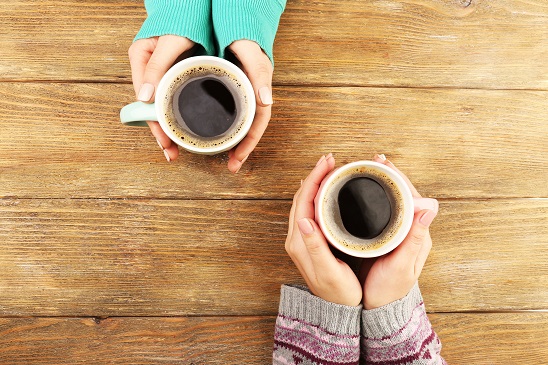 Photo Source: Shutterstock
Researchers found that after adjusting the data for clinical, demographic and dietary factors, drinking three cups of coffee a day led to a significantly reduced risk for liver-related hospitalizations vs. those who never drank coffee (HR = 0.79; 95% CI, 0.63-0.99). In addition, there were 833 liver-related hospitalizations over a median follow-up of 24 years, and 238 liver-related deaths over a median follow-up of 26 years, and that these persons drank an average of 1.7, eight-oz cups of coffee a day.
PAGE BREAK
Low - fat, fermented dairy products lower risk for colorectal cancer
The fourth abstract outlined a prospective analysis of 101,677 patients aged 54 to 83 years who were part of the Prostate, Lung, Colorectal and Ovarian Cancer Screening Trial cohort and completed the Diet History Questionnaire.
Researchers found after a median of 12.5 years, 1,033 cases of colorectal cancer were recorded. An inverse link was noted for low-fat dairy consumption (HR = 0.76; 95% CI, 0.64-0.9) and fermented dairy consumption (HR = 0.78; 95% CI, 0.64-0.94) and risk for colorectal cancer, but not high-fat dairy consumption (HR = 0.96; 95% CI, 0.8-1.14) and nonfermented dairy consumption (HR = 0.87; 95% CI, 0.73-1.03).
Vegetables reduce risk for Parkinson's disease
The fifth abstract described how 706 participants from the ongoing Rush Memory and Aging Project were followed up annually for a mean of 4.6 years using a slightly different version of the United Parkinson's Disease Rating Scale.
Researchers found the highest quintiles of vegetable intake compared to the lowest were linked to a reduced risk for incident parkinsonism (total vegetables [HR = 0.65; 95% CI, 0.44-0.96]; yellow vegetables [HR = 0.59; 95% CI, 0.4-0.88]; green leafy vegetables [HR = 0.57; 95% CI, 0.4-0.82]; and cruciferous vegetables [HR = 0.49; 95% CI, 0.3-0.82] in separate proportional hazards models adjusted for age, caloric intake, smoking status and sex. In addition, adjusted linear mixed models showed that those in the highest quintiles of intake of cruciferous vegetables ( = –0.077, P = .01) and green leafy vegetables ( = –0.064, P = .002) and had slower progression of parkinsonism vs. those in the lowest quintiles.
Mushrooms may fight inflammation
In the final abstract, the molecular weights and monosaccharide of the PPEP-1 and PPEP-2, which had been cleansed and separated, were determined from an edible mushroom.
A researcher wrote his work showed anti-inflammatory effects from the edible mushroom Pleurotus eryngii and emphasized possible benefits of utilizing polysaccharides as anti-inflammatory agents in functional foods and/or dietary supplements to fight inflammatory diseases. – by Janel Miller
References:
Agarwal P, et al. Association of fruits and vegetable consumption with parkinsonism and its progression in older adults.
Hu E. Coffee consumption and liver-related hospitalizations and deaths in the ARIC study.
Ma G. Polysaccharides from Pleurotus eryngii inhibited the lipopolysaccharide (LPS)-induced inammatory response in RAW264.7 macrophages through the MAPK and NF-.B pathways.
PAGE BREAK
McKay D. Incorporating pecans into a typical American diet improves cardiometabolic risk factors in overweight and obese adults with central adiposity.
Pourafshar S, et al. Egg consumption may improve factors associated with glycemic control and cardiometabolic health in middle-aged/Older adults with pre- and type II-diabetes.
Takata Y, et al. Dairy product consumption and colorectal cancer risk in the United States.
All presented at: Nutrition 2018; June 9-12; Boston.
Disclosure: Healio Family Medicine was unable to determine the authors' relevant disclosures prior to publication.