AMA: Opioid prescriptions drop 22% nationally
We were unable to process your request. Please try again later. If you continue to have this issue please contact customerservice@slackinc.com.
Patrice A. Harris

A new report issued by the AMA revealed that opioid prescribing has decreased nationwide, while the use of state prescription drug monitoring programs, access to naloxone and the number of physicians trained to treat opioid use disorder have all increased, according to a press release.
"While this progress report shows physician leadership and action to help reverse the epidemic, such progress is tempered by the fact that every day, more than 115 people in the United States die from an opioid-related overdose," Patrice A. Harris, MD, MA, chair of the AMA Opioid Task Force, said in a press release. "What is needed now is a concerted effort to greatly expand access to high-quality care for pain and for substance use disorders. Unless and until we do that, this epidemic will not end."
The report showed that between 2013 and 2017, there was a 22.2% decrease in opioid prescriptions nationwide. There was a 121% increase in the number of times physicians accessed state databases for prescription drug monitoring programs from 2016 to 2017, according to the report.
Approximately 550,000 health care professionals received education and training on pain management and substance use disorders and more than 50,000 received certification to provide buprenorphine in office for opioid use disorder, according to the report. Additionally, the report found that naloxone prescriptions increased twofold in 2017 and as of April, naloxone is being prescribed at the highest rate documented at 11,600 prescriptions weekly.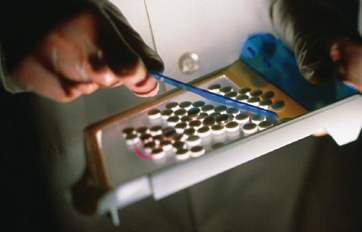 "We encourage policymakers to take a hard look at why patients continue to encounter barriers to accessing high-quality care for pain and for substance use disorders," Harris said. "This report underscores that while progress is being made in some areas, our patients need help to overcome barriers to multimodal, multidisciplinary pain care, including non-opioid pain care, as well as relief from harmful policies such as prior authorization and step therapy that delay and deny evidence-based care for opioid use disorder."
In the release, AMA urged for further policy changes to eliminate barriers to treatments for pain and substance use disorders, such as prior authorization.
The AMA recommended that public and private payers include all forms of medication-assisted treatment that have been FDA-approved in their formularies and ensure accessible, affordable, nonopioid pain treatments. Additionally, the AMA advised that policymakers and regulators improve enforcement of parity laws for mental health and substance use disorders. The AMA also highlighted the importance of ending stigma associated with pain and substance use disorders.
Disclosure: Harris is employed by the AMA.