Hookah smoking accounts for more than half of tobacco smoked by young adults
We were unable to process your request. Please try again later. If you continue to have this issue please contact customerservice@slackinc.com.
In the United States, hookah smoking attributed to approximately 55% of tobacco smoke volume consumed by hookah and cigarette smokers aged between 18 and 30 years, according to research published in Tobacco Control.
"Known colloquially as 'hookah smoking,' [waterpipe tobacco smoking] is particularly popular among young adults," Brian A. Primack, MD, PhD, from the University of Pittsburgh, and colleagues wrote.
"[Waterpipe tobacco smoking] is described as less irritating compared with cigarette smoking," they added. "However, compared with a single cigarette, one 45 min [waterpipe tobacco smoking] session is associated with exposure to higher levels of toxicants such as tar, carbon monoxide and nicotine."
Primack and colleagues analyzed survey data to determine the population levels of total smoke volume, tar, carbon monoxide and nicotine consumed among young adults via hookah smoking vs. cigarette smoking.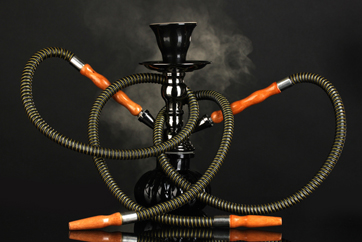 The researchers surveyed a nationally representative sample of 3,254 smokers and nonsmokers aged between 18 and 30 years about how much and how often they smoked hookahs and cigarettes. They used meta-analytic data to determine toxicant exposures.
Approximately 5% of participants were hookah smokers, 23% smoked cigarettes and 3% smoked both cigarettes and hookahs within the past 30 days. A majority of those who smoked cigarettes reported smoking almost every day.
A total of 54.9% of smoke, 20.9% of tar, 10.3% of carbon monoxide and 2.4% of nicotine consumed was attributed to hookah smoking.
"Most hookah smokers in the U.S. are not daily users, whereas many cigarette smokers smoke multiple times a day, so it may seem that the vast majority of public health and policy-related interventions should be directed at cigarette smoking," Primack said in a press release. "What our research shows is that hookah smoking contributes significantly to the burden of tobacco smoke-related toxicants inhaled by our young people. Therefore, public health and policy efforts should explicitly address hookah smoking in addition to cigarette smoking."
The researchers noted that while smoking a cigarette typically takes 10 to 12 puffs which contain 50 mL of smoke each, one 45- to 60-minute session of hookah smoking typically takes 100 inhalations which contain 500 mL each, thus attributing to large smoke loads even when used infrequently.
"Smoking tobacco from a waterpipe attracts young users because it is flavored and sweetened, done in a social setting and is often less irritating compared to cigarette smoking," Primack said. "Besides being a direct source of toxicants itself, hookah smoking has been linked to transition to cigarette smoking. All of this, combined with our new findings around the volume of hookah smoke consumed, should guide future efforts to prevent young adults from becoming hookah smokers." – by Alaina Tedesco
Disclosure: The authors report no relevant financial disclosures.