Managing seasonal allergies: What primary care physicians need to know
We were unable to process your request. Please try again later. If you continue to have this issue please contact customerservice@slackinc.com.

Sinthia Bosnic-Anticevich

A majority of patients with seasonal allergies self-select medication to treat their rhinitis symptoms without consulting with a health care provider and thus, are choosing suboptimal OTC medications, according to findings published in The Journal of Allergy and Clinical Immunology.
"Despite what we may think or consider appropriate as health care providers, patients will do what they think is appropriate for them," Sinthia Bosnic-Anticevich, PhD, senior author of the study from the University of Sydney, told Healio Internal Medicine. "Unfortunately, when it comes to hay fever, they often trivialize it and self-medicate."
Health care providers must recognize that most patients are self-medicating their seasonal allergies and are doing so inappropriately, according to Bosnic-Anticevich.
"Physicians need to be more proactive in guiding patients to the most appropriate treatment," she said. "Patients with hay fever need a lot more support and guidance than they are currently getting."

Clifford W. Bassett

Many patients are unaware of the causes and triggers of their rhinitis symptoms, Clifford W. Bassett, MD, founder and medical director of Allergy & Asthma Care of New York, and assistant clinical professor of medicine at New York University, told Healio Internal Medicine.

Steven Cohen

"Spring allergies vary with location as to the specific pollen that is to blame," Steven Cohen, MD, an allergist based in Wisconsin, told Healio Internal Medicine. "In most areas, tree pollen is present from early April to the end of May depending on the weather and location and is the chief culprit. Later in May, grass pollen becomes more prominent. Mold spores can be in the air as soon as there is no snow cover."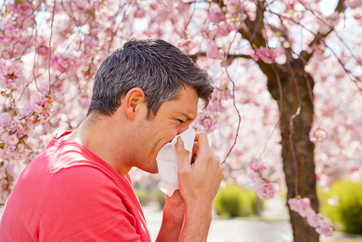 The cause of a patient's symptoms should be confirmed through in-office skin testing, Bassett said. Once there is a confirmed cause, physicians can provide appropriate treatment regimens, he added.
If possible, the first level of treatment should be avoidance, Cohen said.
"However, most people with cabin fever after the winter want to be outside as much as possible when the weather cooperates," he said. "If the symptoms and season correlates, and avoidance is not reasonable, there are many medications, previously by prescription, which are available over the counter."
Appropriate treatments to manage seasonal allergies include steroid nasal sprays, antihistamines and antihistamine/decongestant combinations, according to Cohen.
Current guidelines from the Joint Task Force on Practice Parameters recommend that nasal steroid sprays be the first line of treatment for seasonal allergies and that intranasal antihistamine spray be added in patients older than 12 years with moderate-to-severe symptoms.
PAGE BREAK
Allergy medications should be initiated 2 to 3 weeks prior to when symptoms typically begin, according to the American College of Allergy, Asthma and Immunology.
"Lack of successful management of one's rhinitis can lead to a variety of sequelae including, but not limited to absenteeism, use of incorrect medications, poor sleep quality, reduced productivity and learning, among others," Bassett said.
To help patients recognize rhinitis symptoms and obtain appropriate care, community pharmacists should familiarize themselves with the updated practice parameters for recognition and treatment of allergic and nonallergic rhinitis and appropriate treatment regimens, according to Bassett.
"Also, pharmacists should be provided with certain management tools, including an 'allergy diary' that can help foster better communication and coordination with the allergy sufferer, the community pharmacist and their medical provider or allergist," he said. – by Alaina Tedesco
Reference:
Tan R, et al. J Allergy Clin Immunol. 2018;doi:10.1016/j.jaip.2018.01.028.
Disclosure: Bassett and Cohen report no relevant financial disclosures. Bosnic-Anticevich reports being a member of the Teva Pharmaceuticals Devices International Key Experts Panel and receiving research support from Research in Real Life, payment from Teva and Mundipharma and Honoria from Astra-Zeneca, Boehringer Ingelheim, and GlaxoSmithKline.