April 27, 2018
2 min read
How to avoid common misconceptions when diagnosing, treating insomnia
We were unable to process your request. Please try again later. If you continue to have this issue please contact customerservice@slackinc.com.
Barbara Phillips
NEW ORLEANS — There are several misconceptions surrounding insomnia, ranging from diagnosis to treatment, according to a presenter at the American College of Physicians Internal Medicine Meeting.
The biggest mistakes clinicians make when diagnosing and treating insomnia are "exacerbating the patient's anxiety by overly aggressive, dramatic pharmacologic approaches and by giving the impression that insomnia is a dreaded disease that must be stamped out at all costs," Barbara Phillips, MD, MSPH, FCCP, professor of pulmonary, critical care, and sleep medicine at the University of Kentucky, College of Medicine, told Healio Family Medicine.
Insomnia occurs in patients who have a difficult time beginning sleep; maintaining sleep and waking up often during the night; waking up early and cannot fall back asleep; and have poor quality sleep, according to the American Academy of Sleep Medicine. Phillips said risk factors include being female, making less than $50,000 a year, depression, heart disease, severe airflow obstruction, pulmonary symptoms and restrictive lung disease.
"The prevalence of insomnia is increasing because of increased emphasis on sleep misinformation/misattribution, and increased chronic mental and physical illness/aging," Phillips said in her presentation.
Primary care physicians and internists also have to understand sleep deprivation is not the same as insomnia, she added.
Sleep deprivation occurs in patients who have the adequate ability to sleep but have inadequate opportunities and who are generally sleepy. Patients with insomnia are those who have an inadequate ability to sleep but have adequate opportunities and are generally not sleepy but may say they are fatigued, according to her presentation.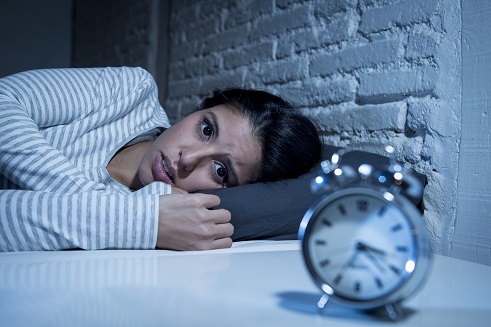 There are several misconceptions that primary care physicians and internists have regarding insomnia, according to a presenter at the American College of Physicians Internal Medicine Meeting.
Photo Source:Shutterstock
When it comes to treatment, utilizing a combination of sleeping pills and therapy is not acceptable, she said.
"Reassurance and calmly referring the patient for cognitive behavioral therapy is the treatment of choice," Phillips said.
According to the Academy, this treatment involves changing attitudes and beliefs that cause sleep obstruction; relaxing the patient's body and mind; changing the habits that lead to poor sleep; cutting back on time in bed, then gradually increasing this time; and only using the bed for sleep and intercourse, not for things like napping, eating, reading or spending time on electronic devices.
"Most studies of the 'consequences' of insomnia — or of sleeping pills — do not control for lifestyle, medical or psychiatric conditions, or the effects of hypnotics themselves. It is unlikely that either insomnia or sleeping pills kill, but perhaps the characteristics of patients who have insomnia/take sleeping pills chronically are associated with poor outcomes," she said.
Philips added that treating the comorbid condition causing the insomnia, if possible, and getting the patient to exercise, are also good forms of treatment.
Academy data suggest 10% of adults have insomnia so severe it impacts their daily lives. – by Janel Miller
Reference:
American Academy of Sleep Medicine. "Insomnia fact sheet." https://aasm.org/resources/factsheets/insomnia.pdf. Accessed April 13, 2018.
Phillips, B. Common sleep disorders. Presented at: American College of Physicians Internal Medicine Meeting; April 17-21, 2018; New Orleans.
Disclosure: Phillips reports no relevant financial disclosures.