April 20, 2018
5 min read
How to use food as medicine to prevent, reverse chronic diseases
We were unable to process your request. Please try again later. If you continue to have this issue please contact customerservice@slackinc.com.
NEW ORLEANS — Encouraging a healthful diet in patients promotes the prevention and reversal of chronic diseases, such as CVD, diabetes, cancer and obesity, according to a presentation at the ACP Internal Medicine Meeting.
"Of the ten leading causes of death in the United States, at least seven, including the top four, are directly related to diet choices," Michelle McMacken, MD, assistant professor of medicine at New York University School of Medicine, said during her presentation.
These conditions include heart disease, cancer, lung disease, cerebrovascular disease, Alzheimer's, diabetes and kidney disease, according to McMacken.
Power of nutrition
"Nearly half of all deaths due to heart disease, stroke and diabetes are due to poor, suboptimal diet," she said.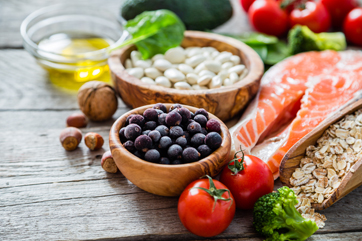 "We now know that a poor diet is responsible for more deaths from chronic disease at the population level than smoking... Most of our patients know that it's probably not a good idea to smoke, but I don't think they have a sense of the magnitude of the importance of the food choices they are making every day," she added.
"We have the power to prevent about 80% of chronic disease through simple lifestyle habits and of those, nutrition is at the top of the list," she continued.
Foods and eating patterns fall into three different categories: healthful, debatable and unhealthful, according to McMacken. Foods labeled as healthful, including whole grains, legumes, fruits, vegetables, nuts and seeds, are foods which have a very broad consensus that they promote health and prevent disease, she said. Conversely, foods labeled as unhealthful, including processed meat, red meat, added sugar, refined grains and ultraprocessed foods, have a broad consensus that they produce harm, she said. Foods labeled as debatable, including poultry, eggs, dairy and fish, have shown both benefits and harms, she said.
Most people spend their calories and prioritize their foods with those in the debatable and unhealthful categories, she said. So, the question is 'How can we get our patients to eat more of the healthful foods?,' she said.
Cardiovascular disease
Red and processed meat are associated with the most cardiovascular risk, according to McMacken. Individuals who follow a meatless diet have a 24% to 29% decreased risk of mortality and a 32% decreased risk of incident cases, she said.
Sugars and refined grains have a very powerful role in accelerating the risk of coronary artery disease, stroke and CVD, she said.
PAGE BREAK
"Fruits and vegetables are associated with tremendous CV risk reduction... Just two and a half servings of fruits and vegetables a day lowered your risk of coronary heart disease by 8%, stroke by 16% and dying of anything by 10%," McMacken said.
"If you can get your patients to add just one or two fruits or vegetables a day, that is clinically meaningful in terms of CV risk and mortality," she added.
Insulin resistance
Processed meat is the most closely linked to type 2 diabetes risk, conferring a 37% increased risk, McMacken said.
The risk of type 2 diabetes is also increased when carbohydrates are replaced with protein, she said.
On the other hand, consumption of whole grains and fruit lower the risk of diabetes, she said. Eating one piece of fruit a day decreased diabetes risk by 12% and eating one piece of fruit three times a week in patients who already have diabetes lowers the risk of all-cause mortality by 17%, microvascular complications by 28% and macrovascular complications by 13%, she noted.
"It is not evidence-based advice for us to tell our patients with prediabetes or type 2 diabetes to avoid fruit," McMacken said. "Fruit is actually highly beneficial."
Cancer prevention
Consuming 100 grams of red meat per day increases the risk of colorectal cancer by 17% and 50 grams of processed meat per day increases the risk by 18%, McMacken said.
Rather, physicians should encourage patients to eat seven and a half servings of fruits and vegetables each day which is associated with a significant 14% reduction in total cancer risk, according to McMacken.
Whole grains are also potent for reducing cancer risk, reducing colorectal cancer risk and total cancer mortality by 17%, she said.
Obesity
The best diet for healthy weight loss is a sustainable "diet" or eating pattern that is not temporary and optimizes overall health independent of weight loss, McMacken said.
Low-carb and high-protein diets, such as the ketogenic diet, should not be recommended, she said.
Instead, physicians can recommend a diet high in plant foods, as such diets are linked to healthier BMIs, she said.
"Fiber will make you feel full without the extra calories," McMacken said. "In fact, adding just 14 grams of fiber per day to your diet will lower your calorie intake naturally by about 10 to 18%. That's the holy grail of weight loss — we want to eat fewer calories without realizing it and you are still feeling full."
PAGE BREAK
Nutrition counseling
Common barriers to nutrition counseling include lack of knowledge and training, time pressures, reimbursement issues, food environment, cultural and financial issues and the belief that most patients won't change, according to McMacken.
The good news is that patients consider their physicians to be the most credible sources of nutrition information, she said.
"We have a responsibility to understand the broad strokes of what eating patterns promote health," she said.
"The other piece of good news is that a little goes a long way," McMacken added. "When patients have relatively minor improvements in their diet quality that actually correlates with mortality benefits."
The first step in nutrition counseling is to start the conversation and convey to the patient that you care what they are eating and that food matters, she said. Then, physicians should gauge the patients' level of interest, she said. For a more motivated and interested patient, physicians should then get a sense of their dietary history, which can be done relatively quickly with a 24-hour recall of their eating habits, she said.
At that point, physicians can assess the patient's understanding, clarify misconceptions and set the stage for where the patient is going, McMacken said. She noted that physicians should speak in terms of foods, not nutrients.
Physicians can then help patients set a specific goal and let them set the pace of change, she said. At follow-up visits, physicians should build on goals, identify what worked, what didn't and why, set new goals and provide support and empathy and reinforce the positive, she said.
"I would recommend never doing this all in one visit... Ideally, you would not do it alone and would integrate other members of the health care team," such as registered dieticians or nutritionists, McMacken said.
"It is very important not to have your patients or even yourself rely only on willpower," she said. Sometimes it is necessary to change the environment and routine and form new habits, she said.
Physicians should involve their patients' families to get everyone on the same page, she said.
"No one is going to be able to transition to a healthful diet overnight so planning meals and grocery shopping also play an important role," according to McMacken.
"Always encourage progress over perfection," she said. – by Alaina Tedesco
Reference:
McMacken M. Food as medicine: Nutrition to prevent and reverse chronic disease. Presented at: ACP Internal Medicine Annual Meeting; April 19-21, 2018; New Orleans.
Disclosure: McMacken reports financial relationships with Nutrinic, Inc. and A Sustainable Diet, Inc.