March 27, 2018
3 min read
Nearly half of Americans forgo medical care because of cost
We were unable to process your request. Please try again later. If you continue to have this issue please contact customerservice@slackinc.com.
Due to high costs of health care, 44% of people in the United States avoid visiting the doctor's office when sick or injured, and approximately 40% skip necessary medical tests or treatment, according to results from a new national poll that were presented at the American Society on Aging 2018 Aging in America Conference.
"[The United States] spends more than any other country in the world [on health care] and we get less value for this care on critical measures like access, clinical outcomes and even administrative fees and burden," Zia Agha, MD, chief medical officer and executive VP of West Health Institute, said at the conference. "It truly is a national crisis."
"I think of this as a crisis that is sort of a slow evolving train wreck, and because it is not something acute, we often ignore it," he continued. "We learn to live with it. But in my opinion, this is the cancer that is going to get us if we don't take care of it. Beyond the fact that health care costs too much, its trajectory is unsustainable. We need to take bold actions to help lower the trajectory of cost."
Researchers from NORC at the University of Chicago and the West Health Institute surveyed 1,302 adults in the United States via online and telephone interviews to determine their feelings about health care costs and how these costs affect their medical decisions.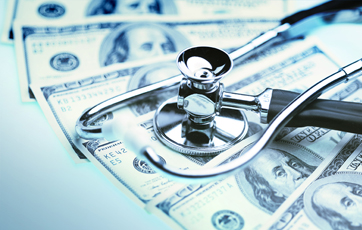 The survey revealed that approximately 30% of Americans reported having to choose between paying for medical bills or basic needs, including food, housing and heating. More Americans reported fearing medical bills and the costs associated with a serious illness than the illness itself (40% vs. 33%), according to the survey. The odds of fearing getting sick (47% vs. 24%) and fearing the costs of care (60% vs. 27%) were doubled in individuals who skipped recommended tests or treatment.
Not filling prescriptions or taking less than the recommended dose to save money was reported by approximately one in three participants. Almost 50% of respondents did not visit the dentist for a routine cleaning or check up in the past year and 39% did not visit the dentist when treatment was necessary.
More than 50% of Americans suffered serious financial consequences because of health care costs, according to the survey. Due to health care expenses, many respondents reported using all or most of their savings (36%), borrowing money or increasing debt (32%) or decreasing savings plan contributions (41%).
PAGE BREAK
In the last year, more than 50% of respondents reported receiving a medical bill for a cost that they believed was covered by their insurance or receiving a bill that cost more than expected, according to the survey. Additionally, a medical bill was turned over to a collection agency for more than 25% of Americans in the last year.
The survey also revealed that 75% of Americans believe that health care in the United States does not have good value and about 50% do not approve of how Congress handles health care costs.
"The bottom line is when it comes to health care in America, we are paying more than we should, we are getting less than we deserve and we have been doing it for far too long. It is time for a new approach," Shelley Lyford, president and CEO of West Health, said at the conference.
"At West Health, we have identified three specific actions that our government can take to stop the ever-increasing costs of health care," she added. "These include ending fee-for-service care and payment models and adopting a value-based approach, so providers are incentivized to put patients before profits. We also need to pass legislation that enables Medicare, the country's biggest purchaser of prescription drugs, to negotiate pricing. Lastly, we must increase price transparency to help patients and providers become more informed health care consumers." – by Alaina Tedesco
Disclosure: Healio Internal Medicine was unable to confirm relevant financial disclosures at the time of publication.