March 28, 2018
3 min read
Healthy sleep habits, positions essential in managing sleep apnea in pregnancy
We were unable to process your request. Please try again later. If you continue to have this issue please contact customerservice@slackinc.com.

Susan Redline


Francesca Facco

Obstructive sleep apnea is common during pregnancy, with prevalence estimates ranging from 10.5% in the first trimester to 26.7% in the third trimester, according to a study published in Thorax.
Another study, published in Obstetrics and Gynecology, has linked sleep apnea to an increased risk for hypertensive disorders during pregnancy and gestational diabetes.
Although there are no clinical guidelines for the treatment of sleep apnea during pregnancy, there are several contributing causes and management options physicians should recognize.
"The two most important risk factors are overweight or weight gain and older age," Susan Redline, MD, MPH, Farrell Professor of Sleep Medicine at Brigham and Women's Hospital and Harvard Medical School, told Healio Internal Medicine.
Other risk factors include having chronic hypertension and frequently snoring at night, Francesca L. Facco, MD, from the department of obstetrics, gynecology and reproductive science at the University of Pittsburgh Medical Center, told Healio Internal Medicine.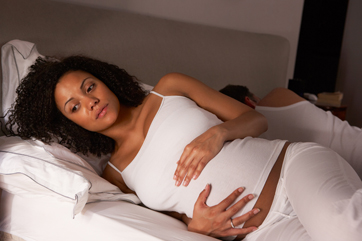 "Encouraging healthy weight gain during pregnancy is one of the most important approaches for preventing sleep apnea," Redline said.
When it comes to sleep apnea in pregnancy, recognition and treatment of sleep apnea come foremost in certain cases, according to Facco.
Both Redline and Facco advocate for promoting healthy sleeping habits during pregnancy. Insufficient sleep during pregnancy can trigger hormones that are tied to weight gain and adversely affect metabolism, Redline said.
"Therefore, encouraging consistent sleep schedules, sufficient sleep duration — generally 7 to 9 hours per night — and treating problems with insomnia or sleep apnea are recommended," she said.
Facco also recommended that physicians advise pregnant women to maintain the same bedtime and waketime each day, limit caffeine consumption, especially after 1 p.m., and limit screen time before bed to reduce their chances of developing sleep apnea.
"It is also important to make sure that your patients are not over napping during the day," she said. "Ideally naps should be limited to 20 to 30 minutes and should not be taken in the late afternoon or evening."
Physicians should urge patients to find a good sleeping position, according to Facco. For most women, lying on their side with their knees bent is likely to be the most comfortable position as pregnancy progresses, she said. This position allows the heart to carry blood back to the heart from the legs and feet more easily, as it decreases the amount of pressure that the baby applies to the inferior vena cava, she said.
PAGE BREAK
"Some women use pillows placed under their abdomen or between their legs to help them get comfortable with side sleeping," Facco said. "Side sleeping can also help reduce snoring symptoms."
Recommending side sleeping rather than back sleeping and treating nasal congestion are simple things that physicians can do to help manage sleep apnea symptoms in pregnant women, according to Redline.
"However, the most effective treatment for sleep apnea is continuous positive air pressure (CPAP), a device worn at night that keeps the throat from collapsing," she said.
Excessive daytime sleepiness and sleep quality can be improved by CPAP, but there are limited data showing whether treating sleep can reduce the development of certain conditions, such as hypertension and diabetes, according to Facco.
"To date, studies examining the effect of CPAP treatment on pregnancy have been small and insufficiently powered, but show promise," she said. "It is clearly important to determine in a large well designed and executed randomized trial whether CPAP treatment for sleep apnea can help reduce the rate of pregnancy complications such as preeclampsia and gestational diabetes."
The risk for preeclampsia and gestational diabetes is higher in pregnant women with sleep apnea, Redline said.
"At this time universal screening for mild-to-moderate sleep apnea during pregnancy is not standard of care," Facco noted. "However, if a woman comes into pregnancy with an already established diagnosis of sleep apnea and a prescription for CPAP, she should be urged to continue therapy under the supervision of a sleep specialist. In addition, women presenting to their obstetrician with severe sleep complaints during pregnancy should be referred to a sleep specialist for evaluation."
According to Redline, the NIH is starting a larger trial of more than 16,000 screened pregnant women to evaluate the role of CPAP in pregnancy. – by Alaina Tedesco
References:
Facco FL, et al. Obstet Gynecol. 2017;doi:10.1097/AOG.0000000000001805.
Louis JM, et al. Am J Obstet Gynecol. 2018;doi:10.1016/j.ajog.2018.01.031.
Pien GW, et al. Thorax. 2014;doi:10.1136/thoraxjnl-2012-202718.
Disclosures: Redline and Facco report no relevant financial disclosures.