March 15, 2018
3 min read
Is sleep hygiene effective in treating insomnia?
We were unable to process your request. Please try again later. If you continue to have this issue please contact customerservice@slackinc.com.

Carolina Castaños

Philip R. Gehrman

About one in 10 Americans have the full clinical syndrome of chronic insomnia disorder, meaning the person has problems sleeping for 3 months or more, according to data from the American Academy of Sleep Medicine. Transient insomnia — in which the problems sleeping are a bit more sporadic, occurring from days to weeks — is a condition that affects about one in every three Americans, according to the Academy.
In all but the most chronic cases of insomnia, one technique often recommended to assist patients in falling asleep is sleep hygiene — that is, getting a new mattress, not sleeping with pets and avoiding certain beverages before bedtime. However, some have argued there are insufficient data to support this approach.
In conjunction with Sleep Awareness Week, which runs through March 17, Healio Family Medicine asked Carolina Castaños, PhD, LMFT, a therapist in Greensboro North Carolina and Philip R. Gehrman, PhD, an associate professor in the department of psychiatry, Perelman School of Medicine at the University of Pennsylvania, to look deeper at the effectiveness of sleep hygiene in treating insomnia.
"There is research showing that caffeine use, smoking, alcohol use, exercise, stress management, noise management, sleep timing and napping — many of the factors that make up sleep hygiene — impact the quality of sleep. At the same time, it is important to recognize the importance of individual conditions. Insomnia is a symptom often associated with many psychological disorders, such as depression, PTSD, and anxiety disorders. In such cases, sleep hygiene can help, but it needs to be accompanied with treatment dealing with underlying issues. I would recommend a holistic approach taking several components into consideration and providing different treatment options including sleep hygiene, such as not taking stimulants (caffeine, nicotine, etc.) before bedtime; exercising throughout the day but not close to bedtime (especially strenuous exercising); avoiding heavy meals or foods (fatty, spicy, citric, and/or carbonated drinks) that can cause indigestion and heartburn; limiting naps during the day (a short 20-minute nap can help, but do not try to make up for unslept hours by several short naps); creating routines of bedtime and time to wake up so the body can find a sleep rhythm; and avoiding screens such as computers and smart phones before going to bed because they disturb our sleep cycle because the brain is receiving the message that it wants to stay awake.
PAGE BREAK
When regardless of all these recommendations, a patient is still unable to sleep, ie, when they have racing thoughts, when they have memories that keep repeating themselves, when they have recurrent nightmares, primary care physicians need to think about psychological conditions that might be causing the insomnia. In these cases, the patient should be referred to a mental health professional for recommendations on meditation and mindfulness exercises that can help calm the patient's mind and allow them to sleep." – by Carolina Castaños, PhD, LMFT
"Sleep hygiene addresses some of the perpetuating factors that maintain insomnia over time, but not enough of them to see meaningful improvement from their insomnia. As a result, for the majority of patients, sleep hygiene alone is not sufficient in treating insomnia.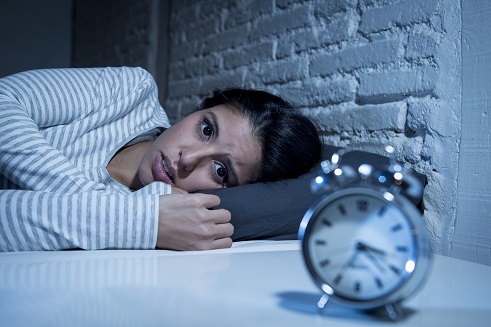 In conjunction with Sleep Awareness Week, Healio Family Medicine asked a therapist and an associate professor to look deeper at the effectiveness of sleep hygiene in treating insomnia. Source: Shutterstock
However, sleep hygiene is part of what is considered cognitive behavioral therapy for insomnia, or what we commonly call CBTI. This is based on the idea that there are a number of perpetuating factors that cause insomnia that can keep the insomnia going for months and years and decades. Some of these things can include excessive caffeine during the day, alcohol use at night and things that we would consider sleep hygiene, but there are other perpetuating factors that develop in addition to those, such as worrying at night and how that impacts a patient's ability to sleep.
CBTI is a set of techniques or strategies that address these perpetuating factors, such as thoughts, emotions, behaviors and feelings that develop as a result of acute insomnia that end up causing it to become a chronic problem. We use a variety of strategies to address these thoughts, feelings and emotions.
Admittedly, there is a lack of awareness of CBTI among PCPs. Many people don't know what it is. Helping these PCPs understand how CBTI can fit into a broader package is much more effective. Perhaps more importantly is the issue of access. Even those who know about CBTI, and say they want their patient to go there, there are only a limited number of people who have the correct training. These PCPs can go to the Society for Behavioral Sleep Medicine and American Academy of Sleep Medicine website to help their patients find a CBTI practitioner near them." - by Philip R. Gehrman, PhD
References:
American Academy of Sleep Medicine. "New guideline provides clinical recommendations for specific insomnia drugs." https://aasm.org/new-guideline-provides-clinical-recommendations-for-specific-insomnia-drugs/. Accessed March 2, 2018.
PAGE BREAK
Schutte-Rodin S, et al. "Clinical Guideline for the Evaluation and Management of Chronic Insomnia in Adults." http://jcsm.aasm.org/viewabstract.aspx?pid=27286. Accessed March 5, 2018.
National Sleep Foundation. "Sleep Awareness Week." https://sleepfoundation.org/SAW. Accessed March 2, 2018.
Disclosure: Neither Castaños nor Gehrman report any relevant financial disclosures.