March 01, 2018
2 min read
Acne linked to clinical depression
We were unable to process your request. Please try again later. If you continue to have this issue please contact customerservice@slackinc.com.

Isabelle Vallerand
Patients with acne were at significant risk for clinical depression, according to data recently appearing in the British Journal of Dermatology.
"There have been numerous reports regarding a possible link between acne and depression, but to our knowledge, acne had never been established or quantified as a risk factor for the development of clinical depression," Isabelle Vallerand, PhD, an epidemiologist and MD student at the University of Calgary, Alberta, Canada, told Healio Family Medicine.
Researchers performed a retrospective cohort study utilizing data from 134,437 patients with incident acne and 1,731,608 patients without acne who were identified from The Health Improvement Network in the U.K. All participants were aged 7 to 50 years and followed for a minimum of 2 years after database enrollment. Researchers adjusted the data for the patient's socioeconomic status, medical comorbidities, alcohol intake, smoking status, sex and age.
Vallerand and colleagues found that in the 15 years after diagnosis, the likelihood of developing major depressive disorder was 18.5% in those with acne, vs. 12% in patients without acne. The risk for developing major depressive disorder among the patients with acne was significantly increased after adjusting for covariates, but only in the first 5 years after diagnosis. The risk was greatest within 1 year of diagnosis (adjusted HR = 1.63; 95% CI, 1.33–2) and lowered in each year that followed.
According to researchers, in the first 5 years after being diagnosed with acne, sex was the only covariate that had a confounding effect for the development of major depressive disorder. At 10 and 15 years, obesity and sex showed this effect.
"While it's a bit intuitive that people with acne might have a lower mood resulting from their skin, this is the first study to show conclusively that acne can be more than just a skin blemish, and can have a substantial impact on mental health," Vallerand said in the interview.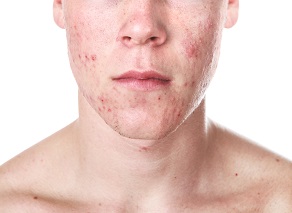 Source: Shutterstock.
She offered suggestions on how primary care providers can implement the findings into their practices.
"Patients with acne who have mental health concerns should be encouraged to discuss these with their health care providers. [These clinicians] should encourage their patients with acne to feel comfortable raising any mental health concerns [and] any clinician treating these patients should be aware of any emerging symptoms of depression and should initiate referrals to mental health professionals when needed."
"While many patients with clinical depression certainly benefit from the use of antidepressants to help with mood symptoms and to regain their level of functioning, not all patients with depression need treatment, so we would recommend that any individual who is facing mental health difficulties talk to their health care provider and see what option is best for them," Vallerand added. – by Janel Miller
Disclosure: The authors report no relevant financial disclosures.