February 22, 2018
2 min read
Medical cannabis significantly relieves chronic pain in elderly
We were unable to process your request. Please try again later. If you continue to have this issue please contact customerservice@slackinc.com.
In patients aged 65 years and older, medical cannabis therapy significantly reduced chronic pain and improved quality of life without serious adverse events, according to findings published in the European Journal of Internal Medicine.
"There is a substantial growth in the use of medical cannabis in recent years and with the aging of the population, medical cannabis is increasingly used by the elderly," Ran Abuhasira, PhD candidate from the Cannabis Clinical Research Institute at Soroka University Medical Center, Israel, and colleagues wrote.
However, few studies have assessed the effects of medical cannabis in elderly patients, according to the researchers.
Abuhasira and colleagues conducted a prospective study to evaluate the safety and efficacy of medical cannabis in patients older than 65 years (n = 2,736; mean age, 74.5 years) who had initiated treatment between January 2015 and October 2017. The researchers collected data on the patients' medical history, medication use, symptoms, quality of life and indication for cannabis treatment.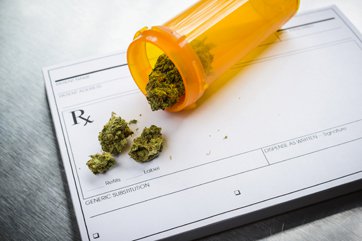 During follow-up at 6 months, participants were assessed for changes in symptoms, pain intensity, treatment satisfaction, quality of life, treatment success and adverse events such as headache, dizziness, nausea and vomiting.
Data indicated that pain (66.6%) and cancer (60.8%) were the most common indications for medical cannabis treatment. The condition being treated was improved with medical cannabis in 93.7% of participants after 6 months. Additionally, pain intensity decreased from a median of 8 to a median of 4 on a 10-point scale following 6 months of treatment.
Quality of life improved from "bad" or "very bad" to "good" or "very good" in approximately 60% of patients after 6 months. Dizziness (9.7%) and dry mouth (7.1%) were the most common adverse events reported. A total of 18.1% of participants discontinued opioid use or reduced their dose after 6 months.
"Our study finds that the therapeutic use of cannabis is safe and efficacious in [the elderly] population," Abuhasira and colleagues concluded. "Cannabis use can decrease the use of other prescription medicines, including opioids. Gathering more evidence-based data, including from double-blind randomized-controlled trials, in this special population is imperative." – by Alaina Tedesco
Disclosure: Abuhasira reports no relevant financial disclosures. Please see the study for all other authors' relevant financial disclosures.