February 19, 2018
2 min read
Hydroxychloroquine not effective for osteoarthritis hand pain
We were unable to process your request. Please try again later. If you continue to have this issue please contact customerservice@slackinc.com.
Hydroxychloroquine was not more effective than placebo for relieving moderate-to-severe hand pain and radiographic osteoarthritis, according to research published in Annals of Internal Medicine.
"Symptomatic hand osteoarthritis affects 4% to 31% of adults older than 70 years and 3% to 15% older than 60 years," Sarah R. Kingsbury, PhD, from Leeds Institute of Rheumatic and Musculoskeletal Medicine, England, and colleagues wrote. "Patients report chronic persistent pain and considerable difficulty with daily activities. However, few therapies are effective, and their use is often limited by patients' comorbid conditions or toxicities."
Kingsbury and colleagues conducted a double-blind clinical trial to evaluate the effectiveness of hydroxychloroquine for hand osteoarthritis compared with placebo. The researchers randomly assigned 248 patients (82% women; mean age, 62.7 years) with symptomatic and radiographic hand osteoarthritis to receive either hydroxychloroquine (200 mg, 300 mg or 400 mg for a maximum of 6.5 mg/kg per day based on body weight) or placebo for 12 months with ongoing usual care. Most participants (84.7%) completed the 6-month primary endpoint.
Results indicated that mean hand pain was similar in the placebo group vs. the hydroxychloroquine group at 6 months (5.49 points vs. 5.66 points; treatment difference = –0.16 point; 95% CI, –0.73 to 0.4). These results remained after adjusting for adherence, missing data and use of rescue medication.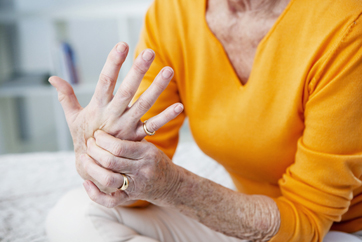 At 3 months, 6 months and 12 months, there were no significant treatment differences in self-reported pain and function, grip strength, quality of life, radiographic structural change and adverse events. At least one joint with synovitis was identified in 94% of participants on grayscale ultrasonography and 59% on power Doppler. Treatment response was not affected by baseline synovitis or structural damage.
Eight serious adverse events were observed in the placebo group and seven were seen in the hydroxychloroquine group. Three events in patients receiving hydroxychloroquine were possibly related to treatment.
"[Hydroxychloroquine] was not more effective than placebo in reducing symptoms or radiographic progression in persons selected for moderate-to-severe hand pain and radiographic osteoarthritis," Kingsbury and colleagues concluded. "Our findings in this full-scale pragmatic trial do not support the current practice of off-label use of [hydroxychloroquine] in patients with hand osteoarthritis."
In a related editorial, Elena Losina, PhD, and Jeffrey Katz, MD, MSc, both from Brigham and Women's Hospital and Harvard Medical School, wrote that although the trial by Kingsbury and colleagues was conducted "rigorously," the negative findings should not discourage research and drug development.
"Although the [hydroxychloroquine] battle resulted in defeat, the campaign to identify effective osteoarthritis therapies continues," they wrote. – by Alaina Tedesco
Disclosure: Kingsbury and Katz report no relevant financial disclosures. Losina reports receiving personal fees from Samumed, Tissuegene and JBJS. Please see study for all other authors' relevant financial disclosures.