February 19, 2018
2 min read
Cigar, pipe smoking significantly elevates mortality risk
We were unable to process your request. Please try again later. If you continue to have this issue please contact customerservice@slackinc.com.
Smoking cigars and pipes are associated with a significantly increased risk for death from tobacco-related cancers, as well as cardiovascular causes, according to research published in JAMA Internal Medicine.
These findings were part of a study that showed any tobacco use significantly elevates mortality risk.
"Tobacco products have changed in recent years," Carol H. Christensen, PhD, MPH, from the Center for Tobacco Products at the FDA, and colleagues wrote. "Contemporary mortality risk estimates of combustible tobacco product use are needed."
Christensen and colleagues examined the association between current and former use of cigars, pipes and cigarettes and mortality risks among the United States population using data from a longitudinal population-based, nationally representative health survey linked to the National Longitudinal Mortality Study.
A total of 357,420 participants completed the survey, reporting on their tobacco use — whether they used cigar, pipes or cigarettes exclusively or never used any type of tobacco product. Surveys were started in 1985 and participants were followed until 2011 for mortality.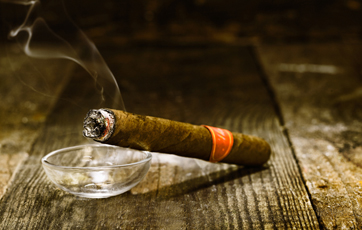 Data showed that current and former cigar and pipe smokers were mostly male (79.3% to 98%), while current cigarette smokers were divided more evenly by sex (46% male). During follow-up, 51,150 deaths were documented. All-cause mortality risks were higher among exclusive current cigarette smokers (HR = 1.98; 95% CI, 1.93-2.02) and exclusive current cigar smokers (HR = 1.2; 95% CI, 1.03-1.38) than never tobacco users.
A greater likelihood of death from a tobacco-related cancer, such as bladder, esophagus, larynx, lung, oral cavity and pancreas cancers, was observed in exclusive current cigarette smokers (HR = 4.06; 95% CI, 3.84-4.29), exclusive current cigar smokers (HR = 1.61; 95% CI, 1.11-2.32) and exclusive current pipe smokers (HR = 1.58; 95% CI, 1.05-2.38).
Current daily and nondaily cigarette use was significantly associated with mortality from lung cancer (HR = 6.24; 95% CI, 5.17-7.54), oral cancer (HR = 4.62; 95% CI, 1.84-11.58), circulatory diseases (HR = 1.43; 95% CI, 1.30-1.57), cardiovascular diseases (HR = 1.24; 95% CI, 1.11-1.39), stroke (HR = 1.39; 95% CI, 1.12-1.74) and COPD (HR = 7.66; 95% CI, 6.09-9.64).
"Our study provides further evidence that cigar, pipe, and cigarette use confers mortality risks, even among nondaily current cigarette users, with lower risks observed among former users than current users," Christensen and colleagues concluded. "These data underscore the importance of cessation to reduce mortality and morbidity from combustible tobacco use... Given rapid changes in tobacco products available in the marketplace, our results provide information on the contemporary mortality risks of two noncigarette combustible tobacco products." – by Alaina Tedesco
Disclosure: The authors report no relevant financial disclosures.