Adherence to Mediterranean diet improves teens' grades
We were unable to process your request. Please try again later. If you continue to have this issue please contact customerservice@slackinc.com.
The Mediterranean diet, one that includes frequent consumption of fruits and vegetables, breads, legumes, nuts and seeds, with most fats consumed through olive oil, has positive effects on teenagers' academic performance. This positive effect is facilitated through improvements in their sleep quality, researchers found.
"Academic performance during adolescence has a significant influence on future health and work conditions," Mireia Adelantado-Renau, from the LIFE Research Group in the department of education at Jaume I University in Castellón, Spain, and colleagues wrote.
The researchers wrote that previous research has demonstrated positive effects of diet on the cognitive and academic success of adolescents, with those consuming fish, milk, fruits and vegetables, and low consumption of soft drinks and salty snacks, having better outcomes.
"Despite this growing evidence of the influence of diet on cognition," the researchers continued, "the effect of adherence to the Mediterranean diet on academic performance in adolescents has been poorly investigated."
Adelantado-Renau and colleagues assessed the relationship between adherence to the Mediterranean diet and academic performance, and whether the diet's effect on sleep changed academic performance, among 269 teenagers who attended 38 secondary schools and sports clubs located in Castellon, Spain.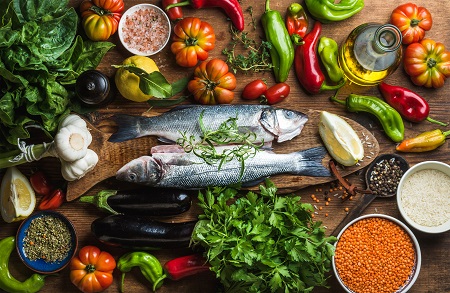 Source: Shutterstock.com
Adolescents who adhered to the diet showed improvements in sleep quality, language skills, core subjects, verbal ability and grade point averages. Although those who had better quality of sleep demonstrated better academic grades, the researchers observed a negative relationship between increased sleep duration and verbal ability.
Although sleep quality mediated the relationship between adherence to the Mediterranean diet and academic grades, it did not mediate the connection between diet adherence and academic ability. Adelantado-Renau and colleagues noted that a positive association was observed between adherence and sleep quality, as well as adherence and final grades. In this cohort, improved sleep quality and adherence to the Mediterranean diet was associated with improved final grades.
"The association between the Mediterranean diet and academic performance could be related to the key role that dietary patterns and nutrients exert on the brain," Adelantado-Renau and colleagues wrote. "The consumption of polyunsaturated fatty acids, abundant in olives, nuts and fish, increases the levels of brain-derived neurotrophic factors, which stimulates cognitive functioning. This, in turn, may improve academic performance." – by Katherine Bortz
Disclosures: The authors report no relevant financial disclosures.