August 14, 2018
10 min read
Migrant children's health endangered by family separation at US border
We were unable to process your request. Please try again later. If you continue to have this issue please contact customerservice@slackinc.com.
Migrant children who are detained at the U.S. border after seeking asylum are at risk for numerous chronic or acute physical and mental health care conditions, including asthma, dental problems, trauma and infectious diseases. For now, the Trump administration has ended its policy of separating parents from their children as a deterrent against illegal immigration, but experts are concerned that migrant children are not receiving adequate care at detention facilities, and the health implications of their detention and separation can be long-term.
A policy statement published by the AAP noted that 68,631 unaccompanied children were detained by Customs and Border Protection (CBP) in 2014, with an additional 68,684 children detained in family units. A separate report issued by the U.N. Refugee Agency showed that at least 58% of children presenting at the border from Central America and Mexico were in need of international protection.
"Extreme violence caused by gangs and narcotic traffickers make it impossible for children and their families to remain in their home countries," Wendy Young, president of Kids in Need of Defense, an organization that addresses the gap in legal services for unaccompanied immigrant children facing deportation, told Infectious Diseases in Children. "In many cases, that violence very specifically targets children."
Numerous medical organizations have opposed the Trump administration's zero-tolerance immigration policy, including the AAP, the American Psychiatric Association (APA), the Infectious Diseases Society of America (IDSA) and the AMA. This policy prompted the separation of 2,342 children from their families since early May according to officials. Only about half of children aged younger than 5 years had been reunited by a court-ordered July 10 deadline. By July 26, all children separated from their families were to have been reunified. At press time, it had not been confirmed that this had occured.
"We must remember that children do not immigrate, they flee," AAP president Colleen A. Kraft, MD, MBA, FAAP, wrote in the statement. "Parents will continue to flee violence to protect their children and themselves and seek safe haven in our country ... These families deserve our compassion and assistance."
Infectious Diseases in Children spoke with leaders in the care and protection of migrant children to better understand the current immigration process, the health care and legal concerns these children face and how pediatricians can advocate for their care.
PAGE BREAK
Processing and detainment
Once children or families arrive at the U.S. border and request protection, they are held by the Department of Homeland Security (DHS) at detention centers, including processing centers. Julie M. Linton, MD, co-chair of the AAP Immigrant Health Special Interest Group and a pediatrician in Winston-Salem, North Carolina, was able to gain access to a processing center as a representative of the AAP and described the facility as "cage-like."
Linton said the centers are cold, lack proper bedding and the lights are always on, making them unfriendly for children.
"[Children] are put on mats on the floor with silver mylar blankets," Linton said. "It is pretty quiet when you are in the facility, and you can hear the rustling of the blankets. I was only there for 2 hours, and that sound still gives me a physiological reaction."
Unaccompanied children must be transferred from CBP to HHS Office of Refugee Resettlement (ORR) no later than 72 hours after detainment, according to the Trafficking Victims Protection Reauthorization Act. Young said that after children are identified as unaccompanied, they are transferred to the ORR. Once care of the children has been shifted to ORR, they are placed in one of about 90 detention centers located around the United States. Officials then search for an adult sponsor to whom the child can be released pending the outcome of their immigration court case.
Children who move through the immigration process with a parent may be protected from some adverse childhood events and feel a stronger sense of security, according to Young, but as family separation became a standard practice under the zero-tolerance immigration policy, children were automatically labeled as unaccompanied.
"The separation of children from families is something you would see in very limited cases under prior administrations," she said. "This might happen when it is suspected that the person with the child is not actually their parent or they had a criminal conviction. Generally, those circumstances were driven by child-protection concerns. Now, what we are seeing is the exception becoming the rule."
Young said the administration's call to share information about adults' immigration status between ORR and DHS has created a chilling effect among those who may have previously come forward to collect their children. As a result, she said, the average period in detention for children increased from about 32 days under the Obama administration to about 57 days under the Trump administration.
PAGE BREAK
Kathleen Roche, MSW, PhD, associate professor at the Milken Institute School of Public Health at George Washington University, and colleagues found in a 2018 study that changes to immigration policy — like the separation of families — are having an adverse effect on Latinos' psychological well-being. These effects are felt by Latinos throughout the country, regardless of their immigration status.
"Our research demonstrated that policies targeting undocumented populations appear to be having a very harmful effect across diverse residency groups," she told Infectious Diseases in Children. "Despite shifts and changes, if we continue to have no feasible solution to support Latinos living in the U.S., my concern is that we are going to continue to see highly elevated risks to mental health among children and adults alike. This will put greater strains on the system and a more compromised future workforce."
Jennifer Severe, MD, a public psychiatry fellow at Columbia University, consultant for the APA and cofounder and president at the Lovinsky Severe Foundation, stressed that in addition to legal concerns, migrant children also have special health care needs, and it is uncertain whether these needs are being met in holding and detainment centers.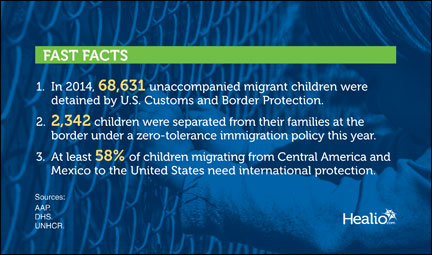 "With the increasing number of children crossing the border, I believe that it is imperative that the holding centers meet minimum child welfare standards," she said. "This could include having appropriately trained and well-equipped staff, providing basic protections and responding to basic needs for water, food, insulation, comfortable beds and health care services. These services include mental health screening for trauma, abuse or persecution."
Health care needs
According to the CDC, age-appropriate screening should be available for anyone who migrates to the U.S. because many have undiagnosed infectious and noninfectious diseases, including heart disease, diabetes, cancer or hearing, vision and dental problems.
Linton said that unaccompanied children in processing centers are often briefly screened for lice or scabies, but additional health services are limited.
"Many of the immigrant children I see who are refugees or seeking safe haven never received preventive care because the circumstances they are fleeing have not allowed them access to those services," Linton said. "I may see chronic illnesses that might not have been detected or treated regularly like asthma. Infectious diseases depend on the setting, but the most common infections I see are parasitic infections."
Furthermore, close contact in holding centers provides an ideal setting for the spread of infectious diseases. Reports from the Northwest Detention Center in Tacoma, Washington, confirmed an outbreak of varicella in late June. Additional concern was sparked after New York City Mayor Bill de Blasio spoke about reports from workers at the Cayuga Centers in Harlem. He claimed that children in this center who had been separated from their families had lice and bed bugs, as well as varicella and other infectious diseases.
PAGE BREAK
In a statement, the IDSA called for appropriate access to hygienic materials, including soap, showers, clean clothes, safe water and appropriate health care in detainment centers. The organization also raised concerns about the potential spread of airborne diseases, such as measles and tuberculosis, as well as vector-borne illnesses.
During migration and detainment, children may be exposed to conditions that leave them vulnerable to many infectious and noncommunicable conditions; however, the effects of this process stretch beyond physical health. Severe said that children often experience trauma before and during migration to the U.S. She also mentioned that this childhood trauma can be worsened when they are separated from their families as this alters their fear-learning and stress response system. Although some children may not recall the separation, there are cues related to the trauma that persist and can trigger memories later in life, she said.
"Because these children have been exposed to violence, crimes, threats, food insecurity and extreme poverty as well as trauma during migration, it is not unusual to see them present with PTSD, depression, anxiety, self-inflicted harm as well as poor cognitive, social and emotional development," Severe said. "Cumulative adverse childhood experiences are known to cause lifelong psychological effects; however, I have also seen children with resilience from such adversity as they move forward in life."
The Administration for Children and Families (ACF) at HHS told Infectious Diseases in Children that migrant children receive screenings in CBP facilities and once they are placed in custody of the ORR. The initial screening includes "visible and obvious health issues" such as lice, rashes, diarrhea and cough. Medical staff are available onsite to provide support, the ACF said. Additionally, referrals can be made to local EDs if additional care is needed.
"Children must be considered 'fit to travel' before they are moved from the border patrol station to an ORR shelter," the organization said. "Children receive additional, more thorough medical screening and vaccinations at the ORR shelter facilities. If children are found to have certain communicable diseases, they are separated from other children and treated as needed. The cost of medical care for the children while they are in ORR custody is paid by the federal government."
The ORR states on its website that children held in its facilities can receive routine medical and dental care, family planning services, emergency health services and administration of prescribed medications. The organization also said it can accommodate special diets and provide appropriate mental health interventions. These services, according to the website, must be provided in a way that is sensitive to the child's age, culture, native language and needs. Initial general medical exams must be administered within 48 business hours for unaccompanied children. The organization further explained that these examinations are useful to assess children's general health, determine whether they have completed vaccination series in accordance with U.S. standards and detect health conditions and infectious diseases that require additional attention.
PAGE BREAK
Linton stressed that systems that do not prioritize children's health, education and access to legal representation do not support their potential to contribute to society.
"The majority of these kids are coming to the U.S. wanting to contribute to our world, wanting to be healthy and happy," she said. "Families are risking everything to get their kids to a place where they are safe, and we need protections and policies that support children to contribute in the best way."
Pediatricians as advocates
Linton mentioned that the AAP has been vocal about immigration policy and the conditions in which these children are held. State chapters of the AAP are available to assist with advocacy opportunities for pediatricians who are interested in helping to treat migrant children and promote legislation that will ensure their adequate care while migrating to the U.S.
Linton said other organizations — such as the National Immigration Law Center, the Young Center for Immigrant Children's Rights and the Protecting Immigrant Families Campaign, which is backed by more than 200 local, state-level and national organizations — also offer opportunities to advocate for migrant children.
Exposure to adverse childhood events and toxic stress, including violence and other traumas, increases the likelihood of developing health issues later in life, including alcoholism and alcohol abuse, depression, liver disease, STDs and suicide attempts. Several of these conditions are caused by poorly adapted neural connections, which are changed in childhood when exposed to extreme and repetitive stress.
"We know that children can have long-term health risks associated with toxic stress, adverse childhood experiences and serious prolonged stress in the absence of support from a loving parent," Linton said.
Pediatricians who can advocate for and provide care to migrant children can alleviate some of these stresses. Kraft wrote in her statement that the protection of all children's health and well-being is one of the pediatrician's most important duties, "no matter where they or their parents were born."
Severe claims that quality health care of migrant children expands beyond traditional care in an office and that providers could be instrumental in making policymakers and the public more aware of the immediate and future health concerns of these children and their families.
"As community health care providers, we have the ethical responsibility to protect the human rights and promote the well-being of the immigrant children and families that we come into contact with," Severe said. "We should be in a position in our offices to provide care regardless of immigration status. That in itself is a start — knowing that there are safety net clinics available in the community for these immigrants. Awareness around immigration-related health issues has increased, and there are a large number of organizations willing to have [health care providers] on board to provide much-needed care on the border." – by Katherine Bortz
For more information:
Julie M. Linton, MD, can be reached at the American Academy of Pediatrics, 345 Park Blvd., Itasca, IL 60143; email: Lisa Black at lblack@aap.org.
Kathleen Roche, MSW, PhD, can be reached at the Milken Institute School of Public Health at George Washington University, 950 New Hampshire Ave., Suite 300, Washington, DC 20052; email: Kathleen Roche at kroche@gwu.edu.
Jennifer Severe, MD, can be reached at the American Psychiatric Association, 800 Maine Ave. SW, Suite 900, Washington, D.C. 20024; email: Erin Connors at econnors@psych.org.
Wendy Young can be reached at Kids in Need of Defense, 1300 L St. NW, Suite 1100, Washington, D.C. 20005; email: Megan McKenna at mmckenna@kind.org.
Disclosures: Linton, Roche, Severe and Young report no relevant financial disclosures.