Reported penicillin allergy increases chance of drug-resistant infection
We were unable to process your request. Please try again later. If you continue to have this issue please contact customerservice@slackinc.com.
The use of alternative antibiotics in those with a reported penicillin allergy accounts for over half of the increased risk of methicillin-resistant Staphylcoccus aureus infections and over one-third of the increased risk for Clostridium difficile infections.
Researchers wrote that after assessment from an allergist, approximately 95% of those with a reported allergy to penicillin are penicillin tolerant and have no immediate hypersensitivity. This knowledge, according to the researchers, may be useful in lessening the incidence of these infections in this population.
"Being labelled with a penicillin allergy affects future prescribing for infections in both outpatients and inpatients, with prescribed antibiotics often more broad spectrum and toxic," Kimberly G. Blumenthal, an allergist, immunologist and drug allergy researcher at Massachusetts General Hospital and assistant professor of medicine at Harvard Medical School, and colleagues wrote. "Unnecessary use of broad-spectrum antibiotics leads to the development of drug-resistant bacteria, including MRSA and health care-associated infections such as C. difficile-related colitis."
The researchers examined the association between reported penicillin allergy and MRSA and C. difficile infection using data collected from 301,300 patients who had no previous infection with either bacteria. Of these patients, 64,141 had a reported penicillin allergy.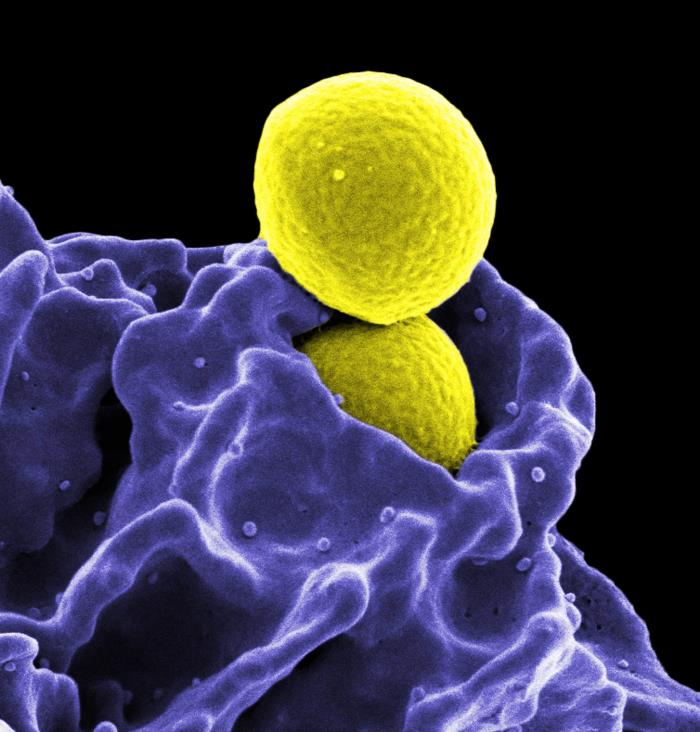 Source: CDC
When all patients were followed up after an average of 6 years, 1,365 became infected with MRSA (allergy: n = 442; control: n = 923), making those with a reported penicillin allergy 1.69 times more likely to develop MRSA (95% CI, 1.51-1.90). C. difficile infections were more prevalent, with 1,688 infections reported (allergy: n = 442; control: 1,246).
Broad-spectrum antibiotic use was common among those with reported penicillin allergy, with the researchers observing an adjusted incidence rate of 4.15 for macrolides (95% CI, 4.12-4.17), 3.89 for clindamycin (95% CI, 3.66-4.12) and 2.10 for fluoroquinolones (95% CI, 2.08-2.13). According to Blumenthal and colleagues, the increased use of beta lactam-alternative antibiotics was linked to 55% of the heightened risk for MRSA infection and 35% of the heightened risk of C. difficile infection.
"As infections with resistant organisms increase, systematic efforts to confirm or rule out the presence of true penicillin allergy may be an important public health strategy to reduce the incidence of MRSA and C. difficile," Blumenthal and colleagues wrote. – by Katherine Bortz
Disclosures: The authors report no relevant financial disclosures.