Fourth of July: How to protect kids from firework-related injuries
We were unable to process your request. Please try again later. If you continue to have this issue please contact customerservice@slackinc.com.

M. Denise Dowd

Fireworks are a ubiquitous presence among Fourth of July celebrations; however, these bright and colorful displays pose a danger to children who may want to handle these dangerous products.
According to the United State Consumer Product Safety Commission, an average of 280 people present to EDs daily in the days surrounding the holiday. In fact, products popular among children — like sparklers — can provide the opportunity for serious burns and injuries. The organization states that sparklers, which may seem harmless, can burn at 2,000°F.
M. Denise Dowd, MD, MPH, associate director at the Office for Faculty Development and emergency physician at Children's Mercy Hospital and professor of pediatrics at the University of Missouri-Kansas City School of Medicine, recently wrote a review published in Pediatric Annals bringing attention to these injuries sustained by children. Infectious Diseases in Children spoke with her regarding how to keep pediatric patients safe on July 4.
Question: How often are children injured by fireworks, and where on the body are these injuries normally sustained?
Answer: Injuries from fireworks in the pediatric population are incredibly common between mid-June and mid-July. Approximately 11,000 kids sustain nonfatal injuries due to fireworks every year. Usually, these children present to the ED and are treated, but there are thousands more than get injured and never receive medical care. A significant portion of these injuries occur at home or at a friend's house.
About one-third of all fireworks-related injuries are to the hands and fingers. This is not a surprise because children are often injured while handling the fireworks. About 20% of all injuries are to the head and face, and eye injuries account for about 10% of all fireworks-related injuries. Those eye injuries are usually due to the use of bottle rockets and other projectile fireworks.
Q: Are certain age groups more likely to be injured, and are there any additional risk factors for fireworks-related injury?
A: Age and gender are a real predictor of the likelihood of injury. Boys within the age range of 7 or 8 years to 15 or 16 years make up most of those injured by fireworks. They are more likely to take risks, and boys are always much more prone to injuries when compared with girls. When kids of that age get a hold of things like fireworks, they are not using mature judgement. This is why we advise against children using fireworks.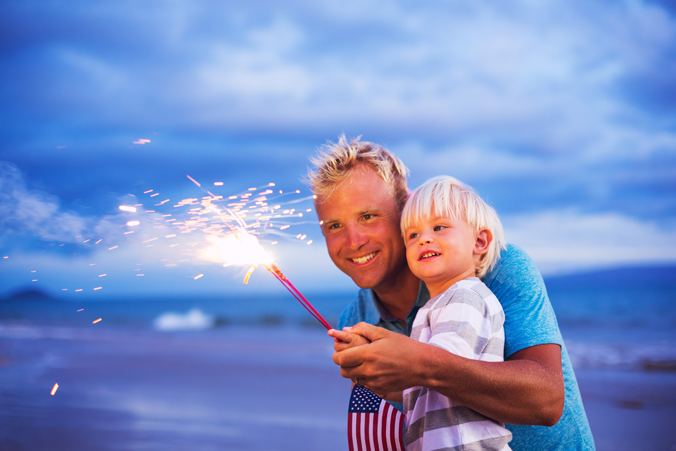 Source: Adobe
Sometimes, these children get access to fireworks and their parents are unaware that they are setting them off. The really serious injuries that we have seen in our trauma center are related to kids who try to make their own fireworks by taking apart and getting the gun powder out of ones that are commercially available. We see these serious injuries every year in our area.
Another significant predictor of where children are going to be injured has to do with state law. These vary greatly from state to state, city to city and county to county. We have a real patchwork of laws and regulations related to fireworks in this country. Some states completely ban fireworks, and others — like Missouri — allow pretty liberal sale and use.
Q: With the Fourth of July quickly approaching, what should pediatricians be educating their patients and families on concerning these injuries?
A: Go to a public event. That is the best thing to do if you have kids and you want to experience fireworks. There are professionals at these events, and parents and children should avoid handling fireworks altogether. If adults are going to have fireworks, kids are going to want to handle them. They have a natural curiosity and are going to want to use them, whether it is a sparkler or other type of firework.
People do not think that their child will be injured by sparklers and other fireworks, but it happens every year. There is no such thing as a benign firework. They all have an element of danger. Just go to a public display and have a great time.
Q: If a family has decided they want to use fireworks themselves and a child is injured, what steps need to be taken to ensure the child's safety?
A: These kids need to be seen by a medical care provider. If they have any kind of burn that affects 1% or more of their body's surface — about the size of the palm of the hand — they absolutely need to be seen in an ED. They also need to be seen if they have a burn or injury to their face, their feet or anything around the joints. A lot of these injuries are fairly serious. We can handle them very well in the ED, and we often discharge kids home, but the best thing to do is completely avoid injury by not using fireworks.
I do know that I will be working in the ED the night of July 4, and I have no doubt that it is going to be full of all kinds of injured kids. It happens every single year. Some of these injuries are minor, but there are also going to be injuries that are very severe that result in loss of vision and bad burns that can impact a kid's life. Some of the fountains and cannon-type fireworks used in street displays can be lethal as well. People should just go to a public display. – by Katherine Bortz
Disclosure: Dowd reports no relevant financial disclosures.
Resource:
U.S. Consumer Product Safety Commission. Fireworks Information Center. https://www.cpsc.gov/Safety-Education/Safety-Education-Centers/Fireworks. Accessed June 29, 2018.