Treatment failure in children with asthma linked to influenza
We were unable to process your request. Please try again later. If you continue to have this issue please contact customerservice@slackinc.com.
Respiratory viruses, including influenza, were associated with an increased risk of treatment failure in children who presented to the ED with moderate or severe asthma exacerbations, according to recently published study results in Pediatrics.
"This is the first time we have been able to disentangle the risk of nonresponse to asthma treatment with the presence of specific viruses — specifically, influenza and rhinovirus," Caroline Quach, MD, MSc, associate professor of microbiology and infectious diseases at Université de Montréal, chair of the Quebec Immunization Committee and chair of the National Advisory Committee on Immunization of the Public health Agency of Canada, said in a news release.
Quach and colleagues used data from the Determinants of Oral Corticosteroid Responsiveness in Wheezing Asthmatic Youth (DOORWAY), a prospective cohort study of children aged 1 to 17 years who presented to the ED with moderate to severe exacerbations, to conduct secondary analysis. Reverse transcriptase polymerase chain reaction (PT-PCR) for 27 respiratory pathogens was used to examine nasopharyngeal specimens.
"We investigated the association between pathogens and both exacerbation severity (accessed with the Pediatric Respiratory Assessment Measure) and treatment failure (hospital admission, ED stay greater than 8 hours, or relapse) of a standardized severity- specific treatment," the researchers wrote.
There were 958 children from the DOORWAY study who were included in the assessment. More than half (n = 591) tested positive for at least one pathogen, including rhinovirus in 282 children. The most frequent species was rhinovirus C in 174 respiratory specimens tested. Treatment failure occurred in 156 (16.9%) of children.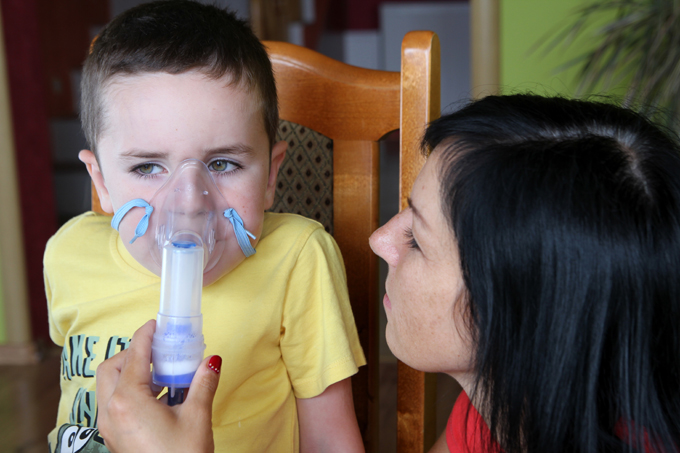 Source: Shutterstock.com
Exacerbation severity at presentation was not associated with a presence of a pathogen. However, there was a greater risk of treatment failure (risk difference [RD] = 8.2%; 95% CI, 3.3%-13.1%) when a pathogen was present, compared with the absence of a pathogen (absolute risk [AR] = 20.7%; 95% CI, 17.4% to 24.1%; vs. AR = 12.5%; 95% CI, 9% to 16%).
Absolute risk of increase of treatment failure (RD = 13.1%; 95% CI, 6.4%-19.8%) was associated with nonrhinovirus pathogens, including respiratory syncytial virus (AR = 8.8%), influenza (AR = 24.9%) and parainfluenza (AR = 34.1%).
"In children presenting to the ED with moderate or severe asthma exacerbation, no virus, including the most prevalent organism (rhinovirus C), was associated with higher exacerbation severity," the researchers concluded. "In fact, nonrhinovirus pathogens were associated with less severe exacerbations, but with more ED treatment failure; respiratory syncytial virus, influenza and parainfluenza virus increased by 8% to 34% the AR of treatment failure."
"We now know that if [children with asthma] get the flu, the risks are very high that emergency treatment for an asthma attack will fail," Francine Ducharme, MD, a pediatrician and clinical epidemiologist at CHU Sainte-Justine and a professor of pediatrics at Université de Montréal, said in the press release. "Instead of having an overall 17% risk of treatment failure, with flu, their risk rises to almost 40%." – by Bruce Thiel
Disclosures: Merckx reports no relevant financial disclosures. Please see the study for all other authors' relevant financial disclosures.