Immunotherapy options: A future for children with food allergy
We were unable to process your request. Please try again later. If you continue to have this issue please contact customerservice@slackinc.com.
Pediatricians and allergists are facing a growing number of children with food allergy and are weighing the benefits and the risks of new and time-tested forms of immunotherapy treatment for these patients.
Food allergies have become increasingly prevalent in American children, with the number of affected children growing 50% between 1997 and 2011. It is reported by the CDC that 4% to 6% of school-aged children are affected by an allergy to at least one food item, with some study results putting that number at 8%.
Although no cure is currently available for food allergies, multiple therapies are in development and have been used more frequently in clinical settings around the United States. These immunotherapies can be administered orally, sublingually or epicutaneously using an adhesive patch. Most therapies expose patients with allergies to their allergen in gradually increasing amounts.
For most patients, the goal of therapy is to become less sensitized to the antigen and achieve desensitization, which may protect them from small amounts of the allergen that are accidentally consumed. Although no immunotherapy treatments are FDA approved, oral and epicutaneous immunotherapy treatments may be approved in the near future for children with peanut allergies, according to Matthew Greenhawt, MD, MBA, MSc, director of the Food Challenge and Research Unit at Children's Hospital Colorado and Infectious Diseases in Children Editorial Board member.
"The wonderful thing about [immunotherapy] is that you do not need to take a very high dose to be protected against accidental ingestion," Greenhawt said in an interview. "The commercialized product, which has just completed phase III study, is a good example of a typical goal of therapy. Patients who can tolerate 300 mg on a daily basis would likely be protected against 600 or 1,000 mg of peanut protein."
Greenhawt mentions that although this would not allow an allergic child to incorporate peanut products into their diet, this specific treatment would potentially protect them against small amounts of peanut product or an accidental ingestion.
To examine current research concerning the use of various forms of immunotherapy in children with food allergies, the clinical use of these therapies and the future of allergy treatment, Infectious Diseases in Children spoke with researchers and allergists at the forefront of pediatric allergy treatment.
PAGE BREAK
Options for immunotherapy
According to a review authored by Bruce J. Lanser, MD, of the division of pediatric allergy and clinical immunology at National Jewish Health, and colleagues, one of the earliest recordings of immunotherapy is written in the Babylonian Talmud, in which instructions were available for administering egg white to those with egg sensitivity. Further reports were available from physician attempts dating back to 1905, while in the last decade, concentrated efforts in this area have yielded sophisticated trials and dozens of articles in the literature.
"The most widely studied approach is oral immunotherapy, where we start with small increasing exposures and aim for a target dose," Julie Wang, MD, associate professor of pediatrics in the division of allergy and immunology at the Icahn School of Medicine at Mount Sinai, told Infectious Diseases in Children. "These are taken on a daily basis and the intent is to continue treatment to maintain the benefits of immunotherapy."
Richard L. Wasserman, MD, PhD, medical director of pediatric allergy and immunology at Medical City Children's Hospital, has treated more than 700 patients with food allergy using oral immunotherapy (OIT) in a clinical setting. Of these patients, he estimates that at least 95% are children.
"This therapy has become more widely available and practiced over the past 10 years," he said in an interview. "I think this is because practitioners became aware of the need and the available information on the success of oral immunotherapy, and some practitioners began offering it as a therapy."
Although immunotherapy could potentially be used for any food allergy that a child presents with, most research has been conducted regarding therapies for peanut allergies. According to Edwin Kim, MD, MS, assistant professor of medicine in the division of allergy and immunology at the University of North Carolina School of Medicine and director of the UNC Food Allergy Initiative, milk, egg and peanut tend to be the most commonly encountered allergens; however, the natural history of each allergy affects this research.
"We estimate that anywhere up to 80% of kids with milk and egg allergies will eventually outgrow these allergies," Kim told Infectious Diseases in Children. "Unfortunately, about 80% or more of those with peanut allergies are likely to retain this allergy through adulthood. That is one of the reasons why there is so much attention on peanut allergies."
As a testament to the research surrounding peanut allergy, all three forms of immunotherapy have been examined for the treatment of peanut allergies. In a study presented at the 2017 annual meeting of the American Academy of Allergy, Asthma and Immunology, 86% of peanut-allergic children who received long-term sublingual immunotherapy were able to achieve desensitization (tolerate at least one peanut after therapy, according to Kim). Those who used the treatment for a sustained period of time (36 to 60 months) demonstrated sustained unresponsiveness. A subset of those who used sublingual treatment not only tolerated almost 20 peanuts after therapy but were able to maintain this protection even after stopping treatment for one month, according to Kim.
PAGE BREAK
Additional findings from a phase 2b trial published in JAMA demonstrated that patients with a median age of 11 years could benefit more from higher doses of peanut protein administered through an epicutaneous patch when compared with individuals who received smaller doses or a placebo dose. Furthermore, phase 3 clinical trial results collected by DBV Technologies in October 2017 found that epicutaneous immunotherapy treatment for children aged 4 to 11 years with peanut allergy was highly tolerable and provided a statistically significant desensitization response but did not meet primary endpoint.
Many studies also have been conducted regarding treatment of pediatric patients using OIT. One such study presented at the 2018 annual meeting of the American Academy of Allergy, Asthma and Immunology found that children who could not tolerate standard doses of peanut protein were able to achieve desensitization when long-term and lower doses were provided.
"Overall, the success rate of peanut oral immunotherapy is very high, with approximately 85% of patients able to freely consume peanuts and over 90% of patients able to consume at least a single peanut at the end of treatment," Arnon Elizur, MD, from the department of pediatrics at Tel Aviv University's Sackler School of Medicine, Israel, told Infectious Diseases in Children regarding his study. "Those who fail treatment remain peanut allergic and need to avoid peanuts and carry an epinephrine autoinjector."
Pros and cons
Although all three forms of immunotherapy can provide a sense of hope and security for food allergic patients, there are both potential benefits and problems associated with each form of treatment, according to Amy M. Scurlock, MD, associate professor of pediatrics at the University of Arkansas for Medical Sciences and the Arkansas Children's Hospital and Research Institute.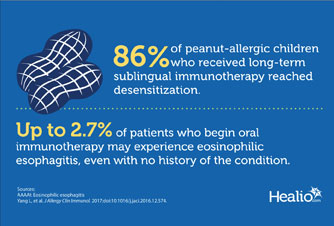 Scurlock, who has participated in clinical trials for both oral and epicutaneous immunotherapy options, has witnessed firsthand how these therapies affect the pediatric population.
"The pros of oral immunotherapy are that it seems to have a fairly robust clinical effect, certainly regarding desensitization," she told Infectious Diseases in Children. "You trade that more robust clinical effect for more side effects. Because the patient is ingesting the allergen, we often see children with abdominal pain or nausea. They can sometimes have other symptoms like oral itching, rhinitis or other respiratory and skin symptoms as well."
Regarding the efficacy of immunotherapy treatment, Wasserman said that OIT is "unquestionably" the most effective option. If systemic side effects are a major concern, he mentions that epicutaneous treatments can commonly cause localized rashes but rarely are associated with allergy-related symptoms; however, desensitization may not be as strong when compared with children who receive OIT. Wang claims that the modest efficacy of epicutaneous immunotherapy is at least in part due to the delivery of less allergen.
PAGE BREAK
Greenhawt cautions that the two therapies should not be compared head-to-head per se, as they are each distinct therapies offering different routes to the same endpoint, offering the patient a choice of treatment to choose from.
As for sublingual immunotherapy options, less in known about the benefits and harms of this therapy.
"Sublingual immunotherapy is still in development, at least in the context of food allergy and peanut allergy," Scurlock said. "We saw only modest clinical benefit, at least in some of the trials we have done. It was interesting because even though the subjects involved did not have a lot of side effects, a lot of them did not continue long term and tended to get what we call 'dosing fatigue' or some oral symptoms associated with sublingual therapy."
As research continues to be conducted on the efficacy and benefits of immunotherapy options, several questions still need to be addressed regarding who the best potential candidate is for immunotherapy treatment, risk factors related to adverse events and how to target the right treatment at the right dose.
"On paper, you might look at two children and they have similar reaction histories, similar amount of time having the allergy, similar skin and blood tests indicating how sensitized to a particular allergen they are, but we need more tailored information to understand which patient is going to respond to what therapy so that we put the right patient on the right therapy," Greenhawt said. "Not every drug or therapy will work for every patient who is eligible for it, and who is going to respond better is a huge gap we still face in related research."
In a study published in the Annals of Allergy, Asthma and Immunology, the researchers noted that eosinophilic esophagitis — an allergic reaction in which the esophagus becomes inflamed with eosinophils — may occur in up to 2.7% of patients who have had no previous history of the condition after beginning oral immunotherapy. Little information is available on why this occurs, and Wang believes this is an area where researchers specifically need to pay more attention.
"At this point, we do not know if there are risk factors that might put someone at a higher risk for allergic reactions or complications with these treatments," Wang said. "For example, with oral immunotherapy, one of the complications that must be considered is the potential for eosinophilic esophagitis. There is a subset of individuals who do end up with this inflammation, but we do not know if there are certain people who may be more prone to this."
PAGE BREAK
For some allergists, such as Kim, the availability of immunotherapy options for other allergens poses a great challenge for pediatric patients who have allergies to other foods that they may regularly encounter. Although a significant number of patients will outgrow allergies to milk, egg and other substances, the sheer number of patients affected will leave a substantial number of patients without effective therapy if the focus of immunotherapy research is not broadened.
"I think the most obvious problem that I see right now with immunotherapy is that it is primarily focused on peanuts," Kim said. "Peanut allergy is a large problem for a lot of people, but we know that far more people have milk and egg allergy. Even 30% to 40% of people who do have peanut allergy may also have a tree nut allergy. For a lot of these patients, there is still the same level of anxiety and effect on their quality of life because they are forced to avoid tree nuts. We need to try and broaden what we are doing with immunotherapy to truly change lives."
Advice for allergists and pediatricians
Even though more research is needed to maximize the benefits of these therapies and eventually secure FDA approval, currently available oral, sublingual and epicutaneous immunotherapy options provide a glimpse at what may be the future of food allergy treatments. These options may also provide peace of mind for both patients with food allergies and their parents.
"Allergists need to do their homework and learn about immunotherapy," Wasserman suggested. "Talk to people who have experience in this area. I would suggest only choosing one food allergy to start treating, whether it be peanut, milk, egg or another food, and administer this treatment for at least several months in several patients. This will help get the allergist established and learn how it affects the workflow in their office and how to best care for these patients."
Wasserman also recommended that any allergist who is considering incorporating this process into their practice should be experienced in performing food challenges. These specialists should prepare to conduct these challenges to confirm allergy if needed before beginning any immunotherapy, with Wasserman claiming that this therapy should not be performed on any patient who does not need it.
For pediatricians, Kim endorses early referral to an allergist when a patient or their family want to better manage their food allergy.
"There is a suggestion that the younger you can start these treatments, the better they might work on providing protection that can be somewhat lasting," he said. "There is some thought that when you are first exposed to the food and become allergic that your allergic antibody, immunoglobulin E, levels are relatively low, but this number can increase dramatically over a very short amount of time."
PAGE BREAK
To convey this information to patients and their families, Scurlock recommends clear communication between all parties involved in the child's care.
"I think communication is key with families, and to me, there are both medical and psychosocial aspects that need to be considered," Scurlock said. "We need to empower our patients and families to communicate well with their child's school, activities and camps so that they can advocate for their safety and also help them integrate fully and safely into activities they would like to participate in."
Families are now given a choice on how to best manage their children's allergies, which is a remarkable development in food allergy, Wang said. The choice is now left up to families on whether avoidance or future immunotherapy choices are the right fit for their children's needs,
"This is actually an exciting time for food allergy in that this is the first time that we are very close to having proactive interventions that I think families are actually looking for," Wang said. "The current standard of care is avoidance and preparation for accidental exposure to allergens."
"Currently, some families feel like they are being a bit more passive and reactionary, whereas having treatments like immunotherapy that allow them to be more proactive can potentially be life-altering," she added. "I foresee families having options that will allow them to choose what works best for them and their families." – by Katherine Bortz
References:
AAAAI: Eosinophilic esophagitis. Accessed April 25, 2018.
CDC: Food allergies. Healthy schools. Accessed April 25, 2018.
CDC. Trends in Allergic Conditions Among Children: United States, 1997-2011. National Center for Health Statistics Data Brief. May 2013.
DBV technologies announces topline results of phase III clinical trial in peanut-allergic patients 4 to 11 years of age
Food Allergy Research & Education. Life with food allergies. Food Allergy 101. Facts and statistics. Accessed April 25, 2018.
Gupta RS, et al. Pediatrics. 2011;doi:10.1542/peds.2011-0204.
Infectious Diseases in Children. Peanut desensitization achievable with low doses of maintenance oral immunotherapy

Lanser BJ, et al. Pedatr Clin North Am. 2015;doi:10.1016/j.pcl.2015.01.015.

Lucendo AJ, et al. Ann Allergy Asthma Immunol. 2014;doi:10.1016/j.anai.2014.08.004
Nachshon L, et al. Abstract 750. Presented at: American Academy of Allergy, Asthma & Immunology Annual Meeting; March 2-5, 2018; Orlando.
Sampson HA, et al. JAMA. 2017;doi:10.1001/jama.2017.16591
Yang L, et al. J Allergy Clin Immunol. 2017;doi:10.1016/j.jaci.2016.12.574
For more information:
Amy M. Scurlock, MD, can be reached at Arkansas Children's Hospital and Research Institute, 1 Children's Way, Little Rock, AR 72202; email: Hilary H. DeMillo, DeMilloHH@archildrens.org
Matthew Greenhawt, MD, MBA, MSc, can be reached at the Children's Hospital Colorado,13123 East 16th Ave., Aurora, CO 80045; email: Natalie Goldstein, Natalie.Goldstein@childrenscolorado.org
Richard L. Wasserman, MD, PhD, can be reached at Medical City Children's Hospital, 7777 Forest Ln, Dallas, TX 75230; email: drrichwasserman@gmail.com
Edwin Kim, MD, can be reached at the University of North Carolina School of Medicine, 321 S Columbia St, Chapel Hill, NC 27516; email: Mark Derewicz, Mark.Derewicz@unchealth.unc.edu
Julie Wang, MD, can be reached at the Icahn School of Medicine at Mount Sinai, 1 Gustave L. Levy Pl, New York, NY 10029; email: Tildy.LaFarge@mountsinai.org
Disclosures: Greenhawt reports being supported by a grant from the Agency for Healthcare Quality and Research; being an expert panel and coordinating committee member of the NIAID-sponsored Guidelines for Peanut Allergy Prevention; having served as a consultant for the Canadian Transportation Agency, Thermo Fisher, Intrommune, and Aimmune Therapeutics; being a member of physician/medical advisory boards for Aimmune Therapeutics, DBV Technologies, Nutricia, Kaleo Pharmaceutical, Nestle and Monsanto; being a member of the scientific advisory council for the National Peanut Board; having received honorarium for lectures from Thermo Fisher, Before Brands, multiple state allergy societies, the ACAAI, the EAACI; serving as an associate editor for the Annals of Allergy, Asthma, and Immunology; and being a member of the Joint Taskforce on Allergy Practice Parameters. Kim reports consulting with Aimmune and DBV Technologies. Scurlock reports being an investigator who participates in the Aimmune and DBV Technologies clinical trials for both oral and epicutaneous immunotherapy. Wang reports receiving research support via grants to her institution from NIAID, Aimmune, DBV Technologies; receiving consulting fees from Aimmune, DBV Technologies and ALK Abelo; and receiving royalties from UpToDate. Wasserman reports no relevant financial disclosures.